TransAction Spotlight - Ashley Brundage
Ashley Brundage
TransAction Advisory Board Spotlight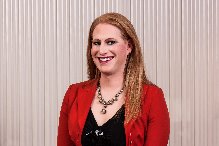 "Last year, Equality Florida launched its statewide transgender inclusion initiative in support of the Transgender Community. With the creation of TransAction Florida's Advisory Board, we now have a statewide scope and reach to provide advocacy, awareness and education of the transgender journey. We are very pleased to highlight one of our Advisory Board Members each month in 2015. This month, I am honored to spotlight the incomparable Ashley Brundage." - Gina Duncan, Transgender Inclusion Director, Equality Florida
Ashley Brundage joins the TransAction Advisory Board with a wealth of experience as a highly-regarded Personal and Business Relationship Banker with PNC Bank, hired into her position as a male to female transgender person, and is a certified Women's Business Advocate. She regularly speaks out on LGBT issues and remains active in the community since her transition in 2010. In 2013, Ashley was named one of Tampa Bay's "Community Leaders Under 35" on behalf of the LGBT community. She remains involved in numerous other organizations such as PFLAG, Out and Equal, The Synapse House, the PNC Diversity Council, Balance Tampa Bay, Trans Support Network, and serves as President of the LGBT Chamber of Commerce. She is also the first Transgender person to be knighted by the Krewe of the Cavaliers on March 14th and will proudly ride along their float in the widely-recognized Gasparilla parade in Tampa on February 14th. She recently celebrated 12 years of marriage to Whitney and together they have two sons: Bryce, 9, and Blake, 7.
Ashley has a very busy schedule ahead of her this year, speaking, hosting, and taking part in a number of exciting events. She will be speaking at the Stetson University Law Diversity Summit as well as conducting two workshops at the University of South Florida for the 2015 Florida Collegiate Pride Coalition Conference. She regularly hosts mixers every month with the LGBT Chamber of Commerce and will serve as host for Equality Florida's 2015 Tampa Gala on February 21st in conjunction as a member of the Presenting Sponsor for the event, PNC Bank. Ashley will be speaking at the Trans Keystone Conference in Hershey, Pennsylvania from March 18-21. She'll also be hosting the annual fundraiser for the Ybor Youth Clinic for which Ashley also serves as a member of the board and assists with transgender patient support and staff education.
Many other exciting events are taking place in Ashley's hometown of Tampa Bay. Just around the corner on March 28 is the return of Tampa Pride! Many other pride events are ahead in the summer, with Pride and Passion annual pride kick off and benefit for the Tampa Art Museum on May 16 along with St. Pete Pride toward the end of June, which Ashley is in the running as Grand Marshal of the festivities! October will hold the LGBT Film Festival for which Ashley is also a member of the board.
With so much abuzz in the coming year, Ashley Brundage brings an enormous wealth of experience, knowledge, and resources to our TransAction Advisory Board. She represents the core values of our transgender initiatives and we are THRILLED to have her join our forces to make a difference in the months ahead!