BREAKING: Equality Florida Responds to AG Pam Bondi's comments that Gay Marriage Would Cause Harm.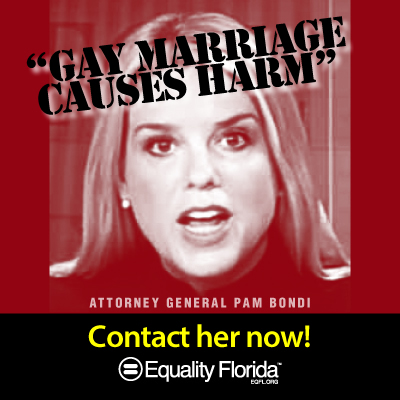 Court after court across the country has found that there is no legal basis to deny some Americans the dignity of marriage to the person he or she loves, yet Florida's attorney general continues to hold on to unfounded arguments to legitimize a law that serves no purpose but to discriminate.  
To quote U.S. District Judge Arenda L. Wright Allen, who ruled against Virginia's ban on same-sex marriage, "We have arrived upon another moment in history when 'We the People' becomes more inclusive, and our freedom more perfect."
Judges appointed by Republicans and Democrats alike have 19 times in a row come to the inescapable conclusion that such bans are wrong and constitutionally indefensible. Attorneys General in states across the country have upheld their duty to the U.S. constitution by refusing to defend a law that so clearly violates basic rights.
We call on Attorney General Pam Bondi to reconsider this stand in this defining moment. A defense of the indefensible only squanders our state's resources and delays justice for hundreds of thousands of Florida families. The majority of Floridians stand with us in support of marriage equality.  We look forward to our day in court and are confident that equality under the law will prevail.
---
Florida official: Gay marriage would cause harm
GARY FINEOUT
Published: Today
TALLAHASSEE, Fla. (AP) - The attorney general of Florida says in court documents that recognizing same sex marriages performed in other states would "impose significant public harm."
Eight gay couples and the American Civil Liberties Union have sued the state in federal court. The lawsuit argues Florida is discriminating against the couples by not recognizing same-sex marriages performed in states where they are legal.
Attorney General Pam Bondi has filed a response that asks a federal judge to throw out the lawsuit.
Bondi's office says the state has a legitimate interest in defining a marriage as between a man and woman because Florida's voters adopted an amendment in 2008 that banned same-sex marriages.
The filing also says same-sex marriage recognition would create significant problems for the state's pension and health insurance programs.
© 2014 The Associated Press. All Rights Reserved.
---
TAKE ACTION:
TWITTER: Send AG Pam Bondi a twitter message now telling her to let us have our day in court!
[email protected], let us have our day in court! Our families deserve the freedom to marry and the right to express their love and commitment!
[email protected], "public harm" is denying all Floridians the opportunity to marry their loved ones! #LGBTSouth #FreedomToMarry
EMAIL: Send an email to the Attorney General today and let her know she needs to stop defending the indefensible. Click here to send an email.
CALL: Call Attorney General Pam Bondi and tell her to let us have our day in court - 1-866-966-7226.
---
REFERENCES:
1. Attorney General Pam Bondi's Statement on Same-Sex Marriage Lawsuit.
2. The filing papers by Attorney General Pam Bondi, "STATE OFFICIALS' MOTION TO DISMISS AND INCORPORATED MEMORANDUM OF LAW SUPPORTING DISMISSAL AND OPPOSING PRELIMINARY INJUNCTION MOTIONS."