The adventures of Maria and Emily at Polk Pride!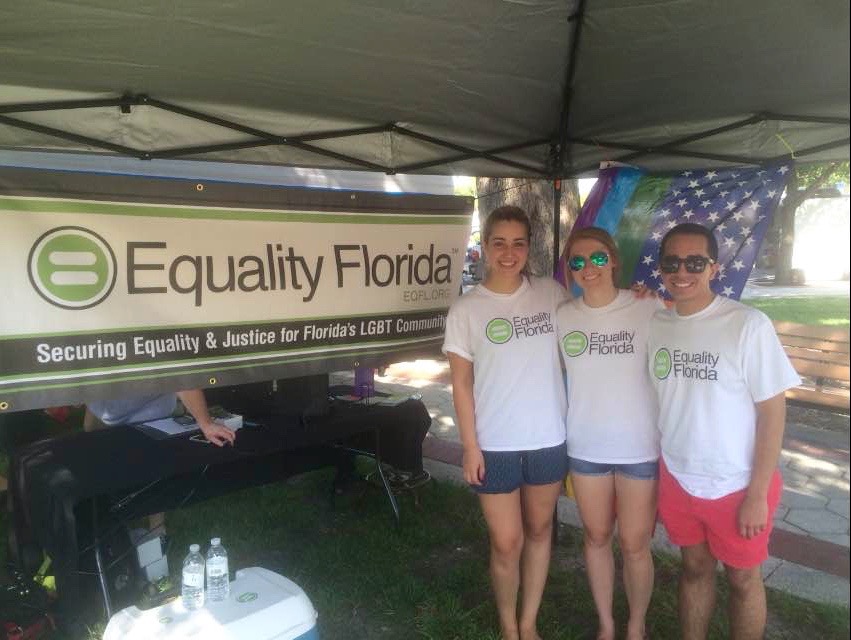 As a field intern with Equality Florida, I've gotten well-acquainted with the process of putting together and executing events pretty quickly. That said, the idea of being one of two interns totally in charge of representing EQFL at a major Pride event was daunting, to say the least. My nerves weren't exactly calmed by the fact that our day at the first-ever Polk County Pride—smack-dab in the middle of a brutal, surprise thunderstorm-ridden but also scorching hot Florida summer—began without a tent.
 
As Emily (my fabulous fellow intern and a poor, unsuspecting indirect victim of my unpreparedness) and I loaded our bins and set-up materials onto our little grassy area, with nothing to set them up on or in, I was trying frantically to think of contingency plans. ("OK, well, at least we're under a big tree! That's like nature's tent!" and similar gems of wisdom were spewed by yours truly.)
 
Classic interns.
 
Suddenly—and this was seriously like one of those "Oh, please. That would never happen in real life" scenes in movies—a wonderful man in a purple "Staff" shirt came over to us and offered us his extra set of absolutely everything we needed. Incidentally and perhaps related, purple is now my favorite color.
 
After literally getting down on my knees and exclaiming "Thank you, Beyoncé!" to the skies (it was really stressful, OK?), Emily and I thanked the wonderful Polk Pride staff about fifty million times (still not enough) and got on with our day.
 
So many people came up and signed our pledges right away—the level of support and friendliness we experienced at Polk Pride was truly incredible, and we were able to have so many meaningful conversations with the people who stopped by our booth. Unfortunately, many of those conversations were about injustices committed against members of the LGBT community, from verbal harassment to being fired from work. Despite the grim realities that many LGBT people are (unbelievably) still subjected to, it was amazing to see so many allies and members of the community (of literally all ages!) at the event. It was such a positive atmosphere filled with some of the friendliest people I've ever met.
 
Emily and I were able to meet up with Nadine, EQFL's CEO, and watch her receive an award for all of the incredible work she does. Polk Pride was such an incredible event. The preparation, organization, and helpfulness of their staff were remarkable, and we were thrilled to have been a part of the event.
 
It was a day full of excitement, hard work, and acknowledgement of the fact that there is still so much work to be done in securing full rights for the LGBT community in Florida and nationwide. Polk Pride was an amazing example of what I love about interning with EQFL: never forgetting the injustices that still very much exist in the world, and coming together to fight and eventually eradicate them as a vibrant, kind, and welcoming community of LGBT people and allies.
In Equality,
Maria Barbera
Central Florida Field Intern