HIRING! MARRIAGE RELATED FIELD CONTRACTOR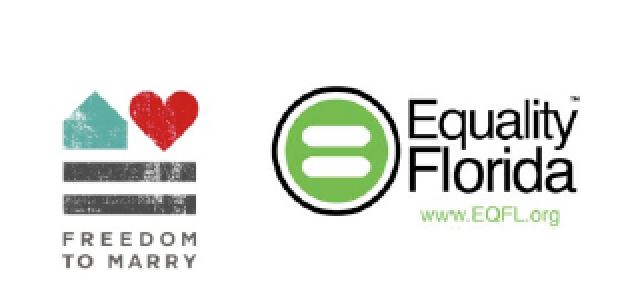 FREEDOM TO MARRY SEEKS MARRIAGE RELATED FIELD CONTRACTOR
LOCATION: FLORIDA
FREEDOM TO MARRY
Freedom to Marry is the campaign to win marriage nationwide. Pursuing our Roadmap to Victory national strategy, we create the climate for a Supreme Court victory by working to win the freedom to marry in more states, grow the national majority for marriage, and end federal marriage discrimination. We partner with individuals and organizations across the country to end the exclusion of same-sex couples from marriage and the protections, responsibilities, and commitment that marriage brings.
EQUALITY FLORIDA
Equality Florida is the largest civil rights organization dedicated to securing full equality for Florida's lesbian, gay, bisexual, and transgender (LGBT) community. Through lobbying, grassroots organizing, education, and coalition building, we are changing Florida so that no one suffers harassment or discrimination on the basis of their sexual orientation or gender identity.
THE WORK
Freedom to Marry and Equality Florida seek experienced community organizers to lead public education efforts to increase support for marriage for same-sex couples in Florida. The contractor will work with Freedom to Marry national staff and local partner, Equality Florida, to develop and implement a plan for earned media, field and coalition involvement with demonstrable goals and timelines. The organizers will work independently between now and the end of 2014.
Supported by Freedom to Marry's press and social media staff, we want individuals capable of generating earned media by creating opportunities to demonstrate public support and by working to publicize the stories of individuals, couples and "unlikely" supporters through traditional and social media. Each contractor will be responsible for identifying and collecting personal stories of support, as well as leading outreach to new coalition partners, community leaders and strategic partners.
This team of contractors will play an important role in Freedom to Marry's new public education program: Southerners for the Freedom to Marry. They will also support Equality Florida's "Get Engaged" outreach program. Their work plans and deliverables will be overseen by Freedom to Marry's Field Director who will require regular reporting and daily tracking of campaign progress. In addition they will partner with and act as a resource with identified local groups who are members of the campaign program.
Preference will be given to those individuals with experience in and knowledge of:
 Public education campaigns to build support for progressive issues in red states
Legislative or candidate campaigns
Public relations work utilizing field tactics to drive earned media coverage
Managing "Town Hall" events or providing community trainings
Building and managing coalition relationships
Conducting outreach to leaders of business, clergy, or Republican communities
Conducting outreach to individuals or organizational leaders among communities of color
Community or political work done within the targeted state
Volunteer or paid work on the freedom to marry or on LGBT issues
COMPENSATION: Monthly rate commensurate with the expected volume of work, paid upon invoice, plus reimbursement of reasonable travel expenses
TO APPLY: Send cover letter and background to: Amy Mello at [email protected]