[NEWS CONFERENCE] 2013 Super Bowl Champ Calls on Allies to Join the Fight to End Anti-Gay Discrimination in Florida
Ayanbadejo Press Conference Rescheduled for next Tuesday, April 23rd, 10:30 a.m.
APRIL 16 NEWS CONFERENCE POSTPONED
The Equality Florida - Brendon Ayanbadejo press conference has been postponed due to the bombings in Boston. Brendon is in Boston today for a speaking event and because of the bombings will not be able to return to Florida in time to participate in the April 16 press conference.
The press conference will be rescheduled and details will be sent as soon as possible.

Our thoughts are with everyone in Boston.

Stratton Politzer
Deputy Director, Equality Florida
2013 Super Bowl Champ Calls on Allies to Join the Fight to End Anti-Gay Discrimination in Florida
Brendon Ayanbadejo Joins Equality Florida as an Ally for Equality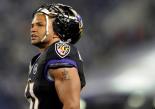 Super Bowl Champion Brendon Ayanbadejo will be joined at a press conference by Stratton Pollitzer, Deputy Director of Equality Florida to discuss the status of marriage equality in the State of Florida.
Brendon, a Fort Lauderdale resident, is bringing his voice to the fight for full equality for the gay, lesbian, bisexual, and transgender (LGBT) community in Florida. Most recently, he spoke at a rally on the steps of the Supreme Court as the Justices deliberated two potential landmark marriage cases.
"Every civil rights movement has relied on the support of those in the majority, and at this pivotal moment in the fight for LGBT equality the visibility of role models like Brendon is crucial," said Pollitzer.
Equality Florida is the largest civil rights organization dedicated to securing full equality for Florida's lesbian, gay, bisexual, and transgender community.
WHAT:      News Conference
WHEN:      Tuesday, April 16, 10:30 a.m.
WHO:         Super Bowl Champion Baltimore Raven, Brendon Ayanbadejo
                  Equality Florida Deputy Director, Stratton Pollitzer
WHAT:       Brendon Ayanbadejo will announce his commitment to the fight for LGBT equality in Florida and to rally other allies to speak out now.
WHERE:    kitchenetta Restaurant
2850 North Federal Highway  (east side)  
Fort Lauderdale, Florida
BACKGROUND: At a time when allies are standing up for equality like never before, former Baltimore Ravens' Linebacker and Super Bowl Champion Brendon Ayanbadejo has made national headlines for his outspoken support of Marriage Equality and an end to anti-LGBT discrimination.
"It's not enough to have marriage equality in some parts of the country - we need full equality everywhere," Ayanbadejo said. "It is outrageous that in Florida it is still legal to fire gay people or deny them housing. We have to catch up and I'm ready to do my part."
"Brendon has been a tremendous advocate on the national stage and his support is a huge boost to our efforts here in Florida to end discrimination based on sexual orientation and gender identity," Pollitzer said.
Contacts:
Terri Lynn, Superstars PR, 954-677-1030
Stratton Pollitzer, Deputy Director, Equality Florida, 954-682-6094