EQUALITY FLORIDA APPLAUDS HILLSBOROUGH COUNTY COMMISSION FOR REPEALING ANTI-GAY LAW!
For Immediate Release: June 5, 2013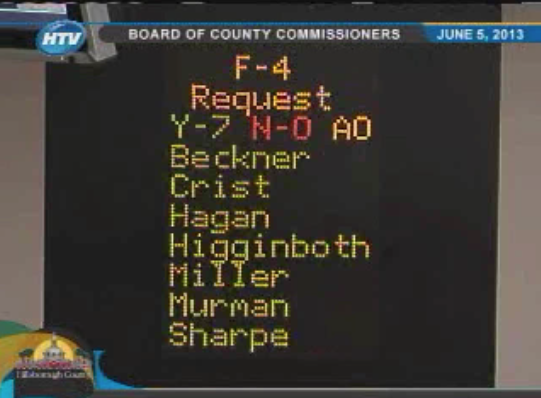 EQUALITY FLORIDA APPLAUDS HILLSBOROUGH COUNTY COMMISSION FOR REPEALING ANTI-GAY LAW
(TAMPA) In a vote of 7 to 0 the Hillsborough County Board of County Commissioners (BOCC) voted unanimously today to repeal an eight-year-old ban on any county promotion of gay pride events or displays. 
"We commend the Hillsborough Commissioners for doing the right thing," said Nadine Smith, Executive Director of Equality Florida. "For eight years this law has served no other purpose except to be a daily insult to gay people who live, work and visit Hillsborough County."
Commissioner Kevin Beckner, the county's only gay commissioner, called for an end to the ban which has been in place since 2005. Notorious anti-gay bigot Ronda Storms pushed the bill through during her tenure on the board after a parent complained about a gay history exhibit at a public library. Storms also made it difficult to repeal the ban by including language that required a 5-2 supermajority vote to rescind the ordinance.
"Equality Florida is pleased the Commission has finally done away with the notorious anti-gay pride ban," said Ed Lally, Equality Florida's Tampa Development Coordinator. "Now Hillsborough needs to continue to play catch up," Lally said. "We need a comprehensive, inclusive human rights ordinance that includes sexual orientation and gender identity and the family protections that domestic partnership protections can bring."
Tampa Mayor Bob Buckhorn and U.S. Representative Kathy Castor were among many citizens who sent letters this week to the commission urging them to repeal the ban. A couple of weeks ago, all seven commissioners signed a proclamation recognizing GaYBOR Days, an event sponsored by Ybor City merchants designed to attract gay tourists and visitors.
Equality Florida is the largest civil rights organization dedicated to securing full equality for Florida's lesbian, gay, bisexual and transgender community. www.eqfl.org
-30-