VICTORY in Orange County!
I wanted to make sure you heard about an important victory we had in Orange County yesterday.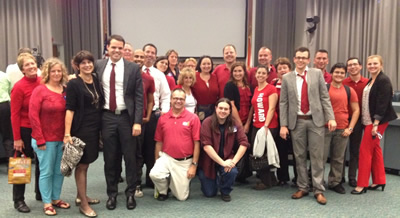 Following an 8 hour hearing that lasted until 1:30am this morning, the
Orange County School Board added sexual orientation and gender identity or expression to provisions that protect students, teachers and staff from discrimination.
For two years we have been working with the school board and with teachers in Orange County to pass these protections so nobody is afraid to go to school or afraid they will be fired because of who they are. 
In the 11th hour an anti-equality group called the Florida Family Policy Council resorted to fear tactics and outright lies in an attempt to defeat the measure.
At last night's hearing, the room was packed and the public comment included students, parents, community leaders and those whipped into a hateful frenzy by the far right's tactics.
School Board Member Christine Moore attempted to amend the policy to remove gender identity or expression and was joined by Chair Sublette and School Board Member Pam Gould, but her amendment failed. 
The School Board finally voted by a measure of 6 to 2 to add the protections. In doing so, Orange County Public Schools now joins other major school districts in Florida, a majority of Fortune 500 companies and cities and counties across Florida that protect people based on sexual orientation and gender identity or expression. 
A special thank you to School Board Members Daryl Flynn and Nancy Robbinson who really stood firm and championed protections for their LGBT employees and students in OCPS. At the end of the night, School Board Members Joie Cadle, Rick Roach and Kat Gordon and Chair Bill Sublette also stood against anti-LGBT discrimination by voting in favor of the policy. 
Thank you to the Orange County School Board for rejecting last minute hate messages from a fringe group and doing the right thing for our teachers and students. Big kudos to the Orange County teachers, students and the LGBT and allied community who turned out to hold the line for fairness.