PRESS RELEASE: Equality Florida's Statement on Attorney's Motion to Lift Stay in Monroe County.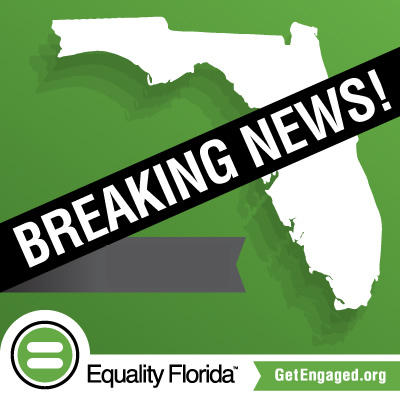 STATEMENT FROM EQUALITY FLORIDA RE ATTORNEYS' MOTION TO LIFT THE STAY ON OBTAINING MARRIAGE LICENSES IN MONROE COUNTY, FL
From Stratton Pollitzer, Deputy Director of Equality Florida: 
"In his ruling, Judge Luis Garcia confirmed that every single day these couples are denied marriage licenses, their constitutional rights are violated, and they suffer harms and risk of harms, for which they can never be compensated. Even Attorney General Pam Bondi cannot dispute the fact that allowing  these couples to marry right now harms no one. Our families have waited far too long already, and we hope Judge Garcia will lift the stay so that couples can begin obtaining marriage licenses in Monroe County immediately.
"Every day these couples are barred from marriage is a day of enormous risk to their families, and it is unfair to force them to wait months or longer while the state pursues an appeal almost certain to fail.
"Denying these couples access to marriage is a daily insult and a tremendous risk for their families. Imagine if a couple who has been together for decades experiences the tragedy of one partner dying while waiting for the appeal to be decided. The damage could never be undone, and there is absolutely no harm in granting them those protections while awaiting the appeal."
---
ATTORNEYS FILE MOTION TO LIFT STAY IN MONROE COUNTY MARRIAGE EQUALITY CASE
(July 21, 2014) -- Attorneys for Aaron Huntsman and William Lee Jones filed a motion with Judge Luis Garcia today, asking the court to lift the automatic stay effected by the appeal filed by Attorney General Pam Bondi.
On July 17 the court had ordered the Monroe County clerk to begin issuance of marriage licenses.  The Court's order provided that the Monroe County Clerk can begin issuing marriage licenses to same-sex couples on July 22, 2014.
The case was brought by Key West residents Aaron Hunstman and William Lee Jones. They are represented by Bernadette Restivo of the law firm Restivo, Reilly & Vigil-Farinas LLC.
View motion here:  bit.ly/1qX9msm