My favorite moment from the campaign
This is the moment I will always remember from the 2012 campaign - the year we changed everything.
We are at Democratic victory party in Orlando - ground zero as returns from Florida and across the country begin to pour in.  A huge crowd of camera crews, candidates, and hundreds of supporters are packed into a ballroom cheering loudly at every CNN update.  But we are outside in the lobby, huddled in a corner by the hotel entrance, creating a protective sphere around our field director, our candidate, Joe Saunders.
After 8 months of backbreaking, heroic, inspiring work.  After thousands of fundraising calls, events, and emails.  After Joe's team has knocked on 60,000 doors, spoken directly to a quarter of a million voters, produced 22 mail pieces, run hundreds of thousands of dollars in television advertising.  After facing an unprecedented million dollar onslaught from a special interest bankrolled opponent.  Right at this moment, the results are coming in and all eyes are glued to my iPad and the supervisor of elections website.
Joe is winning.  With nearly half of the votes counted he has an 11.5 % lead - a much bigger margin than any of us hoped for.  Every few minutes a well wisher peeks over the human barrier we've built around Joe and tries to congratulate him.  Democratic party leaders keep checking in, urging Joe to take the stage and declare victory.  Joe's campaign manager, Mitchell, head tucked forward, eyebrows slightly raised, is looking up at Joe with an expression that asks, "Are you ready."
This is my favorite moment.  A moment when time stands still, and we linger at this doorway to the hotel and to the future.  This is my favorite moment because I know why Joe lingers.  Like Joe, I know how long we have worked for this moment, not just in this campaign but for years.  I know the number of times we have given our all to a gay candidate only to fall just short on election day.  I know that when Joe steps onto that stage his life will change forever and that he has to be certain, beyond any doubt, that it is real.
And so we wait, guarding Joe, watching the returns.  Once or twice Joe's partner Donald puts his head on my shoulder in a gesture that conveys a combination of exhaustion, anxiety, and awe at what is happening.  It's what we are all feeling.  
Two more precincts come in, 13 of 29 now reporting, and Joe's lead slips ever so slightly to 11%.  "Are you ready?" Mitchell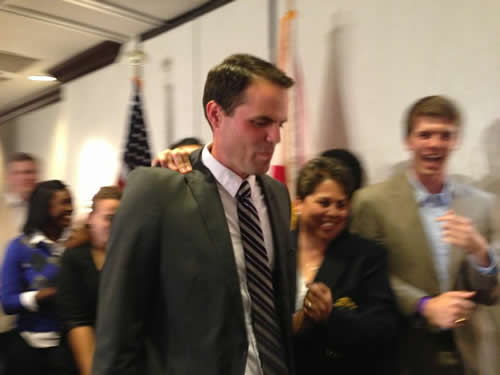 asks.  Joe shakes his head, no.  He wants to wait until 25 of 29 precincts are in.
We move into the ballroom.  As the democratic victories pile up and the presidential election tilts towards Obama the room is getting louder and louder.    21 precincts now reporting and Joe's lead is back to 11.5%.  Party leaders are trying to catch Joe's eye to lure him onto the stage.  The line begins to blur - are we holding them back to give Joe time, or are we holding Joe back, keeping him here with us where he is only our staff member and our friend for just a few seconds longer?  
The pressure to declare a win tips the scale and Joe signals he will speak.  In a confused push we all move towards the front of the room.  I look down one last time at my iPad.  25 of 29 precincts are now reporting and Joe's lead is an unbelievable 12%.  The room begins to chant, almost scream, "Joe, Joe, Joe!…"  And we watch as he steps onto the stage and becomes State Representative-Elect, Joe Saunders.