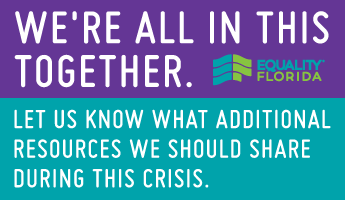 During these challenging times, we want to make sure that LGBTQ+ members of the business community have access to resources that can be helpful. We want to make sure that we are able to provide information that will be useful in the next few months. Equality Florida will be providing updates on this page for you to access, so visit us often for current information.
Equality Means Business was formed to spotlight major employers in Florida that have adopted comprehensive non-discrimination policies and have demonstrated their commitment to valuing and pro-actively including all employees. Click here to see major businesses that support this program.
Open Doors is a project of the Equality Florida Institute. Dedicated to securing full equality for Florida's lesbian, gay, bisexual, and transgender (LGBT) community. Add your business!
BULLETIN: Civil Rights, HIPAA, and the Coronavirus Disease

The state of Florida's website for disaster recovery 
The Florida Small Business Emergency Bridge Loan Program is currently available to small business owners located in all Florida counties statewide that experienced economic damage as a result of COVID-19. 
The SBA announced it would offer disaster assistance loans for up to $2 million for small businesses affected by the coronavirus. These low-interest loans are available to businesses that have sustained "substantial economic injury" due to the spread of the coronavirus. The SBA's Office of Disaster Assistance will coordinate with state governors that submit relief requests. Once a state or territory is approved, these affected businesses will receive more information.
Facebook Small Business Grants Program has $100M in cash grants and ad credits to help during this challenging time.
Short Time Compensation Program for Employers
Business loans, compensation programs and more