COVID-19 LGBTQ Elder Care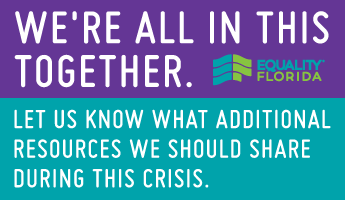 The elderly are at higher risk of developing serious COVID-19 illness. LGBTQ elders, many from the "Stonewall Generation," survived decades of historic repression, trauma and epidemic, coupled with the loss of peers during the AIDS crisis, means LGBTQ seniors are particularly vulnerable to isolation and loneliness.

Take breaks from watching, reading, or listening to news stories and social media. Hearing about the pandemic repeatedly can be upsetting.
Take care of your body. Take deep breaths, stretch, or meditate. Try to eat healthy, well-balanced meals, exercise regularly, get plenty of sleep, and avoid alcohol and drugs.
Make time to unwind. Try to do some other activities you enjoy.
Connect with others. Talk with people you trust about your concerns and how you are feeling.
Call your healthcare provider if stress gets in the way of your daily activities for several days in a row.

Protecting Your Mental Health During the Coronavirus Outbreak (American Foundation for Suicide Prevention)
Older People & People with Chronic Diseases at Higher Risk (Center for Disease Control)
USA Today article: Stores offer shopping time for vulnerable customers amid coronavirus: Walmart, Target, Costco and more
26Health: Care for Every Letter, is hosting several online support and recovery groups for FREE. Please visit our landing page here: https://www.26health.org/copingwithcovid-19