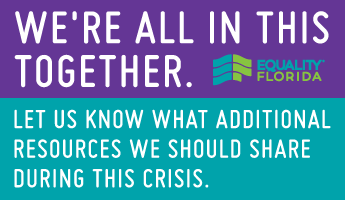 A public health crisis like the coronavirus can cause uncertainty and stress for people of all ages and identities. For our LGBTQ young people who are already at greater risk of anxiety, depression and negative health outcomes, this unpredictability pertaining to the virus can exacerbate the challenges youth already face. Added to these new ways of being is their sudden navigation of virtual schooling. The social distancing and isolation necessary to stop the spread of the virus can also increase feelings of loneliness and the need for the support that so many LGBTQ youth experience.

COVID-19 Resource Compendium for Florida LGBTQ+ Youth
This resource is for Florida-based LGBTQ+ youth, families, educators (homeschoolers and public/private/charter school teachers), and LGBTQ+ youth-serving agencies and professionals. Resources range from FAQs regarding COVID-19, mental health support, Florida-specific services and information, and entertainment and activities to do at home.
SMYAL's youth programming for LBGTQ youth is now open to a national audience (ages 6-12, and 13-24): https://smyal.org/virtualprograms/virtual-programming/


Most school districts in the state of Florida will be keeping their mental health session opportunities active. Youth and families are encouraged to google your school district's main phone number (access online) and inquire about mental health support and resources, if desired.
Free Meditation Through Calm.com
5 Ways to Help Teens Manage Anxiety About the Coronavirus
Taking Care of Your Mental Health in the Face of Uncertainty (American Foundation for Suicide Prevention)
Search for LGBTQ+  culturally competent mental health therapists via our Equality Florida Transgender Resource Guide
26Health: Care for Every Letter, is hosting several online support and recovery groups for FREE. Please visit our landing page here: https://www.26health.org/copingwithcovid-19

Please see our "Equality Florida Safe Schools Index with Best Practices" to learn about how our Safe and Healthy Schools team is keeping young people in K-12 schools valued, respected and treated with equity.

Use the links below to find the schedules and registration forms for upcoming groups for adults and youth, upcoming webinar on gender understanding for parents, family and friends, and more resources from health organizations on LGBT youth, gender, mental health and more. 
Instagram Live: Gender Q&A: Tuesday, March 24, 4pm PT
Online Group for Asian-Pacific Islander (API) Parents, Relatives and Caregivers Raising Gender 
GenderSpectrum : Grupo de padres en Español (Spanish Language Parent Support Group): Si desea unirse al grupo de apoyo mediante llamada mensual, o si tiene alguna pregunta, por favor contáctenos a [email protected]
Online Facilitator Support Group
Webinar: Understanding Gender for Parents, Families, and Friends (June 1)
GenderSpectrum also has a wealth of online programs on their YouTube channel, and post regular updates on Instagram, Facebook and Twitter.  
GenderSpectrum has also posted a page on their website with a list of resources including the CDC and WHO coronavirus information pages, links for information specific to the health needs of families with gender-expansive children and teens, parenting and COVID-19 information and more. 

Here's the Entire List of Education Companies Offering Free Subscriptions Due to School Closings
Nasa Makes Entire Media Library Publicly Accessible Copyright Free

Read all the Animorphs Books for Free:
Mo Willems Is Hosting a Livestream Doodle Every Weekday, Starting Today:

Meals being provided at schools  (Fresh from Florida-Department of Consumer Affairs)
Florida Department of Children and Families Financial support (TANF) and SNAP (foodstamps)
Schools in Broward providing meals
To find Schools In the rest of Florida providing meals

Florida Department of Education COVID-19 Response: 
The purpose of this Q&A document is to provide additional guidance and clarification regarding the Department's guidance to school districts related to COVID-19 closures.   
Florida Department of Education Announces Additional Guidance for the 2019-20 School Year. Information regarding the COVID-19 response for educators, school district staff, students, and parents/guardians.

Equality Florida is continually connected to the LGBTQ+ youth-serving community nonprofits in our state. These nonprofit organizations are often a literal lifeline for our students offering a myriad of face to face services to virtual online chat sessions. They are meeting youth's needs during this time of uncertainty. If you may not know of your local or regional LGBTQ youth service organization, please find them here and reach out.
Equality Florida Transgender Resource Guide
PFLAG-Local chapters across the state
Orlando Youth Alliance-Orange, Lake, and Seminole Counties Orlando
The Alliance for GLBTQ Youth-North Miami