Esmé ("Ez") Rodríguez, Pinellas Safe And Healthy Schools Coordinator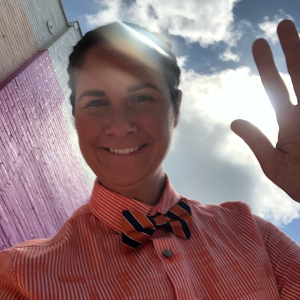 Esmé ("Ez") Rodríguez is the Pinellas Safe And Healthy Schools Coordinator and a transplant to Florida after 18 years in beautiful and snowy Minneapolis, MN. They are committed to working with administrators, teachers, parents, and school board members to ensure the creation of safe and healthy school environments in which LGBTQ+ and all students can thrive and strive to reach their full potential as whole, authentic individuals.
Esmé is a non-binary, Latinx educator, activist, and artist. Prior to working with Equality Florida, Esmé was the Statewide School Equity Director for OutFront Minnesota. Esmé also taught Gender Studies and Latin American Literature at the university level for 12 years and tours national colleges with their "Gender Show and Tell Program," which engages in intersectional discussions surrounding the performance of diverse gender identities and gender expressions from non-binary cultural perspectives.
Esmé has a Master's Degree from Boston College and studied their PhD at the University of Minnesota, Minneapolis. Much of their professional and creative work exhibits themes of transgender and gender diverse identities, the deconstructions of femininities and masculinities, and the creation of possibility spaces through engaging in work that promotes intersectional justice and community building. Esmé's personal and professional goals are to form coalitions and relationships, which aid in the breakdown of systems which create and maintain oppression, violence, and inequality.
One of Esmé's most exciting opportunities was being chosen to be a featured artist at The Walker Art Center (MN) in 2008 in conjunction with the International Touring FRIDA Kahlo Exhibit. Esmé also enjoys vegetarian sushi, downhill skiing, NFL, and college football.