Row Iliescu, South Florida Development Director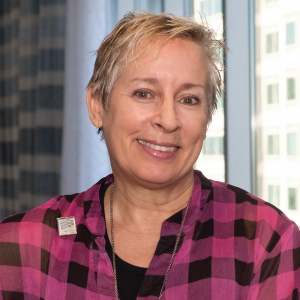 Row (short for Rowena) Iliescu is Equality Florida's South Florida Development Director, and helps oversee the regions fund-raising events, with the greatest emphasis in Broward County.  Row's activism began as a volunteer for Equality Florida in 2008 when she tirelessly canvassed voters at the polls on Amendment 2. 
Since joining the Equality Florida team, Row has developed our Membership Services Program with cheerful dedication, attention to detail, and genuine concern for our members. Working alongside Stratton in South Florida, Row has helped broaden our base of support among small businesses and ally communities, while strengthening our network through increased collaboration with local organizations, and the development of dedicated volunteer teams. 
Originally from Toronto, Row has been a weather refugee in South Florida for 25 years.  She arrived as a successful trainer and exercise rider of thoroughbred racehorses, but following a serious riding accident went back to school earning a Masters Degree in Social Work and beginning doctoral studies in HIV prevention.  Finding that she preferred fieldwork, for ten years Row worked in the non-profit sector as a therapist to children and families in the foster care system before joining the Equality Florida team, where she says she feels, "at home."
Row is an avid outdoorsperson, spending much of her leisure time mountain biking and exploring Florida's trails and waterways with her boxer, Loki.