Yameeliz Fret, South Florida Safe and Healthy Schools Coordinator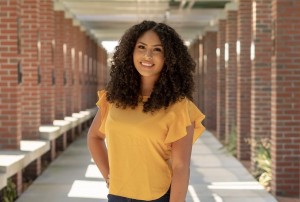 Yameeliz is the South Florida Safe and Healthy Schools Coordinator with Equality Florida. In this role, Yameeliz works directly with school districts, families, community organizations and other stakeholders to implement professional development trainings, best practices and programs that create safe and inclusive learning environments for all students, especially LGBTQ+ youth.
As a Latinx, LGBTQ+ woman, Yameeliz is passionate about supporting and uplifting marginalized communities through a holistic and intersectional approach. She believes that education is one of the most essential tools utilized by communities to incite social change and engage in collective action, thus emphasizing the need to support youth throughout the K – 12 experience and beyond. Yameeliz comes to Equality Florida with years of personal experience within the public, private, and charter school sectors, allowing her to understand the distinct needs of LGBTQ+ students in each of these institutional settings. Her work toward the dismantling of oppressive systems related to sexism, homophobia, racism, xenophobia, anti-Semitism, and more, began by volunteering with undocumented migrant workers at the Hope Community Center in Apopka, Florida. Since then, she has directly worked with and/or volunteered her time to organizations such as the University Area CDC, Pasos al Futuro, the University of South Florida Refugee Tutoring Program, and Equality Florida.
Throughout her undergraduate experience, Yameeliz served as a Social Justice Peer Educator, a program developed to provide student leaders with opportunities to aid in the creation of safe and welcoming residential living environments for all students by promoting social justice learning through targeted educational events, such as Choose a Better Word and Tunnel of Oppression. She also served as a Resident Assistant under the University of South Florida's Housing and Residential Education department, where she developed personal awareness among students to guide cross-cultural interactions, established a sense of responsibility to effect positive change regarding local and global communities, and pursued the development of the whole person, including physical, psychological, emotional, spiritual and financial well-being through the implementation of lesson plans and intentional conversations.
Yameeliz is a graduate of the University of South Florida and holds a Bachelor's degree in Sociology with a concentration in social justice and inequalities.