Equality Florida Applauds Passage of The Equality Act by the U.S. House of Representatives
TALLAHASSEE, Fla - In a historic moment, the U.S. House of Representatives voted to pass the Equality Act this morning. The bill would amend the Civil Rights Act of 1964, and a number of other federal civil rights statutes, to prohibit discrimination based on sexual orientation and gender identity if signed into law. The Equality Act is the most comprehensive LGBTQ civil rights legislation ever filed in Congress and establishes protections in essential areas of life including housing, employment, public spaces, education, credit and even jury service. Today's passage serves as a critical and historic milestone in the fight to protect LGBTQ Americans from discrimination. If passed in the U.S. Senate and signed by President Trump, LGBTQ Americans would finally be afforded the same protections guaranteed by federal law to every other American.
"Our mission is and always has been equality for all," said Nadine Smith, Executive Director of Equality Florida. "This is a remarkable moment in the fight for LGBTQ equality. Every American deserves to be treated with dignity and respect regardless of who they are or who they love. We are grateful to the bipartisan coalition of lawmakers in the Florida congressional delegation who've lent their support and votes to this historic measure. And now we turn our eyes to Senator Rick Scott and Senator Marco Rubio who can call right now for this bill to be brought to the U.S. Senate floor. History will remember us by the way we protect our most vulnerable communities."
Equality Florida worked tirelessly to secure votes from members of Congress in Florida, the country's 3rd largest delegation. For months, we've helped to organize our community through face to face meetings, phone calls and emails campaigns that shared with federal lawmakers what the passage of nondiscrimination protections would mean for LGBTQ Floridians and our families.
After today's passage, the Equality Act now moves to the Senate. With support from over 70% of Americans, 200+ major businesses, and 700+ faith organizations, it has never been clearer that passage of this legislation is the right step to move the country forward. We urge Senators Marco Rubio and Rick Scott to join the majority of Floridians in supporting the Equality Act and call for it to be brought to the Senate floor. No one should fear discrimination based on who they are or who they love.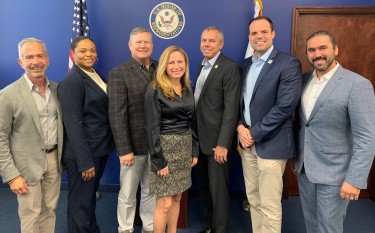 Shown Above: Equality Florida, SAGE, Greater Miami LGBTQ Chamber of Commerce, and Pridelines meeting with Congresswoman Debbie Mucarsel-Powell