BLOG: Redistricting Threatens to Divide Florida's LGBTQ Community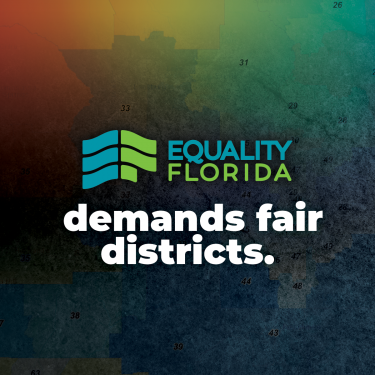 Alongside the many culture wars ignited by the legislative leadership this session, lawmakers are currently undertaking redistricting–the once-in-a-decade process of redrawing the district lines to determine who represents us in the Florida Capitol. Districts can be changed to keep LGBTQ communities together in a critical mass to protect our interests and elect officials who will be champions for us. On the other hand, districts can be changed to divide LGBQ communities and diminish our influence. The Wilton Manors area is one of those areas where we have concerns about the legislature fracturing our political power. 
Redistricting takes place every ten years, based on new census data. District boundaries are redrawn for school boards, city councils, state legislatures, and the U.S. Congress. It's also where Florida has seen self-serving politicians use partisan gerrymandering to manipulate the system and pick their voters. In prior redistricting cycles, lawmakers traveled the state for a "road show" to discuss maps with the public. Not this time. The Florida legislature has refused to provide opportunities for Floridians to review and comment on proposed maps on their home turf. Instead, Floridians must drive to Tallahassee multiple times to participate in committee meetings held during business hours, on different days of the week or at overlapping times.
The legislature has proposed new House, Senate, and Congress maps in the shadow of these manipulative tactics and lack of citizen input. As of the end of this week, the Senate finalized their Senate and congressional map proposals, and both were passed with broad bi-partisan support. While some are cautiously optimistic that those maps seem to build upon the successful implementation of the Fair Districts Amendments, Equality Florida partners at the League of Women Voters have released an analysis of these maps, characterizing their unconstitutionality and disregard of minority population growth. More concerningly, however, are the draft House maps. The House maps were drawn to clearly tip the political balance in favor of Republicans, and we cannot continue to allow politicians to cater to special interests and their party's extremes instead of their constituents.
A classic and long-time example of our community being gerrymandered for Republican gain is taking place right in front of us: The division of our community in Wilton Manors and Fort Lauderdale into two, sometimes three, voting districts.
The 2010 Census called Wilton Manors the "Second Gayest City" in the United States. It's had a long history of electing LGBTQ+ officials to office, and made history in the year 2000 by having the second gay-majority governing body in the United States. By 2018, Wilton Manors had become the second city nationwide to have an all-LGBTQ City Commission. The voting power of the LGBTQ community in Wilton Manors and Fort Lauderdale, however, is notably diluted when it comes to state legislative races. Currently, Wilton Manors is divided into two House districts, effectively separating our community and diluting our voting power.. The proposed "workshop" State House maps aim to keep this divide, either drawing a line through Wilton Manors and dividing it into two districts (H8005, and H8007), or completely separating Wilton Manors from most of Fort Lauderdale, which also has a burgeoning LGBTQ population (H8009). 
The Victory Institute's redistricting campaign highlights an important fact: The iconic San Fransisco Supervisor, Harvey Milk, was only able to win his election after the California city redrew a seat that included the Castro neighborhood (local gayborhood) in its entirety. Wilton Manors has been able to historically elect an all-LGBTQ City Council, and the community deserves fair districts that allow them to send pro-LGBTQ electeds to the Florida Capitol who will fairly represent those constituents. We must let the legislature and redistricting committees know that we are watching, and we will not be divided.
If you are wondering what current proposed maps mean for you and your community, CUNY's Florida Redistricting and You Online Map allows you to overlay the current maps with the proposed maps, and gives you important data about each proposed district. You can also submit written comment to the redistricting committees, participate in a public hearing, or emailing your legislators via the link below.