Equality Florida's 2019 Year In Review
Executive Summary
"Astonishing. That is the first word that comes to mind as I reflect on the enormous work showcased in this 2019 recap.
The reach of our Safe and Healthy Schools work, the strength of our business support, the tenacity of our lobbying, the engagement of trans and gender non-conforming leaders, the visibility of our HIV organizing have all grown exponentially. And our donors continue to stand with us in treacherous times as we shape a vision for 2020 and beyond. In fact, much of the work has been preparing the way for 2020, a year in which Florida will be in the national Presidential election spotlight and elections will be decided once again by the narrowest of margins.
The work ahead will not be easy, but we have built a strong team, programs that are national models, and we continue to do crucial work in a bellwether state that continues to have an outsized impact on the rest of the nation.
I hope you beam with the same pride as you reflect on the last 12 months and brace for the year ahead."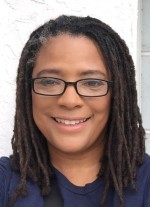 Nadine Smith
Executive Director
Equality Florida
---
HIV Advocacy Project
New Partnerships, Growth, Expanded HIV Content, and Legislation Progress
The HIV Advocacy Project had another very strong year of growth in 2019!
There was considerably more HIV content shared online through our Facebook page, more media coverage, and increased engagement with stakeholders than in the previous year. We created numerous new relationships with organizations at both the state and national levels. Alejandro Acosta was an integral part of the creation of a new national network for LatinX people living with HIV. We also created new training and professional development content with a focus for specific audiences (law enforcement, medical students, and media & reporting outlets). Similarly, there was more of an effort at "MIPA" - the meaningful involvement of people living with HIV/AIDS - throughout the organization, not just the HIV specific content. This was driven not only by Alejandro, but also by outside partners who contributed their perspective. In addition, being selected as a beneficiary for AIDS Healthcare Foundation, only after two years of direct HIV work, cements our place within the HIV work of the state. Finally, this year we saw unprecedented year-over-year progress on HIV Modernization legislation.
List of HIV Advocacy Successes At-a-Glance for 2019:
Public education events and outreach:
Earned media coverage on HIV and HIV Modernization in Florida Politics, Miami Herald, Tampa Bay Times
Coordinated and supported multiple advocates living with HIV to testify before Florida House and Senate committees, earning extensive media coverage
Hand-picked by grantor AIDS United to present our work in front of their funders at an annual convening
Doubled the attendance of HIV Advocates living with HIV at Lobby Days from 2018
Presented During the Men's Health & Wellness Conference in Broward
Participated as a panelist to discuss HIV Stigma at 4ward America's Symposium
Celebrated Black History Month by featuring Black leaders within the HIV community on social media
Celebrated transgender leaders on social media for Transgender HIV Testing Day
Executed online visibility campaign - T-shirt campaign featuring HIV advocates, garnering an average of 2,000 engagements per post
Elevated HIV awareness through more than 50 Facebook posts, 20 Tweets, and 4 digital ad posts
Trainings offered:
Held feedback session with law enforcement for input on first-of-its-kind law enforcement training on HIV and HIV Modernization - secured 3 law enforcement agencies and gained valuable knowledge to revise training materials
Trained medical students at FIU and FAU as part of World AIDS Day programming and moderated a medical school panel discussion of people living with HIV
Presented to over 60 medical resident students at Boca Regional Hospital through FAU
Received commitment to be included in FAU curriculum for an infectious disease panel discussion next spring semester
Trained transgender young leaders at the TransAction Leadership Academy
Conducted training on HIV for media outlets with 71 nationwide participants from different reporting agencies
Invited to present at a conference on Creating Effective Presentations
Partnership efforts:
Landed highly valuable AHF AIDS Walk Beneficiary designation within only two years of the HIV Advocacy Program launching
Continued leadership roles on the Florida HIV Justice Coalition
Solidified relationships with lawmakers, including during our in-person Florida HIV Justice Coalition meeting and at the Capitol with Senator Jason Pizzo during the site visit from AIDS United
Hosted a focus group for the U.S. Department of Health with leaders from men who have sex with men (MSM) community
Partnered with AARP Project and SAGE on Aging Symposium, including elevating issues of aging with HIV
Continued presence in Rollins College and Florida State University via semester interns
Invited to participate in Community Summit in Dallas by ViiV Healthcare, a major funder of HIV work
Invited to participate in Ujima Men's Conference (men of color living with HIV group) in Tampa
Other Areas of Impact and Success:
Unprecedented movement of the HIV prevention bills through the legislature
Alejandro selected to serve as one of two founding organizers, and the only one from the United States, for the launch of anew LatinX Plus Network of Latinx people living with HIV; Alejandro continues to serve as their HIV Criminalization Advocate.
As part of Florida HIV Justice Coalition, received continuing recognition at a national conference as a model for other states working to end HIV criminalization.
Hosted three interns, including two interns of color living with HIV, one of which was the only intern to lead part of Lobby Days training
Alejandro Acosta completed Class 1 and Jon Harris Maurer selected for Class 2 of HIV Southern Impact Fund Leadership Academy
Participated in AIDS Watch in Washington, D.C. to advocate on HIV issues in the Capitol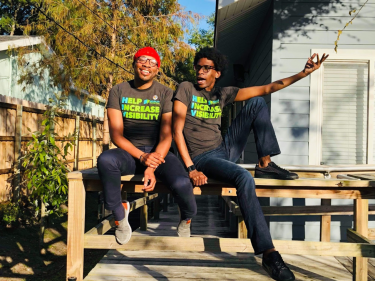 (Image from online t-shirt campaign for HIV visibility)
Remarkable Progress on HIV Modernization
In 2018, HIV Modernization legislation was never heard in a single committee for either the Florida House or Senate. This year, the HIV Modernization bills in the House and Senate moved with remarkable bipartisan support, including supportive votes from Committee Chairs and the future House Speaker. House Bill 79 passed both the Judiciary Committee and Appropriations Committee. Senate Bill 846 faced challenges in the Health Policy Committee, but working closely with Senators, we were able to amend the legislation into another bill and get it passed the Appropriations Committee. It progressed all the way to the Senate floor, but the bill ultimately was not taken up for a vote. The fast-paced nature of the Florida legislative session allowed for this unprecedented progress.
The number of hearings secured for this legislation provided critical opportunities to center the experiences of people living with HIV. They came to the Capitol--with several coming to the Capitol on multiple occasions--to share their stories in small meetings with lawmakers and before full committees.
During the committee weeks at the end of 2019 and leading up to the 2020 Legislative Session, renewed legislation for HIV Modernization was introduced in the House (HB 427) and Senate (SB 626) sponsored by Representative Nick Duran (D) and Senator Jason Pizzo (D). The HIV Prevention Bills were drafted alongside the FL HIV Justice Coalition with strong leadership from Equality Florida. We remain optimistic about the prospects for the upcoming session.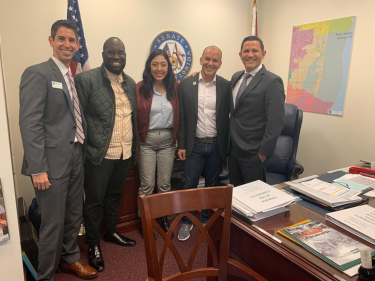 (HIV Modernization sponsor Sen. Jason Pizzo visits with Equality Florida and AIDS United representatives in the Capitol during a successful site visit by funder AIDS United)
Other Outreach and Public Education Partnerships
One of the 2019 hallmarks for the HIV Advocacy Project was Equality Florida launch of new programming and being invited to events that resulted in new and strengthened partnerships.
Recently, Alejandro was invited to participate in the 20th ViiV Community Summit in Dallas, TX as a Southern HIV leader within the Latinx community. Representatives from CDC were challenged on the use of federal funds for Ending the HIV Epidemic Initiative (EHE) by the Trump Administration. In addition, Equality Florida hosted the Department of Health to conduct a focus group for MSM community members to offer feedback to the Broward Department of Health to offer input on the regional plan to EHE, we are currently cementing our relationship by serving as a facilitator for conversations between the Dept. of Health and local Community Based-Organizations.
In partnership with Positive's Women's Network (PWN), we offered an online training for Media Outlets titled: Reporting with Care: An HIV Update. Offered to a nationwide audience, the training had 71 registrants. While we have worked closely with PWN on the FL HIV Justice Coalition Steering Committee, this was the first opportunity to share deep expertise between organizations and broaden our mutual networks.
We also conducted significant outreach around Worlds AIDS Day (WAD). We attended the WAD Walk and Vigil organized by the PrideCenter in Fort Lauderdale. Due to WAD falling on Sunday, we observed World AIDS Week. We held a table during the celebration at the Florida International University (FIU) South Campus in Miami. Our intern Ariel Sabillon was recognized by the Florida State University for his work on HIV visibility and raising awareness on campus. Alejandro moderated a panel discussion of people living with HIV for students and faculty at FIU. Similarly, Alejandro presented in front of the 2nd and 3rd year medical students from FAU's Medical School at Boca Regional Hospital on a presentation of stigma in the healthcare community.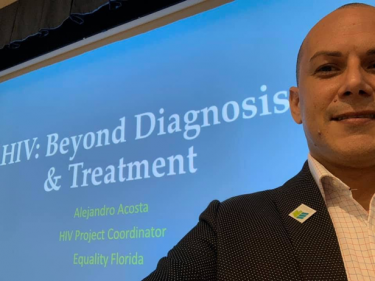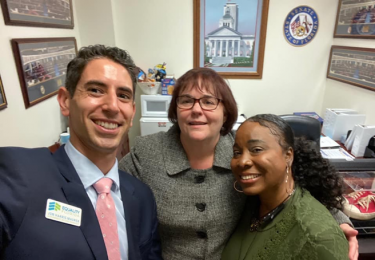 We have also continued our outreach in the Capitol. During committee weeks, we tapped one of our most successful Lobby Days success stories to meet with additional lawmakers back in Tallahassee. Angelisa Austin (pictured above), who we have previously reported on following Lobby Days, is an advocate living with HIV who has been transformed into a champion for educating lawmakers on the need for HIV modernization based on our Lobby Days training. This has been Angelisa's fourth visit to the Capitol in one year, and we are immensely proud of her growth as an advocate.
Finally, Equality Florida concluded the year in December with our most ambitious online education campaign. The HIV Anti-Stigma T-Shirt Campaign included over 14 Facebook posts featuring local and national HIV advocates sharing messages on the importance of visibility and tips on how to fight HIV stigma. We have made the t-shirts available on our online store to further meaningful involvement of People Living with HIV at all levels of our organization's programming, and hope to see more Equality Florida members carrying forward the message of HIV visibility.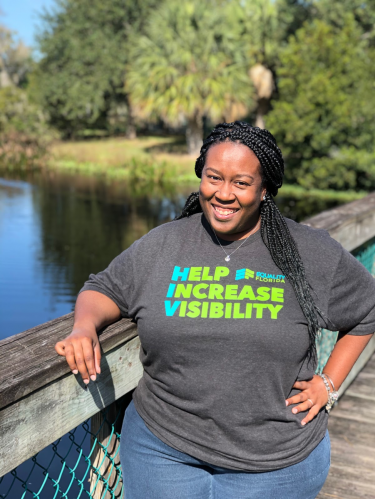 (Community advocate shows off her HIV Visibility shirt)
---
TransAction Florida
Program Overview
2019 was another growth year for Equality Florida's Transgender Inclusion Initiative, TransAction. We conducted a record 54 Corporate Transgender Dynamics in the Workplace workshops in 2019. Our workshops were more diverse in scope as we conducted workshops for not only major Corporations but for Health Care Organizations, AIDS HIV Health Networks, Homeless Shelter Stakeholders, the National Association of Gay and Lesbian Realtors, Political Parties, fellow Non-Profits, Law Enforcement Agencies, Governmental Agencies and Faith and Secular organizations.
Education Workshops: 54 Transgender \ Enby Awareness Workshops conducted in 2019, touching an estimated 3,500 people across Florida.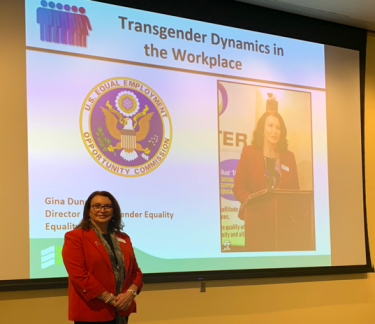 Transgender Dynamics in the Workplace Workshops 2019 (Sample):
EEOC, (4) Tampa, Valrico, Miami, West Palm
Orlando Health, Central Florida, (4)
AIDS HealthCare Foundation, (3)
Rosen Hotels (2)
Lockheed Martin (2)
ADP
TD Bank, International Diversity Summit, NY
YMCA of Central Florida
CitiGroup
Tampa Bay Chamber of Commerce
Brevard County Progressives
Brevard NOW
Coalition for the Homeless, Central Florida (2)
Seminole State College
Florida Blue
Sanford City Government
Anti-Defamation League, South Florida
Secular Society of NCentral Florida
Pasco County Dems
Rollins College
Central Florida Diversity Learning Series
Florida A&M School of Law
Natonal Association of Gay and Lesbian Real Estate Professionals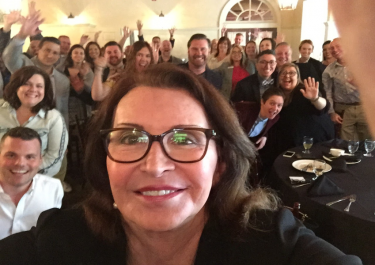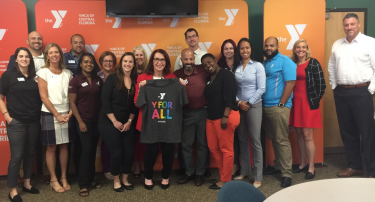 From our increased exposure in the Transgender Training and Awareness space, we also were asked to speak at many social justice-related events and rallies. Program Director, Gina Duncan was asked to be the Keynote Speaker at TD Banks Global Diversity Summit in NY City at International PRIDE NY, was a featured speaker at Moms Demand Action, Gun Control Rally in Orlando, Win With Love, Anti-Trump Rally in Orlando, at the Rally for Our Rights at the First Unitarian Church of Orlando, and was the panel facilitator at the One Orlando Alliance Public Safety Town Hall, and Florida Anti-Defamation League's Transgender Awareness Townhall.
Gina was also a featured speaker at the TranSpire Conference, FreeFlow 2019, Free Thought Society Conference and The Pinellas Democratic Party's Quarterly meeting, Congresswoman Stephanie Murphy's Orlando Town Hall.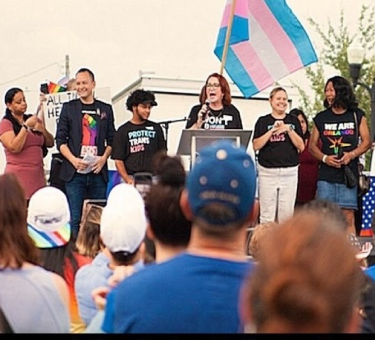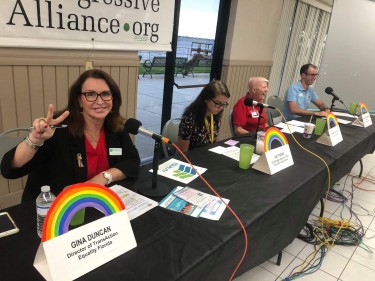 Engagement
Our TransAction Network now numbers over 150 trans and nonbinary advocates across Florida. From our TransAction Network, we have restaffed our 2020 Statewide TransAction Advisory Council that will serve to develop ongoing gender diversity and inclusion Florida strategies. The Advisory Council consists of trans and nonbinary leaders from all parts of Florida — together, council members will develop statewide strategy, advocate, educate and work to advance transgender equality. They also serve as knowledgeable spokespeople for the community while supporting state and local initiatives in support of Florida's gender diverse population.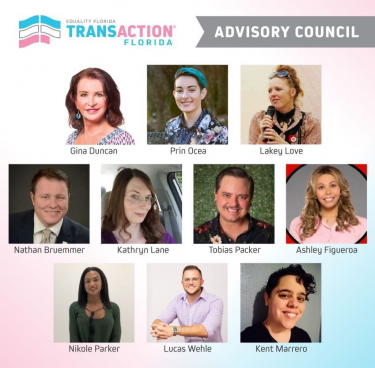 Also in 2019, TransAction Launched our inaugural TransAction Leadership Academy, TALA. The TransAction Leadership Academy is a city-specific advocacy training initiative designed to grow future trans and nonbinary leaders, The class consists of 9 to 12 hand-chosen youth between the ages of 18 and 30 to engage in a six-month learning journey designed to improve their knowledge of issues, their grasp of messaging and media interaction and their public speaking skills This TALA class was in St Pete, ran from June to December 2019. Our nest Leadership Academy is in Orlando and the class is being chosen now to run from January to June 2020.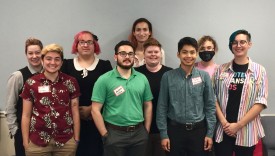 Community Engagement and Public Policy
In 2019, TransAction launched a Visibility Campaign around the March International Month of Trans Visibility. Our "Won't Be Erased" and "Protect Trans Kids" T-shirt campaigns and Rally were a huge success with community leaders, corporate executives and elected leaders all dialing in to promote transgender equality. Shown Director Gina Duncan, City Commissioner Patty Sheehan and Orlando Mayor Buddy Dyer.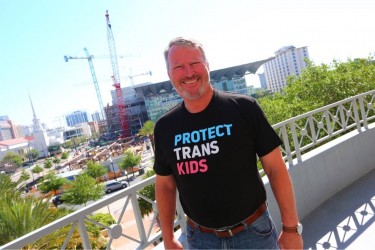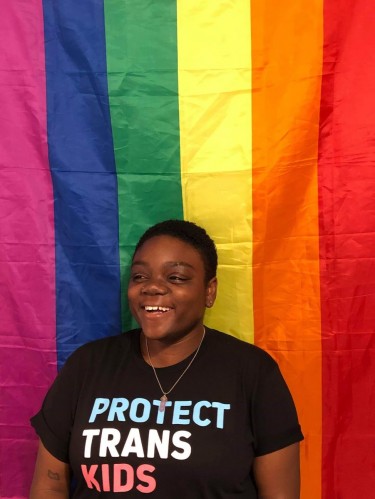 Lobby Days and Public Policy Engagement
In 2019, we had the largest contingent of transgender and nonbinary community members attend Lobby Days to advocate for the passage of the Florida Competitive Workforce Act. We had 17 trans/enby community activists attend representing 20% of our delegation, the largest turnout of trans/enby people yet.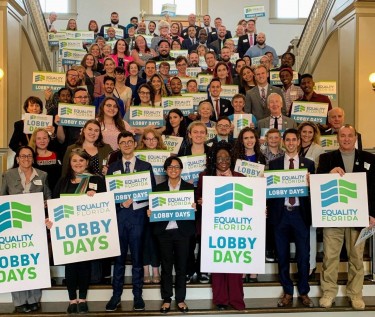 Equality Florida's Transgender Inclusion Initiative is also an important platform for transgender and nonbinary voices in effecting inclusive public policy. TransAction Florida is a critical program in ensuring that all Floridians are being treated with dignity and respect in all aspects of life. (Rep. Carlos Smith, the DOJ, and Congressman Darren Soto.)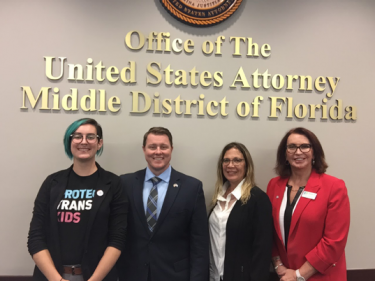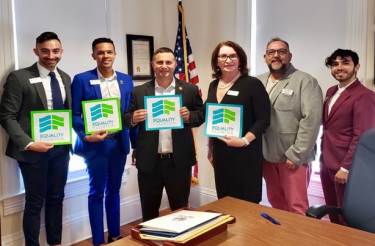 TransAction Recognitions and Awards
Our Director of Transgender Equality, Gina Duncan, was honored with the City of Orlando Civil Rights Wall of Fame, and at the PRIDE Chamber of Commerce Gala, was awarded the 2019 Community Champion of the Year.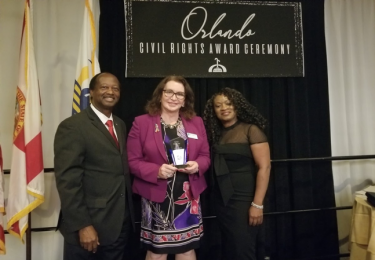 Anti-Transgender Violence in Florida
In 2018, the state of Florida led the nation in transgender murders with 5 transgender women of color being brutally murdered in our state. In 2019, two more black transgender women were murdered in Florida. In all cases the victims were misgendered by law enforcement and the media, thus calling for increased awareness and education for our law enforcement agencies. TransAction has conducted DOJ certified trainings in Tampa, Orlando and Jacksonville. More work is needed to not only educate law enforcement but to stem the epidemic of trans violence in Florida and build trust between the trans community and law enforcement agencies. Increased Law Enforcement Agency Trainings across all sectors of Florida are a priority for 2019-2020.
For the 2019 Transgender Day of Remembrance and Visibility, Equality Florida mobilized rallies in Florida's major municipalities and mounted a national campaign, #SayHerName, to denounce anti-transgender hate and violence.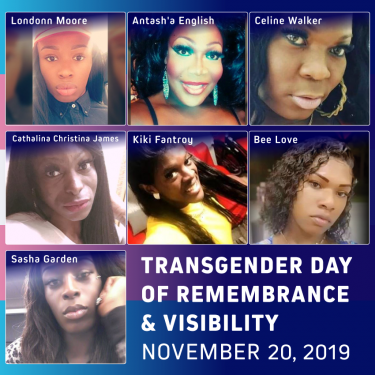 ---
Safe & Healthy Schools
Overview of Safe and Healthy Schools Work in 2019
Our team is delighted to continue to report pivotal strides and systemic undertakings by both our team across the state as well as districts who are taking responsibility for the equity, well-being and ultimate successful graduation of our youth, kindergarten through twelfth grade!
The following report will be segmented into six broad themes in order to gain a sense of urgency, scope and deliberate engagement inside districts, community agencies at large and working with our state capitol's key educational entities and figures.
Districtwide Systemic Support: Breakthroughs Ramp Up
Ancillary Organization Support and Engagement: Structural Changes Statewide
Tallahassee and Respected Educational Entities: Forging Deeper Relationships
Back to School Visibility Campaign
Coalition Formation: Helping Districts Take Note of Mainstream Community Engagement and Collaboration
Pressing Forward: Rural Districts Step UpTheir Engagement
Our Safe and Healthy Schools work can not be more urgent than it is now; students' mental health risk factors have increased or stayed the same and not improved according to the Florida Youth Risk Behavior Survey. As well, without clear guidance from Florida or the nation about transgender student safety, districts are still looking to Equality Florida to offer support for the knowledge needed to ensure our trans and nonbinary students face less trauma in schools and have gold star best practices structurally in place.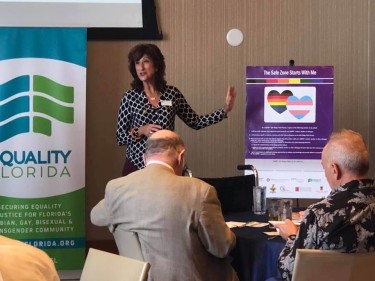 We are on the ground, continually forging more relationships and clearly searched out as the 'go to' professional leaders pertaining to LGBTQ+ student knowledge and exemplary practices. Here is a synopsis of our team's 2019 successes:
Districtwide Systemic Support: Breakthroughs Ramp Up!
To date, we are very excited to report that approximately 19,100 educational staff in Florida's schools have experienced from 1.5 to 3 hours of LGBTQ+ cultural competency professional development training by our team across the state! As well, we continue to maintain close relationships with 90 per cent of all large, urban districts and mid sized districts. As well, and more about this later, this year we have forged some ongoing relationships with small, rural districts.
Here are some highlights of our districtwide work:
Florida Virtual School
Through two different trainings Florida Virtual School staff, including teachers and leadership, were educated about the needs of supporting LGBTQ+ students. These students are youth who have left the standard classroom to get their education online, and a large number of these students identify as LGBTQ. These trainings had us touch 2,000 Virtual School educators and leaders and show how an organization such as Virtual School can commit to create more inclusive spaces for all students. Bravo to Ian, our Safe and Healthy Schools Associate Director, for leading this charge.
Principals and Assistant Principals
Besides student services staff across the state, reaching principals is critical, as they are the gatekeepers in individual schools. Most mid-sized and large districts educate principals with Equality Florida training every other year, and this year we reached all elementary, middle and high school district principals in Monroe, Citrus, Duval, Lee, Manatee, Orange, Martin, Brevard, Polk and Alachua school districts, with trainings slated for Pinellas in early winter. We are pleased that districts understand the need to educate not only counselors, social workers, mental health point people, nurses and school psychologists, but also principals, assistant principals, school resource officers (several districts have opened these doors to us) and GSA Adult Advisors (many to note statewide!) These trainings are critical in that an administrator has tremendous autonomy over school culture in their building and sets the tone for care, respect and best practices. Thousands of youth are reaping the benefits of reaching student services staff and principals statewide!
LGBTQ Critical Support Guides and new "One Pagers"
Presently, we have eleven LGBTQ Critical Guides that have rolled out in districts. This is due to the clear case our team makes for the importance of 'go-to' guides that offer systematic support to districts statewide. During the year 2019, the following districts have added to our new number of twenty-four LGBTQ Guides or One Pagers (a districtwide document listing LGBTQ critical guidelines that is preemptive to a full guide) which will be rolled out in 2020 or has been rolled out in 2019. They are Collier, Monroe, Pinellas, Lee, Charlotte, St. Lucie, Indian River, Okeechobee, Manatee, Alachua, Orange and Duval.
School District "Mental Health Plans: Huge Increase in LGBTQ Planning
Since the Marjory Stoneman Douglas tragedy in winter 2017 the State Department of Health and Education set a mandate for every district to have a "Mental Health Plan" for all students. The first year's plans had two districts that included LGBTQ, and we are elated to report an exponential increase to ten districts in 2019! They are Hillsborough, Indian River, Martin, Hernando, Lee, Orange, Sarasota, Jefferson, Seminole and St. Lucie. We are pressing on to ensure many more will add LGBTQ best practices for year 2020.
LGBTQ Point Persons Training
In 2019, twenty-five school districts have an LGBTQ point person located in their district office. This person has other job responsibilities as well. However, through our work these districts have structured a person who can assist with fielding LGBTQ critical questions. In 2018, there were fifteen.
As well, this year some school districts went above and beyond, and through our coaching and training delivery, designated each of their elementary, middle and high schools with a LGBTQ point person. These districts are Manatee and Duval. Lee's and Hillsborough's Race Equity Liaisons also received LGBTQ professional development. Pinellas LGBTQ point persons are in the works for spring 2020 and Miami Dade, Broward and Palm Beach institutionalized point persons for each school in 2018.
Pinellas Trainings Standing Out
Due to our on the ground work and exemplary Safe Schools Pinellas Coordinator, Ez Rodriguez, this district has received over sixteen professional development trainings, with eight more slated for June 2020! Each of these sessions offer inservice point credits to all individuals. As well, Pinellas Gay Straight Student Alliance (GSA) Advisors received two full day trainings and 100 percent of the districts high schools have operating GSAs with 30 percent of middle schools presently having GSAs. Two GSA Student Leadership Summits were held by Metro Inclusive Health and Equality Florida as well. Finally, 150 of the district's nurses received our LGBTQ professional training, and within the same month, we were able to scoot over to neighboring Hillsborough's district to deliver training to 400 school nurses and health professionals as well!
Ancillary Organizations' Support and Engagement:
Structural Changes Statewide
Through three years of statewide work, we have learned how important it is to engage ancillary organizations who work with or beside school district youth from outside and respected organizational entities. Here are some highlights of important trainings and partnerships we have forged in 2019:
Florida Virtual Schools
Florida Virtual School success was reported in our previous section and these educators are in charge of teaching many LGBTQ+ students who left schools due to mistreatment, lack of acceptance or at risk challenges. Delivering professional development to 2000 staff members so that hearts and minds were shifting in the direction of best practices for this vulnerable youth group was an important win.
Orange County Schools' LGBTQ History Month and Pride Parade
Orange County Public Schools forwarded their structural support to city and county heights in a monumental manner by recognizing LGBTQ History Month districtwide, and marching proudly - and in large numbers - in the Pride Parade for the first time in Orange County history. This moment of visibility provides a clear sign that LGBTQ youth belong in our schools.
Clinical Partnerships with Mental Health Serving Mainstream Organizations
This year we have partnered with SEDNET, a statewide mental health organization that directly serves all school districts and this proved to be of great benefit for our systemwide work in Florida. We have also trained and created ongoing relationships with mental health providers statewide including Meridian Mental Health serving thirteen rural districts in North Central Florida, Florida State College mentors who serve rural districts in South Central Florida, The Florida Department of Children and Families "Circuit Coordinators" who serve districts all over the state, most of who are rural, and Okeechobee Mental Health Collaborative who serves Okeechobee,Hendry and Hardee School Districts.
YMCA of Central Florida
With a deep partnership, the YMCA of Central Florida and our Safe and Heathy Schools Department collaborated with our TransAction team to provide training to various levels of employees, including senior executive staff. This work included policy analysis, organizational LGBTQ revisions and training to all of Central Florida's youth camp staff members.
The Florida PTA
2019 proved to be another important year of relationship building with the powerful Florida PTA. Our Safe and Healthy Schools Director was asked to sit on their Board of Directors for year two. We continue to present at their statewide PTA summer conference and deliver individual trainings in a number of districts including Miami-Dade, Broward, Palm Beach, Hillsborough, Pinellas, Escambia and Alachua. Also this year, we were asked to join "Real Talk" an affiliate of the PTA for a "Youth Equity Conversation" at the state capitol centered on black, brown, differently able bodied and LGBTQ students. As well, the PTA submitted a proposal for our All Together Now Conference and will be presenting with PFLAG statewide and the FL PTA President will be moderating our highly acclaimed "Youth and Family" All Together Now Conference Panel in Winter 2020.
Equality Florida Webinars: Popular and Ongoing
In April of 2019 we initiated zoom webinars for district leadership and staff across the state. Taking place every other month, these webinars allow us to reach more individuals and gain more voice and presence statewide. Importantly, Equality Florida pairs largely with respected, outside sources to deliver this work and works closely in preparation with them. This work with collaborative experts in the field cements our relationships with entities nationally and statewide whose skill-sets match ours and who desire to engage with our work. All are extremely eager to join us. The following webinars have been delivered: Transgender Law in April; Trauma Informed LGBTQ Care in June; GSA Support in September; Creating Welcoming and Inclusive K-5 Schools in November; and LGBTQ Inclusive Forms and Records in January.
The Initiation and Success of EQFL's "School District Attorney Advisory Group for LGBTQ Students" and "School Board Member Advisory Group for LGBTQ Students"
In April of 2019 two entities formed due to well timed outreach by Equality Florida and passionate LGBTQ leadership by district attorneys and school board members in various district locations statewide. The two advisory groups stated above held meetings and regularly communicate with our Safe Schools Director and they have proved to be of unique and helpful benefit to our work statewide. The Attorney Advisory Group holds six attorney members and the School Board Advisory Group has nine school board members. Members from each group cover the geographics of our state, and are as far away as Escambia and Bay District to Miami-Dade and Palm Beach!
Tallahassee and Respected Educational Entities:
Forging Relationships
SHS Bi-yearly Capitol Visits to Key Agents of Change and Leadership
Our Associate Director and Safe and Healthy Schools Director continue to forge meaningful relationships with critical leaders in Tallahassee. A number of these leaders keep in contact with our team and we have been asked to deliver face-to-face training as well as hold webinars to educate their staff. The State Department of Health asked us to create and deliver a webinar to 160 of their nurses statewide, and participants shared how needed this knowledge was to their role in schools. As well, after meeting with Florida's Guardian Ad Litem leadership, the Florida Association of School Administrators, the leadership team at the Department of Education/Safe Schools and the Department of Health, as well as the Chancellor, the Vice Chancellor of Education and the Governor's Chief Child Advocate, we have taken the unprecedented step and requested that they lead panel discussions or deliver keynotes at our upcoming All Together Now Conference. Ten out of fourteen educational and health leaders agreed and will be joining us at the conference in critical roles. This demonstrates the willingness of our Capitol's leadership to address LGBTQ students' needs and resiliency!
Florida School District Attorney Association Conference Presentation and Florida School Board Association Conference Presentation
This year, we were invited to present and train at both the Florida District Attorney Association Conference and the Florida District School Board Association Conference, pivotal moments for our Safe and Healthy Schools team. Our Safe and Healthy Schools Director was asked to present and lead the training efforts as well as pair with respected attorneys at the Attorney Conference and respected district presenters at the School Board Conference. Reviews were very positive and the internal conversations from both sessions' participants showed our work was well received.
Visibility Campaign
Our Safe and Healthy Schools Team launched our first ever Back to School Campaign focused on the catchy slogan "LGBTQ Belong in our Schools!"
This campaign had 50 plus allies across the state taking photos in their tee shirts, expressing their commitment via comment about safe schools for our youth, as well as posing in their t-shirts. This campaign was a huge success and thank you to Ian for holding the reins on this exciting project.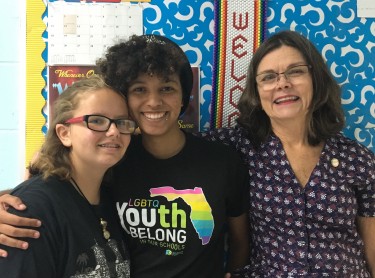 Coalition Formation: Helping Districts Take Note of Mainstream Community Engagement and Collaboration
Coalitions: Underscoring the Importance of Community Caring and Action
For a variety of reasons, Safe Schools Coalitions are valuable to communities and districts because they ensure community voice and recommendation are present and ongoing to district leadership.
Under the leadership of Tiffany Richards, both Broward and Miami-Dade School District Coalitions continued to accomplish systemic change and some examples within these two powerful district coalitions are the redesigning of the 2013 Safe Schools Broward LGBTQ Badge for all employees, the restructuring of the LGBTQ Liaison Training with the coalition's visioning, and in Miami-Dade, a resurrection of the Parent Outreach Committee who will work side by side with the PTA and other parent entities on behalf of LGBTQ education.
Also, our Pinellas Coalition was launched in 2019 by Safe Schools Coordinator Ez and they have over 15 Pinellas agencies meeting bi-monthly with a highly active facebook group and featured presentations on services by coalition agency representatives. Clear goals have been set by this coalition and two are to add gender identity to the district's nondiscrimination policy and to meet as a coalition with Superintendent Grego in Spring of 2020. In early 2019, Manatee County School District launched an LGBTQ Committee which has embedded into their mission regular trainings for Manatee employees. Orange County's Youth Coalition is co-led by our Associate Director Ian. Finally, Hillsborough County has ongoing meetings with mainstream entities in the community at large and sit down with Equality Florida during these gatherings.
Pressing Forward: Rural Districts Step Up Their Engagement
Our team is deeply gratified to report in counties that are isolating, often scary and sometimes unaccepting of our LGBTQ students, district interest is taking place due to a new tack taken to reach district leadership and convince them of the need to address our youth's unique needs.
During the 2019 school year, from approximately May forward, the following school districts have opened their doors to professional development training:
Citrus
Suwannee
Bradford
Putnam (training in winter 2020)
Hendry
Hardee (training upcoming)
Desoto (training upcoming)
Marion (2 trainings thus far)
Clay
Hernando (training in winter 2020)
Bay (Panhandle)
Walton (Panhandle) March 2020 confirmed
As well, we have met with Okaloosa, Santa Rosa, Escambia and Nassau and continue to hope to garner support and trainings there, although this has not happened as of yet.
Rural work has skyrocketed and the challenge is to keep each district's leadership engaged. We are up to the task!
We hope this information about our Safe and Healthy Schools institutional work, albeit only a snapshot, can help you navigate the lens of what our team accomplishes every day. We are driven to continue this work until every child is safe, valued and receives an equitable education, like all youth should have but many times do not, in all 67 Florida school districts. Our team could not do this work without your support. Thank you very much for your dedication to shifting Florida's landscape for our youth as we continue to be a model of change for our nation!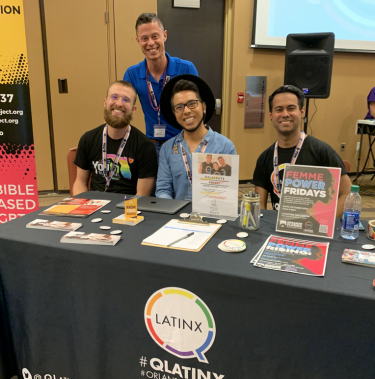 (Ian, co-chair of the Orlando Youth Empowerment Summit, working closely with community partners across Orlando to provide programming and resources to LGBTQ youth)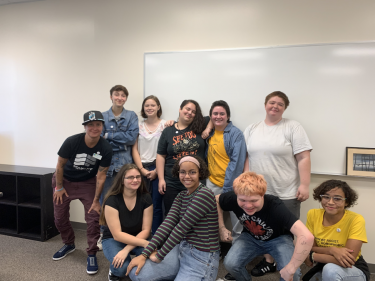 (Ez at a Gay-Straight Alliance Club in Pinellas School District)
(De at Broward Public Schools GSA Youth Summit, co-led by EQFL and BPCS, with deep assistance from the Coalition Tiffany manages and this Summit had 500 Broward GSA students present!)
---
Equality Means Business
Equality Florida's business outreach efforts this year have resulted in growth for the program in volume and in the impact we are making at the state and local levels.
The numbers:
Our Equality Means Business program has increased in size from just over 100 to a current roster of 123 businesses and organizations, including such recognizable names as Aetna, UBS, the Tampa Bay Buccaneers, and Miami Marlins, as well as Tallahassee Memorial Healthcare, Trulieve, First Citizens Bank and the East Orlando Chamber of Commerce. Discussions with these new partners has involved how to meaningfully engage with them to get our message out about our issues, but to also be a resource for them as they make diversity and inclusion a priority for their LGBTQ team members. Additionally, we launched an upgraded and modernized new website on which to demonstrate the commitment of our coalition members.
As part of our effort to also work with smaller businesses, we were able to add over 100 new businesses to the Open Doors online business directory through our partnerships with local chambers of commerce and through organic outreach to our donor base and members. Thanks to our continued collaboration with Open to All, we have been able to include national brands with Florida presence such at Gap, Old Navy, and Michael's, which adds an additional 100 listings of equality friendly places to shop. We are also currently working on an upgrade of the online directory which will allow us to attract a higher number of businesses to be part of a more user-friendly, GPS driven platform.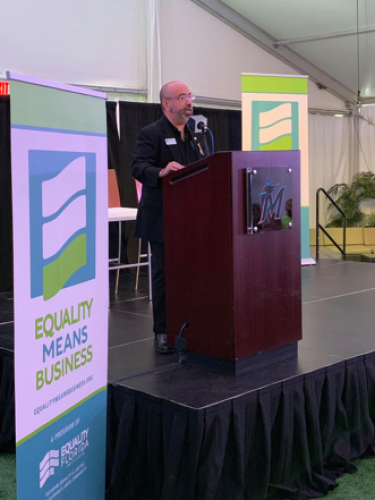 The partnerships:
2019 has been a year in which Equality Florida's business outreach program thrived because of strategic collaborations in which the focus was discovering ways to amplify the commitment of companies to increasing awareness and cultural competence to the LGBTQ community.
Open To All:
Equality Florida has partnered with Movement Advancement Project (MAP), coordinators of the Open to All national platform to expand the scope of Open Doors. As we launched the program, we featured five of our Open Doors members in a national social media campaign.
The United States Chamber of Commerce Foundation and the Florida Chamber:
On May 17, the USCCF in coordination with Equality Florida, the Florida Chamber, the Gill Foundation and the Orlando Chamber held an event called Inclusion Incorporated, which provided an opportunity for businesses and partners to learn how to build inclusive cultures inside and outside their organizations.
Hollywood LGBTQ+ Business Council:
At the local level in Hollywood, FL, Equality Florida served as a catalyst in the development of this group of business owners who saw the need for their community to become more LGBTQ friendly. We co-hosted an outreach launch event and have been serving as advisors in local policy efforts with city officials.
The outreach opportunities:
Equality Means Business lunches:
These lunch programs provide opportunities for business representatives to come together to share best practices around LGBTQ issues in the workplace. This year, we hosted a record number of programs and penetrated new parts of the state.
Tampa: Our partner was the Tampa Museum of Art who hosted the event. We coordinated a panel with representatives from Regions Bank, Merrill Lynch, the South Tampa Chamber of Commerce and Wellcare. There were over 65 in attendance.
Fort Lauderdale: The Greater Fort Lauderdale Chamber of Commerce co-hosted this event with just over 50 in attendance. Presenters represented Broward Health, Northwestern Mutual, TD Bank and Citrix.
Miami: With over 50 in attendance, the panel included representatives from the Miami Marlins, Citrix, UPS and the Museum of Discovery and Science. The Miami-Dade LGBT Chamber and the Coral Gables Chamber of Commerce provided marketing support among their respective memberships.
Panama City: In partnership with the LGBTQ Center of Bay County, the 2 chambers of commerce in the area and Gulf Coast State College, the EMB lunch in Panama City hosted an insightful panel with representatives from the Innovations Credit Union, the Bay County Film Commission, the local fire department and a staffing company. Over 45 were in attendance.
Naples: The law firm of Porter Wright took a strong lead in sponsoring this event. There were 60 in attendance and the discussion centered around workplace dynamics as well as the need for local protections via a human rights ordinance. The Greater Naples Chamber and the Bonita Springs Chamber reached out to their members to invite them to attend. The panel hosted representatives from Porter Wright, the school district, the local botanical garden, as well as Naples' largest private employer, Arthrex.
Orlando: In a great show of collaboration, Equality Florida partnered with the Pride Chamber, the East Orlando Chamber and the British-American Chamber of Commerce of Central Florida to host a networking event attended by over 100 in the Orlando area. Each organization presented briefly about their programs and plans on continued collaboration projects.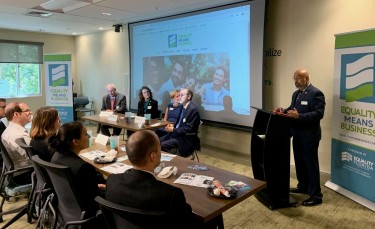 The intersectional work:
The role of business outreach has begun to demonstrate a need to intersect and become well integrated with the work of fellow Equality Florida departments. From development to public policy, to our Safe and Healthy Schools program, the relationship-building being coordinated with the business and corporate community has begun to show a financial impact.
Human Rights Ordinances - Policy Department:
Through the coordination of EMB lunches in Panama City and Naples, local activists and business leaders have engaged in discussions about what might be needed to pass a local policy that protects the LGBTQ community in their respective city or county. Additionally, in the city of Hollywood, local advocates are coordinating with us and their civic leaders to improve their city's score on the municipal equality index, which includes passage of ordinances, implementation of specific initiatives, and various other HRC driven requirements.
Statewide corporate mobilization - Policy Department:
As a way of engaging with the members of EMB and with those who are part of Florida Competes, business outreach, this year, included a request for advocacy. When Equality Florida was seeking to thank the governor for his response to the third year mark of Pulse, we were able to involve them in co-signing a formal letter to his office. We were able to secure participation from companies such as Florida Blue, Bank OZK, Disney, Deutsche Bank, Orlando City/Orlando Pride Soccer Club, and Lyft. Additionally, when we hosted a press conference to announce the filing of this year's Florida Competitive Workforce Act, we secured participation from Lyft, Florida Blue and Tech Data.
All Together Now sponsor - Safe and Healthy Schools Department:
For this year's conference of school administrators, we reached out to our longtime participant in EMB, Office Depot, who had recently reconnected with their new representative on our advisory council. Once they heard about the great work being done in the schools, they elected to be the title sponsor of the event and plan to stay engaged in this work.
Corporate sponsor program - Development Department:
As we continue to build on relationships with our business partners, our efforts are expanding into the area of securing corporate sponsorships. While several of our EMB members already support our work through statewide or regional sponsorships (PNC, Bank OZK, Florida Blue), others haven't yet. We have been able to make inroads in this area with companies such as Lyft, Office Depot, UPS, Bast Amron and Bank of America.
---
Public Policy
Increasing Federal Activity:
Federal Advocacy Project, the Equality Act, and Fairness For All Act
In 2019, Equality Florida focused on extending and deepening its relationships with the Florida Congressional delegation, primarily through our Federal Advocacy Program.
With the support of the Haas Foundation, we launched a multifaceted program to educate members of Congress on the importance of federal LGBTQ nondiscrimination protections. In conjunction with SAGE, Faith in Public, and other partners we've targeted 17 members of the Florida congressional delegation for email campaigns, face to face meetings, and district level engagement. To date, we have held face-to-face visits with 19 members of Congress, including 3 meetings in Washington, D.C. as part of a national convening of advocacy groups. We are emphasizing outreach to Republican Congressmen Matt Gaetz, Mario Diaz-Balart, and Brain Mast, while maintaining our relationships and connections with democratic members of Florida's congressional delegation. Equality Florida has also secured $100,000 in funding through the Haas, Jr. Foundation to continue the Federal Advocacy Program in 2020, with a focus on Congressmen Gaetz, Diaz-Balart, and Mast, as well as Senators Rick Scott and Marco Rubio.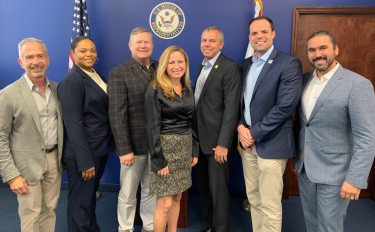 Our federal engagement also added firepower to the push for the Equality Act, which successfully passed the U.S. House of Representatives. Equality Florida launched an integrated email and social media program that educated our membership and showcased public support for the legislation. Ultimately, we helped secure the sole vote of support from a Florida Republican--Rep. Mario Diaz-Balart--who was one of just eight Republicans to vote in favor of the Equality Act.
In addition, Equality Florida is closely following developments with the recently introduced, Republican-led Fairness for All Act, which would expand LGBTQ nondiscrimination protections but does not go as far as the Equality Act. We are in direct communication with interest groups backing the legislation and have made clear that we are encouraged to see at the federal level what we have known for years in Florida: conservatives can and do support LGBTQ protections. At the same time, we are not advocating for this legislation. It does not afford the full equal protections embedded in the Equality Act and concerns remain about how this bill would impact existing local protections in Florida. To date, no Florida congress members have signed onto the bill.
Flexing in the State Policy Arena:
Solidifying Commitments to Comprehensive Protections,
Maintaining Our Record on Defense, and Advancing HIV Modernization
As is often the case, our primary statewide policy focuses in 2019 were defending against state-level attacks on LGBTQ rights and advancing the nondiscrimination protections of the Florida Competitive Workforce Act (FCWA). The introduction of the "Employment Only" bill created new challenges for accomplishing these goals, but we succeeded in maintaining our record of defeating or neutralizing every anti-LGBTQ bill in the Legislature, building new support for the Florida Competitive Workforce Act, and making tremendous progress on another legislative priority - HIV Modernization.
In the 2019 Legislative Session, Equality Florida saw extreme legislation that vilified immigrants, armed teachers, and limited Floridians access to democracy, but we also celebrated incredible victories and historic progress. We emerged with unprecedented bipartisan support for adding LGBTQ protections to civil rights laws, made enormous progress on top priorities like updating Florida's HIV laws, and helped secure funding for a Pulse memorial. Most importantly, we blocked passage of bills that threatened to repeal hard-won local nondiscrimination protections.
For our 2019 Lobby Days program, more than one hundred grassroots activists packed the Capitol to talk face-to-face with legislators and sharing personal stories. At home, hundreds of Equality Florida members participated electronically via the Equality Florida Virtual Lobby Days program. We were thrilled to have Florida's first out lesbian lawmaker Jennifer Webb as one of the sponsors of the FCWA. In all, 74 legislators signed on as cosponsors - a new record!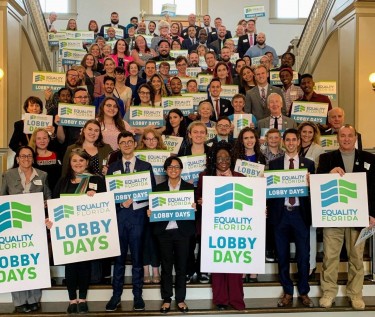 In the House where 61 votes are needed to pass legislation, we secured 57 FCWA cosponsors with a dozen more Representatives pledging a vote in support. In the Senate, where 21 votes are needed to pass, 17 Senators are FCWA cosponsors in 2019. It has never been more clear that we have the votes to prevail.
Another complication emerged this session: an "employment-only" bill that carved the LGBTQ community out of the Florida Civil Rights Act's housing and public spaces protections, thereby providing only 1/3rd of the protections afforded to other Floridians. Proponents argued that it would make protections more palatable to those who oppose full equality. Equality Florida rallied national, state, and local LGBTQ legal and advocacy groups to oppose it. The bill failed to move in the Legislature or garner support from any legislator who wasn't already a supporter of comprehensive and fully inclusive protections (FCWA).
Separately, dangerous preemption legislation emerged that could have been devastating for our community. House Bill 3 (HB 3) threatened to undo 20 years of local nondiscrimination ordinances that protect 13 million Floridians. Killing this bad bill was our top defensive priority. Thanks to grassroots activists, our LGBTQ elected legislators, and our partners, all anti-LGBTQ provisions in HB 3 were stripped from the bill.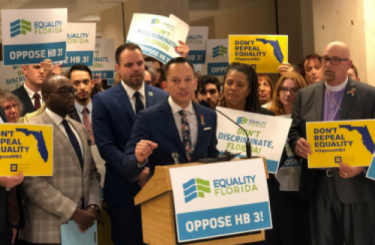 This year, Equality Florida fought for and won a major victory in Florida's $90 billion state budget. The Legislature approved $500,000 in funding for the OnePulse Foundation in support of a memorial to the Pulse tragedy--the first expenditure of its kind to support an LGBTQ cultural institution.
We also had terrific advances on updating Florida's archaic and stigmatizing laws that criminalize the experiences of people living with HIV. Equality Florida was front and center in coalition work to bring Florida law into alignment with modern HIV science. By centering the voices of advocates living with HIV in the Capitol and bird-dogging the legislation at every procedural step, we helped pass the bills through two House committees and a powerful Senate committee with strong bipartisan support. We look forward to building on this unprecedented momentum in 2020.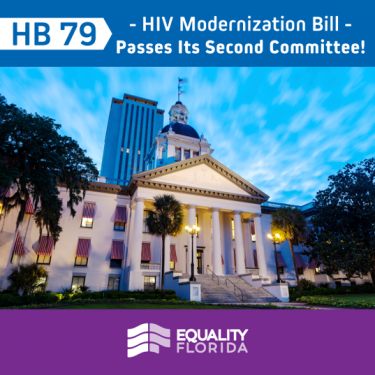 We are well-positioned leading into the 2020 Legislative Session. We have already secured sponsors and finalized bill language for all of our proactive priority bills, strategized with lawmaker allies and partner organizations on top priority bills, conducted press conferences on two top priority bills, brought grassroots activists into the Capitol for lobby visits, met with key committee Chairs and committee staff to address questions on key bills, and testified in committee.
We are particularly enthusiastic about the powerful, Republican leadership team advancing the FCWA, which demonstrates the legislation's broad, bipartisan support. Our trio of fierce women leadership in the House includes senior Republican Chair Holly Raschein, Republican Representative Jackie Toledo who has a reputation for building consensus on tough-to-pass legislation, and Democrat Representative Jennifer Webb, the Florida Legislature's first open lesbian. With their leadership and that of sponsor Senator Darryl Rouson the FCWA is currently the most cosponsored bill, with 56 cosponsors, including 9 Republicans before session has even begun!
The "Slate of 8" Anti-LGBTQ Bills
Equality Florida's legislative slate for the 2020 session includes many familiar proactive bills -- the Florida Competitive Workforce Act, HIV Modernization, Protections Against Conversion Therapy, and Hate Crimes Law Expansion. It also includes new or familiar threats, particularly in the form of three preemption bills and a Transgender Medical Care Ban:
HB 305/SB 1126: The Preemption of Employment Conditions bill threatens to roll back local employment nondiscrimination protections that currently cover nearly 13 million Floridians, which ensure Floridians won't face employment discrimination for who they are or who they love. Everyone should be able to earn a living and provide for their families. Sponsors are Rep. Bob Rommel and Sen. Joe Gruters.
HB 3: Licensing Preemption would ban local governments from establishing critical protections against conversion therapy and undo the 21 existing local ordinances protecting against conversion therapy on vulnerable LGBTQ youth. Local governments must be able to protect residents' health and welfare. Sponsor is Rep. Michael Grant.
HB 537/SB 778: As written, the Preemption of Home-Based Businesses bill rolls back critical protections for vulnerable LGBTQ youth. It would enable conversion therapy, even where cities and counties have already instituted protections against the fraudulent and debunked practice, if it happens to be practiced in a home or home-based business. Sponsors are Rep. Byron Donalds and Sen. Keith Perry.
HB 1365/SB 1864: Makes providing best-practice medical care to transgender youth a second-degree felony. Sponsors are Rep. Anthony Sabatini and Sen. Dennis Baxley.
We are working closely with allies on both sides of the aisle to educate the sponsors of these preemption bills about our concerns and to thwart their progress. At the same time, we are also working with national partners on amendments to neutralize their impacts to LGBTQ protections if the bills cannot be defeated entirely.
Renewed Local Policy Progress
Equality Florida's expanded Field capacity has helped it to advance local pro-LGBTQ policies in several new areas and to restart momentum following external challenges.
After a slow start in early 2019, local policy campaigns are now in full swing across the state on a variety of issues. Victories this year include Tampa adding sexual orientation and gender identity protections to its City Charter, Alachua County's ban on conversion therapy, and St. Petersburg adding gender identity protections to several city programs, and adding LGBTQ businesses to its minority-business assistance program.
In addition, Equality Florida provided technical assistance and boots-on-the-ground support for Fernandina Beach's fully-inclusive Human Rights Ordinance adopted in July. August brought a setback when, despite earnest organizing from motivated Polk County residents, the small City of Davenport indefinitely postponed consideration of a Human Rights Ordinance. Equality Florida continues to support base-building in Polk County as the local team regroups for these efforts. We rebounded in September and October with an aggressive outreach campaign of in-district meetings with commissioners that saw Miami-Dade County establish an LGBTQ Advisory Board. We also worked closely with local partners, local government attorneys, and local elected officials to successfully propose language for Fort Lauderdale's comprehensive Human Rights Chapter, including a Human Rights Ordinance, domestic partnership recognition, and protections against conversion therapy. We continue to work with local governments in the area like the City of Hollywood and the City of Hallandale Beach, which are eager to adopt similar local policies and assist in creating upward pressure on Broward County for needed changes to its nondiscrimination protections.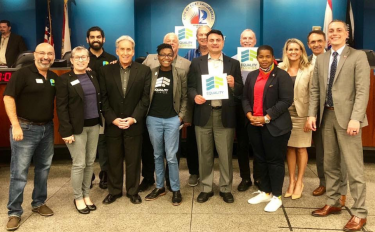 Equality Florida is also working hand-in-glove with the City of Tallahassee to establish protections against conversion therapy, with the Mayor directing the City Attorney on the record to work with Equality Florida to finalize ordinance language. The ordinance will likely be adopted in January 2020. Further east, we are also closely supporting an HRO campaign in St. Augustine Beach, which appears poised for success in the first half of 2020, and which we hope to spur action in the City of St. Augustine shortly thereafter.
Additionally, we are working on a coalition campaign to advance proactive local abortion policies. We have been pivotal in formulating strategy, developing model language, and hiring staff for the local campaigns, which are eagerly expected to launch around the state in early 2020. While much work remains ahead, the past year has helped us refine our message on the intersection of reproductive freedom and full LGBTQ equality. We have long been educating our members about our position as a pro-choice organization and how the movements for reproductive freedom and LGBTQ rights are intertwined.
Cabinet-Level Progress:
Executive Order & "Firsts" in the Department of Agriculture & Consumer Services
Governor Ron DeSantis made a number of moderating overtures on issues in his first days in office, but LGBTQ equality was not one of those issues. Equality Florida called out the fact that his Executive Order on nondiscrimination for state employees and contractors failed to include LGBTQ protections. We put the Governor on notice of this clear misstep. Many media outlets took notice at our urging, too. We are maintaining constructive channels of communication with the Governor's Office and are optimistic that inclusive Executive Order remains possible.
Following Governor DeSantis's office promulgating a disappointing proclamation for the three-year mark since the Pulse massacre, which failed to name the LGBTQ or Latinx communities, Equality Florida responded with a measured response that has built a bridge to the Governor's Office. The Governor quickly corrected the proclamation and rearranged his travel schedule to be in Orlando at the Pulse site. He met with Rep. Carlos Guillermo Smith, Pulse survivor and Equality Florida staff member Brandon Wolf, and others. While there, he touted his commitment to the $500,000 appropriation for a Pulse memorial and discussed the potential for nondiscrimination protections in state contracting, consistent with part of our Executive Order request. Equality Florida has since worked with more than a dozen of our leading business allies in the state like Disney, AT&T, and Uber to send a formal letter thanking the Governor for his actions and reiterating the need for an Executive Order. We continue to leverage new relationships to strengthen ties to the Governor's Office, position Equality Florida as a trusted voice on LGBTQ issues, and lay the groundwork for an Executive Order including LGBTQ nondiscrimination.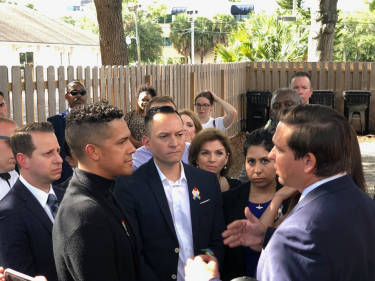 In contrast to the Governor's Office, we have worked closely with newly elected Department of Agriculture and Consumer Services (DACS) Commissioner Nikki Fried as she blazes a trail for LGBTQ equality in the Florida Cabinet. We counseled Commissioner Fried's Office on how to update DACS' internal policies to ensure nondiscrimination protections on the basis of both sexual orientation and gender identity, a first for any Florida Cabinet office. We also worked with DACS' leadership to envision a new LGBTQ consumer advocate position. One of our recommendations was ultimately appointed to the position, and we continue to work closely with Florida's first-ever LGBTQ Consumer Advocate.
Keeping Up Our Fights in the Courts
Conversion Therapy Lawsuits:
Equality Florida continues to oppose the right-wing, extremist Liberty Counsel's challenges to local protections against conversion therapy, which are now on appeal at the Eleventh Circuit Court of Appeals. The lower court judge in the Palm Beach County and Boca Raton Conversion Therapy lawsuit sided favorably with the local governments, in support of the ordinances. The case is likely to be argued in the first quarter of 2020, with a decision by the end of the first quarter of 2020. The lower court judge in the Tampa Conversion Therapy lawsuit ruled that the City of Tampa was preempted from regulating conversion therapy, siding with Liberty Counsel. We disagree. Local governments can and should protect their citizens from grievous harms like conversion therapy. The City of Tampa has appealed the decision, and Equality Florida anticipates continuing its fight for LGBTQ youth on appeal as an amicus.
Liberty Counsel has asked the Eleventh Circuit to consider the Tampa case ruling as it considers the Palm Beach/Boca Raton case. This could extend the timeline for resolution, and the Eleventh Circuit retains considerable procedural discretion over case scheduling. There is also a considerable possibility of one or both cases proceeding to U.S. Supreme Court review, or that the Eleventh Circuit (a federal court) remands the decisions back to a state court for further analysis of the state preemption issue.
Orange County HRO Lawsuit:
In a recent sex discrimination case, a lower court judge found Orange County's Human Rights Ordinance invalid due to implied preemption by the state Civil Rights Act. The ruling contradicts clear Florida Supreme Court precedent that allows such local protections, but the precedent was never raised in the lower court. The case is now on appeal. Equality Florida has worked hard to support local governments that are defending local protections on appeal and has led a coalition of civil rights organizations that have now filed an amicus brief, with the help of national expert legal counsel, emphasizing the crucial importance of local protections for the LGBTQ community.
---
Pride Program Update
Over the course of this year, the Equality Florida ran an incredibly successful and visible Pride Program! From Panama City to Miami, the Equality Florida participated in a total of 40 Pride Festivals in 2019. Below are the highlights.
2019 Pride Program:
40 Pride Festivals
29,332 LGBTQ Non-Discrimination Petitions Collected
850 Pro-Equality Voters Registered
520 Volunteers Recruited
Additionally, Equality Florida partnered with Andrew Gillum's Forward Florida Action to register pro-equality voters at Wynwood Pride, St Pete Pride, and Orlando Pride.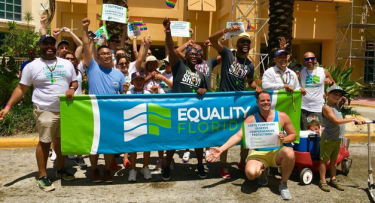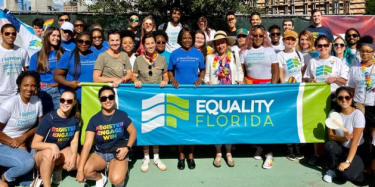 ---
Communications
New Visibility Campaigns Created Strong Community Engagement for Trans Equality, Safe Schools, and HIV Advocacy
Visibility campaigns were launched for three major programs areas this year: TransAction Florida (March), Safe & Healthy Schools (August), and HIV advocacy (December).
The goals of these campaigns were to spotlight the work we're doing in each program, provide a platform to uplift different voices in the community who support Equality Florida's initiatives, and to increase support.
Community members across the state (including teachers, elected officials, trans and enby leaders, and HIV advocates) were excited to participate in our campaigns and readily gave their permission for Equality Florida to post their selfies and captions on our social media pages. In total, we posted 40 Trans Day of Visibility campaign selfies, 28 Back to School campaign selfies, and 12 HIV Advocacy campaign selfies.
One additional goal for the Back to School campaign included a fundraising campaign for our Safe & Healthy Schools program. We raised a total of $33,027 - more than DOUBLING our original goal of $15,000.
We plan to launch similar campaigns in 2020!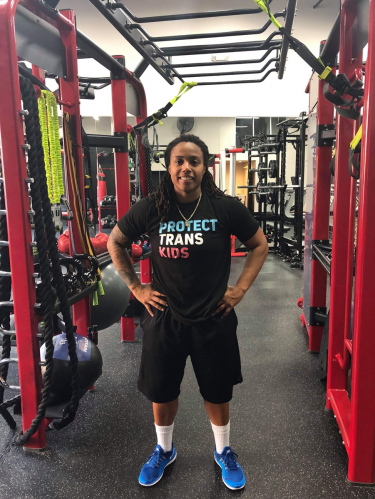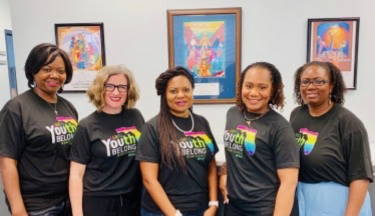 #HonorThemWithAction Reaches Over 143 Million People On The 3-Year Remembrance of Pulse
This year, Equality Florida launched the 3rd Year of the #HonorThemWithAction campaign with a remembrance video featuring Brandon Wolf.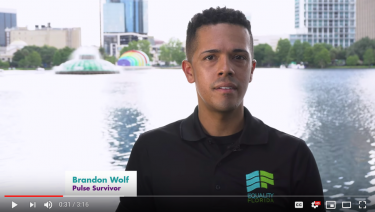 Our campaign reached over 143 MILLION people. We well surpassed last year's #HonorThemWithAction numbers of around 112 million people reached.
We broke records in the number of contributors and the number of social media posts that included the hashtag! And on June 12, the hashtag #HonorThemWithAction was trending on Twitter in the US!
We have already begun planning for the 2020 #HonorThemWithAction campaign which will focus on voter mobilization for the upcoming elections. We will engage national, state, and local partners to ensure the theme of #HonorThemWithAction is incorporated into their June Pride Month plans.
End of Year Campaign Highlights Intersectionality of HIV Awareness and Major Program Areas
Our End of Year program was authored by several staff members highlighting the intersectionality of HIV awareness with our HIV advocacy program, Safe and Healthy Schools project, Transgender Equality initiative, and public policy priorities. The year-end challenge aimed to raise $30,000 by December 31 with the AIDS Healthcare Foundation match to help us prepare for the work ahead in 2020.
We're still over $13,000 short of our $30,000 goal. We need 150 people to give $50 to help us reach our goal! If you can, please donate to our Florida AIDS Walk team and every donation will be matched dollar for dollar!
Transgender Day of Remembrance & Visibility Social Media Campaigns Reaches Millions
For the Transgender Day of Remembrance & Visibility, Equality Florida supported 23 events across Florida with marketing, media outreach, graphics, staff and a social media education campaign that reached over 2 million people.
We asked our partners and supporters to join us for a social media storm on November 20th to raise awareness that Florida is ground zero for the murders of black trans women, create a call for action, and to honor and celebrate the lives of the seven Black trans women who have been murdered in Florida over the last 1.5 years.
We lowered the Equality Florida flag to ensure the voices of Black trans women were front and center. All of our graphics and marketing pieces for partners were logo-less. The message was more important than brand awareness for this campaign.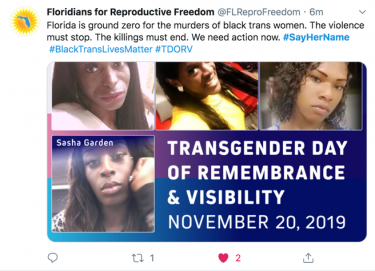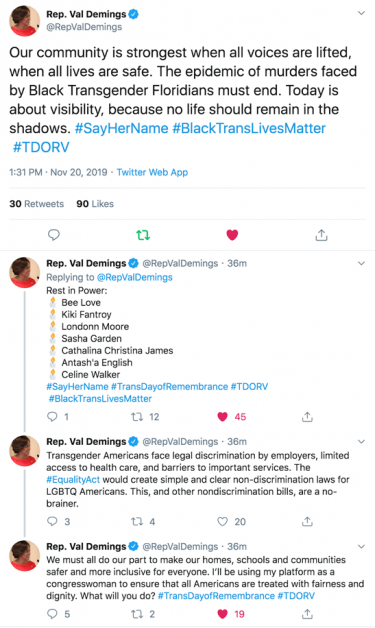 Social media stats for Trans Day of Remembrance & Visibility campaign from 9AM - 6PM on Nov. 20th:
Number of people reached by #TDORV
Twitter: 2,302,477 people reached

# of contributors: 332 people

Instagram: 1,388,629 people reached

# of contributors: 19 people
Number of people reached by #BlackTransLivesMatter
Twitter: 5,095,239 people reached

# of contributors: 568 people

Instagram: 3,218,571 people reached

# of contributors: 244 people
Number of people reached by #SayHerName
Twitter: 2,288,204 people reached

# of contributors: 590 people

Instagram: 1,596,423 people reached

# of contributors: 105 people
WHO PARTICIPATED IN OUR CAMPAIGN:
Sample of Elected Officials:
Federal:
Congressman Charlie Crist
Congresswoman Val Demings
Congresswoman Stephanie Murphy
Vivian Rodriguez (for Congressman Darren Soto)
State/Local:
State Rep. Carlos Guillermo Smith
State Rep. Anna Eskamani
State Senator Linda Stewart
Orange County Mayor Jerry L. Demings
State Senator Annette Taddeo
State Rep. Cindy Polo
Tampa City Councilman Luis Viera
Steve Kornell
Sample of Organizations:
Hudson Valley LGBTQ Community Center
SAGE USA
LWV St. Petersburg
Pinellas NOW
Women's March
Floridians for Reproductive Freedom
Family Equality
Progress Florida
Positively U
New York City Pride
Georgia Equality
LGBTQ+ Health Initiative
Jacksonville Transgender Action Committee
Woodhull Foundation
Basic Rights Oregon
LGBT+ Center Orlando & Kissimmee
Southern Legal Counsel
ADL Southeast
Pridelines
Organize Florida
FSU College Democrats
Florida Planned Parenthood
---
Development
AIDS Healthcare Foundation / Florida AIDS Walk Update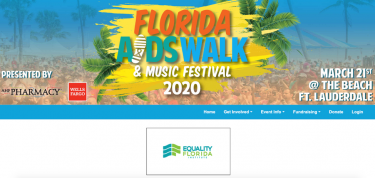 Equality Florida has been chosen as a beneficiary of the 2020 Florida AIDS Walk! All donations made to Equality Florida's Florida AIDS Walk Team from now through April 30, 2020, will be doubled dollar for dollar by the AIDS Healthcare Foundation (AHF). To take advantage of this matching opportunity, please consider making your donation on Equality Florida's Florida AIDS Walk Team by clicking here.
The Florida AIDS Walk & Music Festival will take place on March 21, 2020, in South Beach Park on Fort Lauderdale Beach. Event schedule is to be determined.
Newly Redesigned Winning Equality Brochure
One of our most popular development publications, Winning Equality, was updated this year! This publication provides a comprehensive overview of our programming and serves to introduce new folks to Equality Florida and inspire current members to continue supporting our work.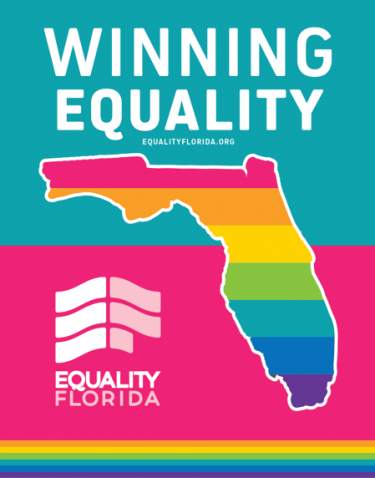 Equality Connections and Florida Council Mixers
In addition to our largest events, the annual galas, the development team hosted more than 50 Equality Connections and Florida Council Mixers throughout the state in 2019.