Equality LIVE reaches audience of 20,000 and raises a remarkable $56,817 during the live broadcast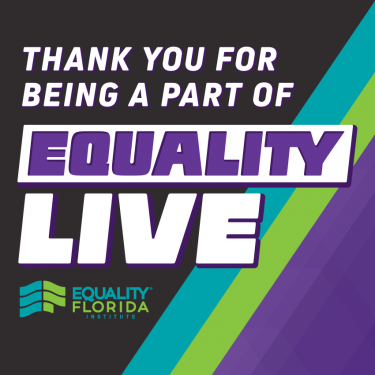 Equality LIVE Reaches Audience of 20,000 and Raises A Remarkable $56,817 During The Live Broadcast
Written By: Nadine Smith, Executive Director
Thank you for stepping up all day long to help make Equality LIVE a resounding success. Throughout the day, Equality LIVE reached nearly 20,000 people, featured Grammy and Tony Award winners, brought in elected leaders on every level of government, highlighted local champions, and spotlighted Equality Florida's incredible programs.
With a host committee of 251 volunteer supporters across the state, the largest host committee in Equality Florida's history, a total of $267,000 has been raised from 416 individual donors. Wow! Thank you all.
The fundraising total included $56,817 raised during the course of the 8-hour live show that paid tribute to the five communities where fundraising galas were cancelled due to COVID-19: Palm Beach, Tallahassee, Key West, Miami and St. Petersburg.
With each segment of Equality LIVE, we spotlighted the crucial work of Equality Florida.
We shared how we defeated legislation that would take away hard-fought local nondiscrimination protections and stopped a bill that would have threatened doctors with 15 years in prison for providing life-saving medical care to transgender youth.
We showcased the incredible work of our Safe and Healthy Schools program that has trained more than 22,000 school district officials. This program has rapidly become a national model and is creating a culture that allows LGBTQ students to be themselves and thrive.
We shared the critical work of supporting the transgender community who continue to be the hardest hit target of violence and discrimination. And we have redoubled our work to end the stigma that impedes the work of ending HIV.
We know this work remains vital especially as we head into an election year where Florida will decide who occupies the White House for the next four years and whether the Florida legislature adds champions or opponents of equal rights.
In the coming days, we expect a decision by the U.S. Supreme Court that could push us backwards or muddy the water when it comes to nondiscrimination protections for the LGBTQ community. We are also expecting a federal court ruling on conversion therapy bans. We must be prepared to do everything in our power to stop that barbaric practice and secure our rights even if the courts fail to protect us.
In times of crisis, we look for the helpers. And as we connect with our volunteers and donors statewide, we see many helpers. Equality Florida will also continue to be the helpers navigating this global pandemic and doing the work to ensure we emerge from this strange and troubling time into a country with leadership that embraces equality and justice for all. To get there we need you.
We have until April 30 to secure any additional gifts so let folks know they can still maximize their donation. Every donation will be matched thanks to the generous matching grants by the AIDS Healthcare Foundation. The funds come at a crucial time when the cancellation of five of Equality Florida's largest annual fundraisers had created a nearly half-million dollar projected shortfall.
I love this work and I love this fearless and relentless team.
If you weren't able to watch the show, you can find the full broadcast here: https://www.facebook.com/equalityfl/videos/331099191186231