NEWS RELEASE: Equality Florida Applauds Senator Nelson for Co-Sponsoring the Respect for Marriage Act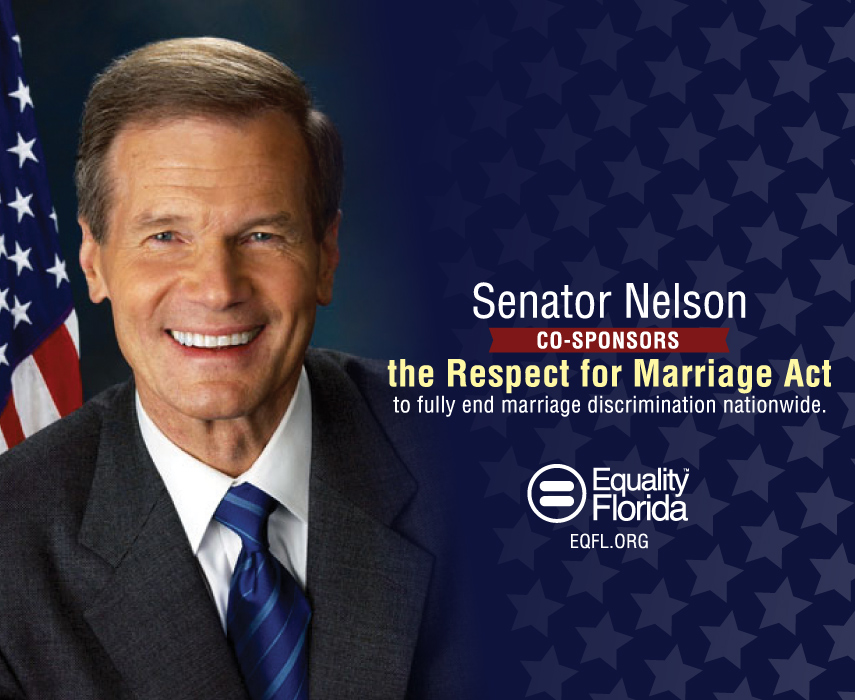 (January 7, 2015) Today Senator Bill Nelson (D-FL) added his name as a co-sponsor of the Respect for Marriage Act (RMA), joining 42 original cosponsors in the Senate (including every returning Senator to the 114th Congress who supported the bill in the past) and 78 cosponsors in the House of Representatives.
The RMA, reintroduced by Senator Dianne Feinstein (D-CA) and Congressman Jerrold Nadler (D-NY), would fully repeal the so-called Defense of Marriage Act in its entirety and ensures that every married couple has the certainty that every federal benefit and protection will flow from a marriage valid where it was performed, even if that couple moves or travels to another state.
The bill does not require states that have not yet enacted legal protections for same-sex couples to recognize a marriage, nor does it obligate any person, state, locality or religious organization to celebrate or license a marriage between two persons of the same sex. This legislation only requires the federal government to equally apply its policy of looking to the states in determining what legal relationships are eligible for federal benefits.
"Once again, Senator Nelson has proven to be a true champion for equality," said Nadine Smith, CEO of Equality Florida. "This week ushered in a new era in Florida, as we became the 36th state to permit loving same-sex couples to wed. The Respect for Marriage Act will ensure that all married couples throughout the nation will enjoy the rights and protections provided by the federal government."
Join Equality Florida in sending Senator Nelson a 'Thank You' for his leadership by clicking here: eqfl.org/Nelson_ThankYou