Jacksonville Native and LGBTQ Leader, Jimmy Midyette, Joins Equality Florida's Staff
Jacksonville Native and LGBTQ Leader Joins Equality Florida's Staff
Jimmy Midyette will lead Equality Florida's development work in North Florida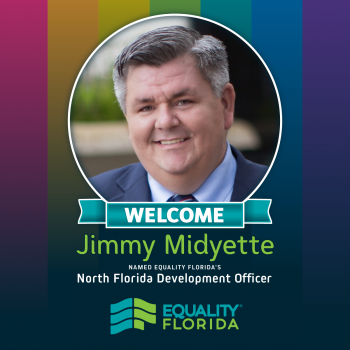 JACKSONVILLE, FL — Equality Florida, the state's largest LGBTQ civil rights organization, is proud to announce Jimmy Midyette has joined the organization's staff as the North Florida Development Officer. Midyette has a long history as an experienced and effective leader in Jacksonville's LGBTQ community.
Midyette is a co-founder of the highly successful Jacksonville Coalition for Equality where he served as chairperson and legislative director in the long but successful campaign to expand Jacksonville's human rights ordinance to cover the LGBTQ community. Midyette is also an award-winning attorney, who began his career in law 20 years ago at Jacksonville Legal Aid before spending time in private practice and at the ACLU of Florida. A fixture in Jacksonville politics, Midyette has been a candidate for public office and served mayors of both parties in volunteer roles with the city. He traces his deep roots in the Territory of Florida to the 1830s when his forbearers settled and thrived upon the longleaf pine flatwoods of western Duval County.
"We've known and worked alongside Jimmy for many years and are very excited to have him as a member of our staff," said Stratton Pollitzer, Equality Florida's deputy director. "At a time of unprecedented attacks on the LGBTQ community, Jimmy's deep ties to Jacksonville, his experience with Tallahassee and the Florida panhandle, his dedication to LGBTQ equality, and his record of working proactively with diverse communities make him a perfect fit for this role."
"I'm excited to join the indefatigable team at Equality Florida in the fight for full equality for all LGBTQ people," said Midyette. "These are the battles worth winning, and Jacksonville is a vital wellspring of energy and strength for this fight. Our strong LGBTQ community and steadfast allies have no quit in them, and neither do I."
Midyette's role will include fundraising, serving as the liaison between Equality Florida and the North Florida communities, and producing events to spread awareness of and support for Equality Florida's work.