Equality Florida Action PAC and LGBTQ Victory Fund endorse Jane Castor for Mayor of Tampa
Equality Florida Action PAC and LGBTQ Victory Fund endorse Jane Castor for Mayor of Tampa
Tampa, FL – Today, Equality Florida Action PAC, Florida's largest political committee working to elect pro-equality candidates, joined with LGBTQ Victory Fund to announce the endorsement of Jane Castor's historic race for Mayor of Tampa. Term limits restrict current Mayor Bob Buckhorn from seeking a third term making this an open and highly competitive race for Florida's third largest city. For six years Castor has served as Chief of Police for the City of Tampa and has emerged as both a frontrunner and rising star in the crowded field of eight candidates.
If elected, Jane Castor would be the first openly LGBTQ person to lead one of Florida's five largest cities and only the fourth openly LGBTQ woman to hold the post of Mayor in Florida. Castor's win would make her one of the few LGBTQ women elected to lead a major U.S city and has already garnered statewide and national enthusiasm from supporters of LGBTQ rights.
In 2018, Equality Florida Action PAC and Victory Fund partnered to prioritize and run a major program in the historic campaign of State Representative Jennifer Webb, the first LGBTQ woman to serve in the Florida legislature. Today, both organizations pledged to bring the same national and state-level focus to Castor's boundary-breaking candidacy.
"Jane Castor represents a breakthrough moment in the movement for LGBTQ representation in Florida and is leading the wave of LGBTQ women stepping up to serve," said Joe Saunders, Senior Political Director for Equality Florida. "Electing a strong, seasoned and tested leader like Jane to one of Florida's most influential local posts is a game changer for LGBTQ Floridians. Jane's race is a top priority for Equality Florida Action PAC. We're going to use every tool we have to support her historic campaign."
"As a former big-city mayor, I understand well the qualifications and temperament necessary to successfully run a city like Tampa, and Jane Castor has what it takes," said former Houston Mayor Annise Parker, now President & CEO of LGBTQ Victory Fund. "When you are Chief of Police, there is no papering over your job performance because you are constantly held accountable – as are mayors – and Jane has proven herself an extraordinary public servant. Her invaluable experience running a large agency, working with diverse communities on tough issues and ensuring the interests of the public are central to all her work makes her best positioned to be a great mayor. That she will be the first openly LGBTQ woman big-city mayor in the Southeast is both historic and equally invaluable – as the experiences of LGBTQ people make them more empathetic, values-driven leaders."
"I am so proud to accept the endorsement of Equality Florida & The Victory Fund—two incredible organizations devoted to advancing equality across the state and country. As Tampa's next Mayor, I am committed to fighting to make our city, which I love so much, an even more welcoming and accepting place," said Jane Castor, candidate for Mayor of Tampa.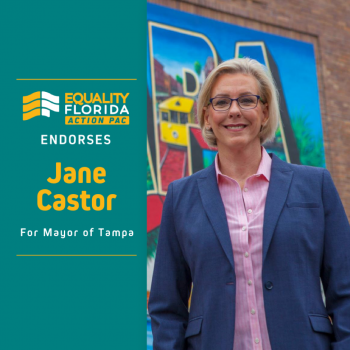 ###
Equality Florida Action PAC is Florida's largest political committee working to elect pro-equality candidates.
LGBTQ Victory Fund works to change the face and voice of America's politics and achieve equality for LGBTQ Americans by increasing the number of openly LGBTQ elected officials at all levels of government.
Paid political advertisement in-kind by Equality Florida Action PAC P.O. Box 13184 St. Petersburg, FL 33733. Approved by Jane Castor for Mayor of Tampa.