RELEASE: Equality Florida Action PAC, SAVE Action PAC, and LGBTQ+ Victory Fund Endorse Michael Gongora in Run-Off for Mayor of Miami Beach

Equality Florida Action PAC, SAVE Action PAC, and LGBTQ+ Victory Fund Endorse Michael Gongora in Run-Off for Mayor of Miami Beach
LGBTQ orgs raise concerns about Steve Meiner's troubling anti-LGBTQ vote record and failures to condemn anti-LGBTQ extremism 
MIAMI - Today SAVE Action PAC, Equality Florida Action PAC, and LGBTQ+ Victory Fund PAC, the leading local, state, and national political organizations dedicated to electing pro-LGBTQ candidates, announced their collective endorsements of Michael Gongora for Mayor of Miami Beach. Last week former Commissioner Gongora finished second in a four-way race that now heads to a run-off on Tuesday November 21 between Gongora and current Miami Beach City Commissioner Steve Meiner.
In making their announcement the groups noted Gongora's sterling record of support for the LGBTQ community and raised serious concerns about Meiner's failure to show leadership or even make his positions clear on LGBTQ issues. Despite repeated requests, Commissioner Steve  Meiner has refused to fill out candidate questionnaires for both Equality Florida Action PAC and SAVE Action PAC.  
"Steve Meiner owes the LGBTQ community answers.  Meiner is running to be mayor of Florida's second largest LGBTQ city, but at a time when we are facing relentless attacks he won't even tell us where he stands," said Stratton Pollitzer, Chair of Equality Florida Action PAC.  "Commissioner Meiner is the only candidate running for Mayor of Miami Beach in 2023 who refused to fill out the Equality Florida Action PAC candidate questionnaire despite repeated requests. That coupled with his troubling voting record on LGBTQ issues should raise the alarm for every Miami Beach voter who values equality and inclusion. Michael Gongora has been an outspoken champion for more than a decade and is the clear choice for both the LGBTQ community and all voters who value fairness."  
"SAVE is proud to support Michael Gongora in the runoff election for Mayor of Miami Beach," said SAVE Action PAC's Executive Director Todd Delmay. "As a Commissioner, Michael has fought hard to direct city resources toward challenging state and federal laws that discriminate against LGBTQ Floridians. His opponent, Commissioner Meiner, has refused. This is not the time for our leaders to be muted in the fight for LGBTQ inclusion and acceptance. We need champions who will take on bigots in Tallahassee while fighting for inclusion and diversity at home. SAVE Action PAC is all in to make Michael Gongora the next Mayor of Miami Beach."
"Michael Gongora made history when he became the first LGBTQ member of the Miami Beach Commission and this year he'll make history again as the first LGBTQ Mayor," said LGBTQ+ Victory Fund CEO and President and former Houston Mayor Annise Parker. "Representation matters, especially in a state like Florida which has become the blueprint for anti-LGBTQ hysteria and policy. The contrast in this run-off could not be more clear. There is one candidate who has failed to denounce anti-LGBTQ extremism and a proven member of the community with a long record of speaking up and fighting back."
Elected in 2006, Michael Gongora is Miami Beach's first LGBTQ Commissioner and the first LGBTQ Hispanic elected official in Florida. In his three terms in office, Gongora has been a leading voice for LGBTQ rights and freedom. In 2013, before Americans had won the freedom to marry, he introduced and passed one of Florida's first LGBTQ tax-equity ordinances which helped to relieve unfair tax burdens on LGBTQ unmarried domestic partners. While a Commissioner he helped to direct city resources to support Miami Beach Pride, fought for City subsidies for the Greater Miami LGBTQ Chamber of Commerce, passed resolutions directing the City's lobbyists to advocate for state and federal nondiscrimination protections, helped establish Miami Beach's first Commission on Human Relations to adjudicate LGBTQ discrimination, and established the "No Space for Hate" diversity education program in all Miami Beach public schools. In 2011, the Florida legislature passed laws threatening local elected officials for passing gun safety laws. Gongora led the city into litigation challenging the state of Florida and the NRA. 
Florida's leading LGBTQ organizations also raised deep concerns with Commissioner Steve Meiner's troubling record of anti-LGBTQ votes and his refusal to fill out the Equality Florida Action PAC and SAVE Action PAC candidate questionnaires. In his first four years in office, Commissioner Meiner has developed a reputation for voting against resolutions that both assert alignment with the LGBTQ community and direct city resources to communicate policy positions to local, state, and federal lawmakers. Commissioner Meiner's record includes: 
voting AGAINST condemning the violent insurrection at the Capitol on January 6, 2021

voting AGAINST urging the Miami-Dade School Board to support LGBTQ History Month. In debate, Commissioner Meiner claimed the measure is  "not in our lane" and that the item was for "personal political gain"

voting AGAINST naming a Miami Beach street after LGBTQ icon Harvey Milk

voting AGAINST  condemning the Florida legislature's dangerous permitless carry law

voting AGAINST condemning the Florida legislature's extreme 6-week abortion ban

voting AGAINST declaring May 17, 2022 as "Day Against Homophobia, Transphobia, and Biphobia" in the City of Miami Beach and designating the month of June 2022 as LGBTQ Pride Month in the City of Miami Beach.

voting AGAINST condemning the Florida legislature's 6-week abortion ban

Voting AGAINST condemning the Florida Department of Education's claiming slavery was "beneficial"

REFUSING to commit, as Mayor, to challenging laws that would ban Miami Beach from flying the LGBTQ Pride Flag at City Hall

REFUSING to fill out both the Equality Florida Action PAC and SAVE Action PAC 2023 Candidate Questionnaire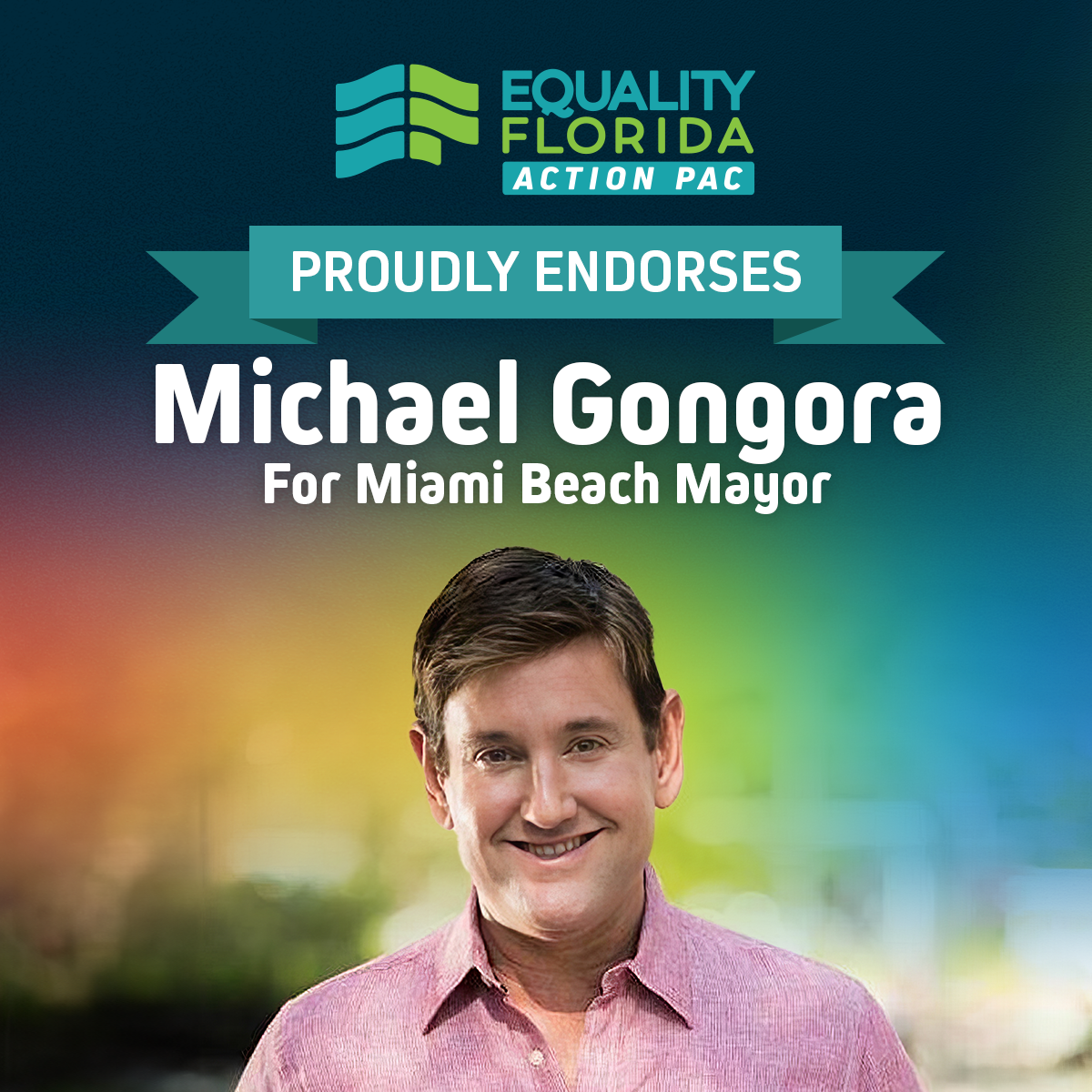 Paid Political Advertisement paid for by Equality Florida Action PAC, P.O. Box 13184, Saint Petersburg, FL 33733; SAVE Action PAC, 1101 Brickell Ave, South Tower, 8th Floor, Miami, FL 33131; and LGBTQ+ Victory Fund, 1225 I St. NW, Suite 525, Washington DC, 20005, independently of any candidate. This advertisement was not approved by any candidate or committee.