New Equality Florida #DeSantisFailedUs Television Ad: Reject Ron DeSantis' Culture Wars And Become A Better Florida
New Equality Florida #DeSantisFailedUs Television Ad: Reject Ron DeSantis' Culture Wars And Become A Better Florida
DeSantis' favorability as Governor hits new lows as Floridians embrace inclusion
Miami, FL - Equality Florida Action, Inc. is launching a new television ad Wednesday highlighting the disastrous impacts on Florida as Governor DeSantis pursues his agenda of censorship and government overreach. Equality Florida Action, Inc. has placed a five-figure ad buy for "#DeSantisFailedUs", which spotlights DeSantis as a destructive force whose obsession with waging culture wars has led to book bans and emboldened racism, censorship of history, and anti-LGBTQ attacks — all while ignoring critical problems Floridians face on a daily basis, including lack of affordable housing, skyrocketing insurance, and a catastrophic teacher shortage with nearly 7,000 vacancies in the state.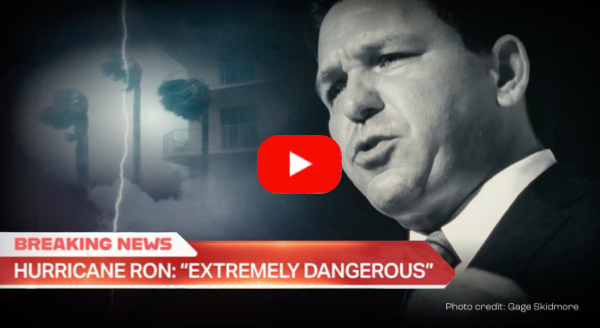 "Governor DeSantis launched an all-out assault on the core values of freedom, equality, and democracy," said Nadine Smith, Executive Director of Equality Florida. "He has ignored the real challenges in our state to pursue an agenda of government intrusion and control that robs us of the right to make healthcare decisions for ourselves and our children. He has turned schools over to book-banning extremists who censor and whitewash history and relentlessly attack LGBTQ students and parents. He appeals to racism and attacks immigrants, all while Nazis are literally marching in the streets. He has removed duly elected local leaders who dare to challenge his abuse of government power. We will continue to sound the alarm about the deep damage DeSantis has inflicted on basic freedoms in Florida."
Under Ron DeSantis' Florida, at least a dozen conventions planned in the state have been canceled or moved to another state, many due to the hostile political environment. Citing an "all-out attack on Black Americans, accurate Black history, voting rights, members of the LGBTQ+ community, immigrants, women's reproductive rights, and free speech" while "embracing a culture of fear, bullying, and intimidation by public officials," the NAACP has issued a travel advisory for the state of Florida cautioning individuals about the risks of visiting or moving to the state.
Meanwhile, DeSantis' "war on woke" — a mission rooted in bigotry and fear — is causing a brain drain in higher education that threatens to diminish the state's progress as a top destination for college-bound young adults, hampering critical access to talent needed to fuel Florida's economy. This summer, New College of Florida announced it had a staggering 36 faculty vacancies — full staff is just about 100 at the small school — and college officials admitted that one-quarter of its faculty member departures "followed the changes in the New College board of trustees."
Experts predict a loss of between 20 and 30% of faculty at some universities this year, far more than the approximately 10% turnover rate that has historically been the norm, and many of those who have already left cite the tumultuous political climate that threatens Floridian's freedoms to raise their families according to their values.
Compounding the education issue are the Gov. DeSantis-led efforts to ban books in libraries, remove access to important literature that helps students of all ages grow their minds, identify ways to cope with challenges through like-minded storytelling, and expand critical thinking skills through creative outreach. Under DeSantis' leadership, Florida now leads the country in book bans.
Many of the books banned in Florida relate to issues unique to the LGBTQ community. And anti-LGBTQ policymaking and messaging are creating economic challenges for Florida. More than half of LGBTQ parents surveyed indicated they have considered moving out of Florida due to DeSantis' controversial and unpopular "Don't Say Gay" law, citing concerns about their children's sense of self and belonging.
These attacks are taking "Florida Man" memes to a whole new level, with Minnesota Gov. Tim Walz not-so-subtly suggesting Florida isn't free because children can't "go to school without worrying about being shot dead" and positioning his state as the anti-Florida where there is no place for "forces of hatred and bigotry." Likewise, Colorado College in Colorado Springs created HAVEN, a program to provide refuge to students attending schools where diversity, equity, and inclusion are no longer permissible subjects — that includes Florida. Hampshire College in Massachusetts made an offer directly to New College students to allow them to pay the equivalent of New College's in-state tuition to instead attend its school, a move that, paired with others, means talent needed to support Florida's economy is leaving the state.
But Floridians are fighting back against the DeSantis regime and its relentless culture wars, with thousands attending school board meetings to stop the takeover of right-wing extremism in schools. Voters are applying public pressure to defeat right-wing superintendent candidates, and are taking the battles to court, with several ongoing and successful legal challenges. Meanwhile, individuals fighting for a better Florida are posting record-breaking attendance at Pride parades across the state despite threats from DeSantis.
We are winning. Recent polling shows DeSantis as one of the ten most disliked Governors in the United States.
Full Transcript of Ad:
Narrator: Hurricanes are a part of life. But now there's an even more destructive force.
News Clip: Ron DeSantis signed a bill banning abortion in the state after six weeks of pregnancy.
Narrator: Ignoring Florida's real problems while ripping books from school libraries, emboldening racism, targeting LGBTQ kids, censoring history. As DeSantis continues to wreak havoc, it's time to come together and build a future that includes us all. Join us.
###
Equality Florida is the largest civil rights organization dedicated to securing full equality for Florida's LGBTQ+ community. Through education, advocacy, and litigation, Equality Florida is committed to creating a world where everyone, regardless of sexual orientation or gender identity, can achieve their full potential. Website: www.equalityflorida.org