The school year has ended — but our work has not.
School's out for the summer — and we're joining students, teachers, and administrators in celebrating the end of another school year!
Reflecting on this whirlwind of a year... I have to say, I am incredibly proud of what our Safe & Healthy Schools program has accomplished. It's because of the dedication of Equality Florida Supporters to create a better world for LGBTQ youth that has allowed us to make such significant strides forward!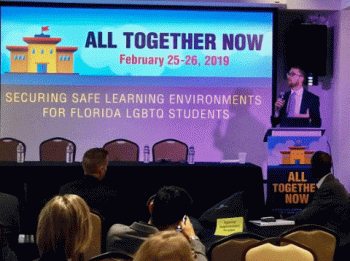 Take a moment to check out our end-of-year highlights below — and help us continue to expand our Safe & Healthy Schools program with a gift of $25 today.
Delivered LGBTQ professional development training to over 7,500 district officials this school year in 62 of 67 school districts in Florida.
Hosted the 5th Annual All Together Now Conference — Over 200 school district officials from 31 districts joined a 2-day training on creating a welcoming and supportive learning space for LGBTQ+ students.
Launched the first-of-its-kind "Transgender Youth Mental Health Summit" for mental health professionals in 17 rural school districts in North Florida.
Delivered a "Know Your Rights" Gay Straight Alliance Summit session to over 300 students — our largest gathering yet in the state.
Created the first Pinellas Community Partners for LGBTQ+ Youth Coalition. The first meeting was attended by representatives from over 20 local organizations that serve LGBTQ+ youth and their families.
Partnered with Duval County Public Schools and JASMYN, a youth-serving nonprofit, to be the content experts for the 12th Annual Teaching Respect for All: Creating Safe Schools and Spaces for LGBT Students Conference.
The school year may have ended, but our work to create safe and inclusive environments for LGBTQ+ students has not. Will you help us prepare for the upcoming 2019-2020 school year with a gift of $25 or more?
Together, we can ensure every student in our school districts is safe, valued, respected and graduates successfully.
Gratefully,
De Palazzo
Safe & Healthy Schools Director
Equality Florida