Meet the Interns: Devon Olefson
Meet the Interns: Devon Olefson
(South Florida Office)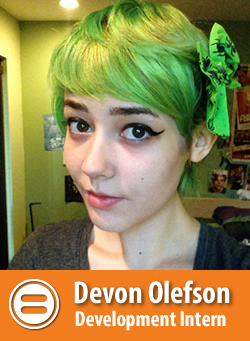 1. Tell us a little about yourself...
My name is Devon Olefson. I'm nineteen years old, and I'm going into my sophomore year at Sarah Lawrence College, concentrating in psychology. I'm interested in studying the psychology of gender and sexual identity, and animal-facilitated therapy. In addition to interning at Equality Florida, I work part-time as a pet sitter and volunteer at an animal shelter.
2. Why are you involved with LGBT activism?
I'm trying to involve myself with LGBT activism because, as a lesbian and as the daughter of a same-gender couple, I've seen and experienced the effects of inequality. I want to help prevent the hate that same-gender couples face in day-to-day life. No one deserves to be discriminated against due to their sexual orientation, gender, race, or religion. We all deserve the same basic human rights and I am trying to help defend those rights.
3. Why did you want to intern at Equality Florida?
I have always wanted to involve myself with changing the way Florida (and the rest of the world, for that matter) views gender-based and sexuality-based discrimination. Every person deserves equal rights and the fight against discrimination is everyone's concern. This internship seemed like the perfect opportunity to gain first-hand experience in defending the rights of gender and sexuality minorities.
4. What are your plans after you graduate?
Honestly, I don't know where I'll be once my next three years of college are finished. Right now, I'm a passionate social activist exploring different fields such as literature, biology, and psychology at Sarah Lawrence. However, I do know that after graduation, I'm going to continue to be involved with political and social movements and trying my best to provide whatever help I can provide.
Stay tuned next week for the next blog post in our "Meet The Interns" series!