Tele-TownHall: Next Steps for Marriage Equality in Florida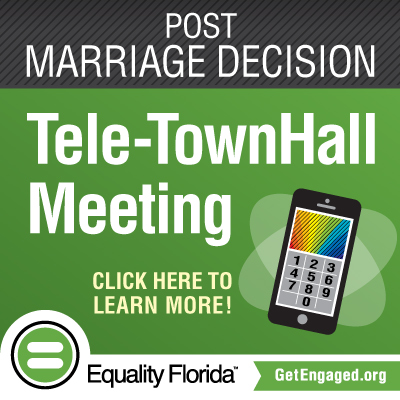 Equality Florida Institute is hosting a Tele-Town Hall Meeting on Monday, August 4 at 6 PM to address the status of the fight for marriage equality in Florida. Equality Florida Institute is a plaintiff, along with six same-six couples, in one of the lawsuits challenging the constitutionality of Florida's ban on same-sex marriage.
In the past two weeks, two Florida judges have ruled that Florida's ban is unconstitutional.
In both cases, Attorney General Pam Bondi appealed the decision, preventing same-sex couples from obtaining marriage licenses.
Where do we go from here? What do the rulings mean, and what are the next steps for gay and lesbian Floridians to achieve marriage equality?
WHO:
Nadine Smith, CEO of Equality Florida, the state's largest civil rights organization dedicated to securing full equality for Florida's lesbian, gay, bisexual and transgender (LGBT) community
Shannon Minter, Legal Director National Center for Lesbian Rights, and lead counsel in Pareto v. Ruvin, along with other legal experts
HOW TO PARTICIPATE:
Register at www.eqfl.org/marriagetownhall
On the day of the Town Hall, Equality Florida will email the number to call and the login code to join in the conversation.