11TH CIRCUIT SAYS IT WILL WAIT FOR SUPREME COURT TO RULE ON MARRIAGE EQUALITY
11TH CIRCUIT SAYS IT WILL WAIT FOR SUPREME COURT TO RULE ON MARRIAGE EQUALITY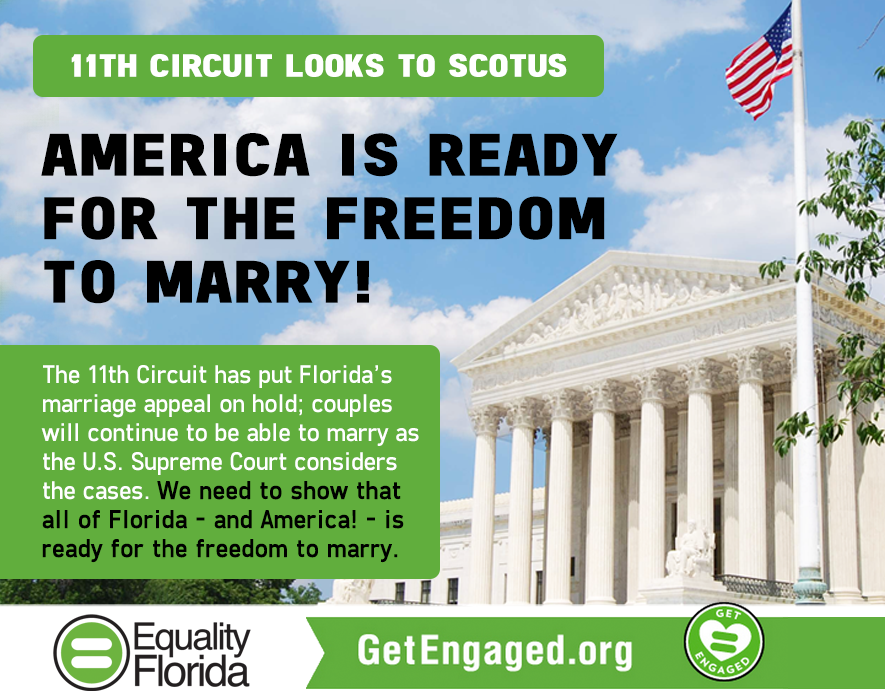 (February 4, 2015) -- The federal appeals court covering Florida and two other states said Wednesday that it will hear no arguments in marriage equality cases, until the Supreme Court rules on the matter, probably this summer.
In the meantime, same-sex couples can continue to marry in Florida.
"This is a strong indication that the 11th Circuit expects, as we do, that the Supreme Court will soon make marriage equality the law in all 50 states," said Stratton Pollitzer, Equality Florida's deputy director.
"We are pleased that the appeals court has ensured that same-sex marriage will continue in Florida and soon commence in Alabama."
The 11th Circuit U.S. Court of Appeals made its announcement in its consideration of two cases -- one from Florida, the other from Alabama -- in which lower judges had ruled that the states' bans on marriage for same-sex couples are unconstitutional.The appeals court said it will also place any other appeals of similar cases on hold until the Supreme Court rules. Read the order here: http://bit.ly/1zSBiX4
"Every judge in Florida who has heard a case for the freedom to marry, both Democrat and Republican appointees, from the Panhandle to the Florida Keys, has ruled that Florida's ban is unconstitutional," Pollitzer said.
"When the courthouses opened on January 6, there was just a huge outpouring of loving same-sex couples finally able to marry. Some of them had been waiting for decades. The love they shared was incredible to watch, it was so inspiring.
"We're eager for the U.S. Supreme Court to provide a nationwide resolution on the freedom to marry once and for all."
The Florida case, from a district court in Tallahassee, is known as Scott v. Brenner. The Alabama cases, from a district court in Mobile, are known as Searcy v. Strange and Strawser v. Strange.
Equality Florida Institute is the largest civil rights organization dedicated to securing full equality for Florida's lesbian, gay, bisexual and transgender community. www.eqfl.org