2018 Legislative Session Highlights
Conventional wisdom holds that Florida's legislative sessions are quieter in election years for political reasons. Apparently no one told that to 2018! We did see sluggishness in legislators declining to hear many LGBTQ and pro-reproductive justice bills. The tragic mass shooting in Parkland, however, shook up the final weeks of Legislative Session and turned all focus to gun safety reform. When the 2018 Legislative Session finally drew to a close, Equality Florida had:
Defeated the sweeping "license-to-discriminate" bill that threatened to undo all of our local non-discrimination progress across the state;
Reached unprecedented co-sponsorship of the Florida Competitive Workforce Act with 45% of Florida legislators co-sponsoring and nearly 60% of freshman legislators co-sponsoring, making it the third-most co-sponsored legislation of the session;
Built critical momentum for expanding hate crimes laws, including passing a bill to expand hate crimes law out of the Florida Senate Criminal Justice Committee;
Fought to expand gun safety reforms to include universal background checks and a ban on assault weapons and high capacity magazines;
Helped fend off an unconstitutional attempt to limit medically accepted second trimester abortion procedures and educated the public on the real harm posed by fake clinics masquerading as a resource for pregnant women; and
Convened highly-skilled teams of advocates to promote HIV Criminalization Reform and secure additional co-sponsors for the bill.
Read on below for a review of these highlights, Equality Florida's Lobby Days, and more on some of our top legislative priorities for this session.

Lobby Days 2018!
Equality Florida started off with a tremendous presence in the Capitol, as dozens of equality champions converged on Tallahassee to make their voices - and yours - heard loud and clear. Our amazing citizen lobbyists sat down with legislators and their staff from every corner of the state and every political stripe. In two days, they helped put the breaks on bad legislation and racked up four additional cosponsors (three Republicans!) for the statewide nondiscrimination bill, the Florida Competitive Workforce Act. They also spoke out on our diverse slate of intersectional legislative priorities covering LGBTQ equality, reproductive justice, and gun violence prevention. Our team of veteran citizen lobbyists and first-timers alike put the Capitol on notice that Equality Florida and our LGBTQ community is a force to be reckoned with!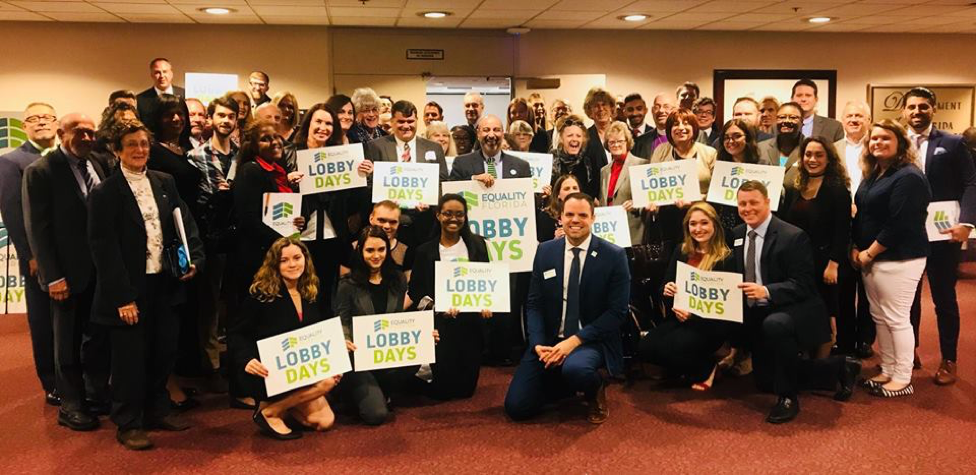 Equality Florida 2018 Citizen Lobbyist Team

LGBTQ EQUALITY BILLS
License to Discriminate -
OPPOSED


HB 871 by Rep. Fant, SB 1290 by Sen. Baxley

Mission #1 for the 2018 Legislative Session was to kill these bills--and we did!! Thanks to all who contacted their legislators. These bills disguised discrimination as business protection. We know that the legislation was a response to the Supreme Court's rulings on marriage equality and the recent passage of LGBTQ non-discrimination protections in Jacksonville. The bills would have given businesses an unfettered license to discriminate by barring local government from taking enforcement action. They could have challenged decades of progress toward LGBTQ equality by effectively eviscerating the 40+ local nondiscrimination ordinances that now protect 60% of Floridians.
Florida Competitive Workforce Act -
SUPPORTED


HB 347 by Reps. Diamond and Plasencia, SB 66 by Sen. Rouson

The Florida Competitive Workforce Act (FCWA) remains our top priority for support. The FCWA would finally prohibit discrimination against LGBTQ Floridians and ensure that Florida is a safe place to live, work, and play for all people, including those who are LGBTQ. We have an enormous groundswell of support for the legislation. The FCWA was the third-most co-sponsored bill of the session, with an unprecedented 45% of all Florida legislators lending their name as co-sponsors. Moreover, nearly 60% of all freshmen legislators have co-sponsored the FCWA. This is a wakeup call from the emerging leaders making clear that the time has come to hear and pass the FCWA.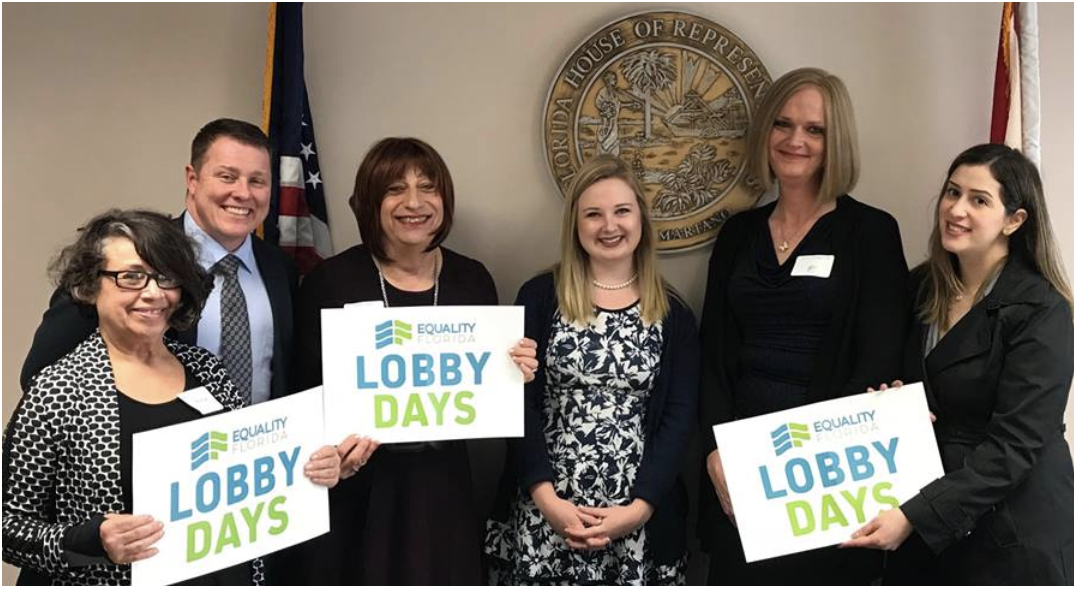 Equality Florida citizen lobbyists thank Rep. Amber Mariano (R-Pasco) for cosponsoring the FCWA.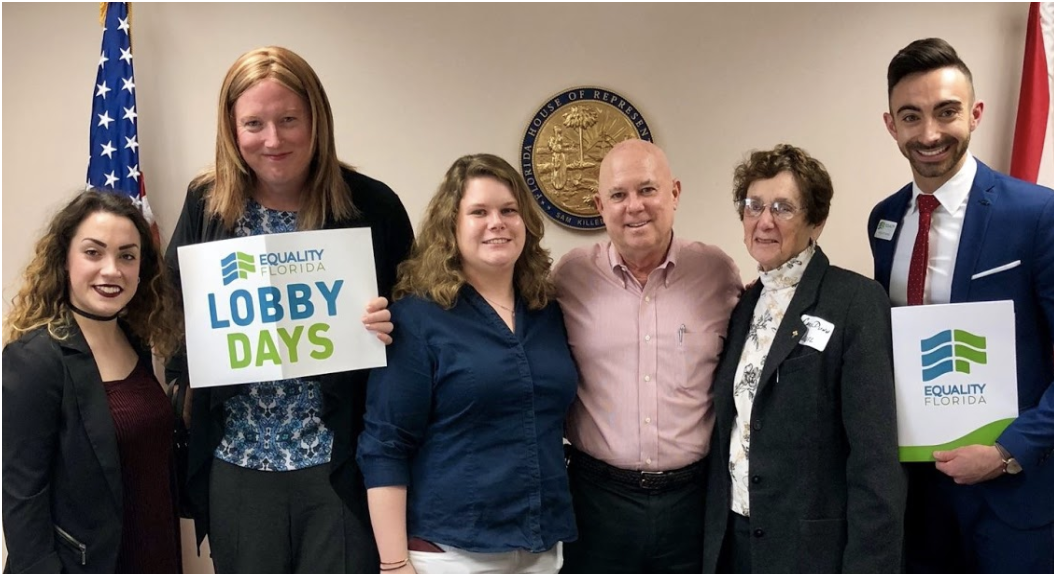 Equality Florida citizen lobbyists and Field Organizer Wes Davis meet with FCWA cosponsor Rep. Sam Killebrew (R-Winter Haven).
Hate Crimes Law Expansion -
SUPPORTED


HB 211 by Reps. Geller and Jacquet, SB 696 by Sen. Rader

Hate crimes laws send an important message about community values, and these bills would have, if passed, expanded existing law so that crimes evidencing prejudice based in whole or in part on gender or gender identity are also considered hate crimes. It would also extend coverage to more people with disabilities. Hate motivated violence disproportionately targets transgender people, especially transgender women of color. With the help of impassioned testimony from advocates including Equality Florida Board member Dr. Petra Doan, this bill passed out of the Florida Senate's Criminal Justice Committee - its first ever committee hearing! The clock ran out on securing another hearing, but we look forward to building on this momentum in the future. It's time to ensure transgender and gender non-conforming people the full protection of law.
Banning Conversion Therapy -
SUPPORTED


HB 717 by Reps. Jenne and Silvers, SB 696 by Sen. Rodriguez

So-called "conversion therapy" is fraudulent, dangerous, and inflicts immeasurable harm on its victims. Mental health professionals licensed by the state of Florida should not be conducting detrimental practices that have been widely debunked. These bills would ban conversion therapy on minors by licensed mental health professionals in Florida. We thank citizen lobbyists who bravely shared their experience as conversion therapy survivors during Lobby Days, and we thank bill sponsor Senator Jose Javier Rodriguez for organizing a press conference in the Capitol to highlight the urgency of this legislation. We continue to make great progress in passing local conversion therapy bans (here's looking at you, Gainesville!) and will continue to work toward a statewide solution.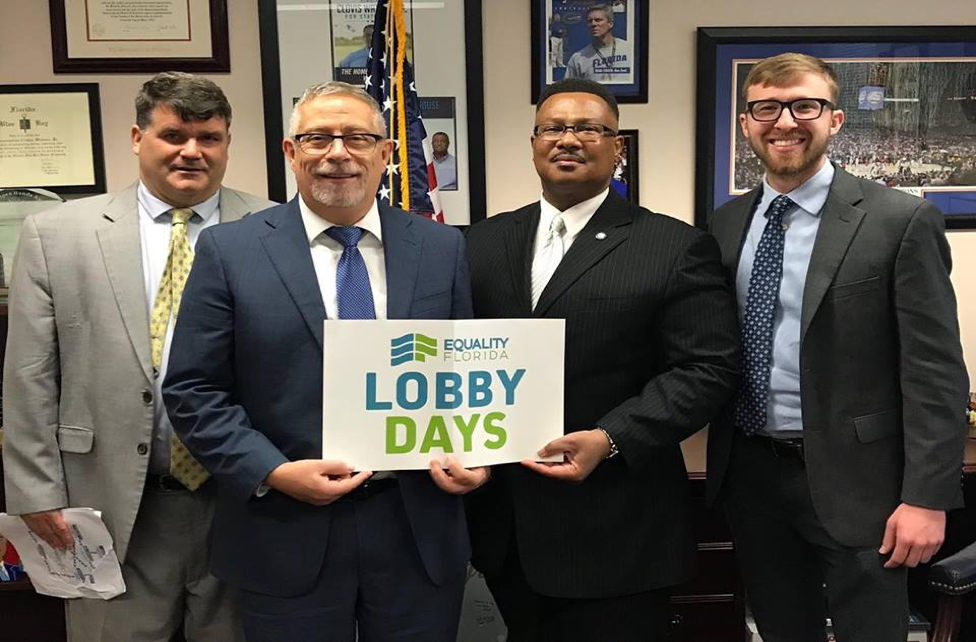 Equality Florida citizen lobbyists and Central Florida Safe and Healthy Schools Coordinator Ian Siljestrom successfully secure Rep. Clovis Watson, Jr. (D-Gainesville), as a Conversion Therapy Ban co-sponsor.
Marriage Equality -
SUPPORTED


HB 6027 by Rep. Richardson, SB 130 by Sen. Farmer

This would repeal outdated statutory language that prohibits recognizing any same-sex marriages and that defines marriage as between a man and a woman. Those laws have clearly been determined to be unconstitutional, and there is no reason to keep these discriminatory and meaningless provisions in statute. The bill was introduced early, but the Legislature once again refused to give it a hearing.

REPRODUCTIVE JUSTICE BILLS
LGBTQ and reproductive justice share the same foundational values of privacy in intimate decision-making and control over one's own body. Reproductive justice includes ensuring access to safe and legal abortion, but it also means combating the spread of HIV/AIDS and supporting access to basic healthcare in our state.
HIV Criminalization Reform -
SUPPORTED


HB 719 by Rep. Duran, SB 546 by Sen. Garcia

These bills would reduce criminal penalties that unreasonably target people living with HIV. Laws that ignore science and are based on stigma discourage testing, thereby contributing to the increase in the number of new HIV transmissions. We support laws that work with, not against public health policies. With the help of coalition partners, Equality Florida fielded two teams of citizen lobbyists to work this bill during Lobby Days. Their efforts paid off, adding two more cosponsors for this bill! These bills were not heard this session, but expect to see them back in 2019.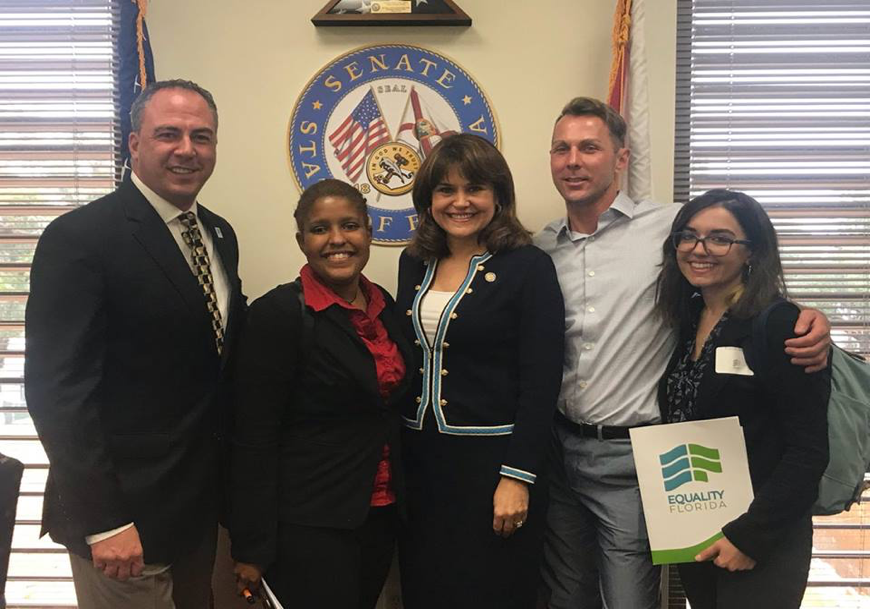 Citizen lobbyist team meets with Sen. Annette Taddeo (D-Miami) regarding HIV Criminalization Reform.
So-Called Crisis Pregnancy Center Bills -
OPPOSED


HB 41 by Rep. Toledo, SB 444 by Sen. Bean

So-called "crisis pregnancy centers" are fake clinics that intentionally restrict women's access to the full range of health care services by quality providers. These bills seek to codify into law fake clinics that oppose abortion and often work to persuade women--even judging, shaming, or deceiving them--out of getting the care they are seeking. Women need access to trustworthy, qualified medical professionals who provide the full range of services they need. Regrettably, HB 41 passed and Governor Rick Scott has signed it into law.
Method Ban -
OPPOSED


HB 1429 by Reps. Grall and Gruters, SB 1890 by Sen. Mayfield

This ban is rooted in opposition to legal abortion and not credible medical evidence. It would ban the most common method of second-trimester abortion, thereby imposing an undue burden on women seeking an abortion and rendering the bills unconstitutional. While the House regrettably passed the measure, the Senate listened to the opposition of the public, health providers, and EQFL's advocates and declined to hear the bill.
Florida Freedom to Access Clinic Entrances (FACE) Act -
SUPPORTED


HB 189 by Rep. Mercado, SB 320 by Sen. Stewart

Threats and incidents of violence against reproductive healthcare providers and facilities are on the rise. These bills were based on and enforce federal law to protect access to reproductive healthcare. Reproductive health care providers should not have to fear for their personal safety when providing care, and their patients should be able to access care free from violence, threats, and harassment. These bills did not get a hearing this year, leaving Florida out of sync with more than 10 other states that already have enhanced, state-level FACE legislation.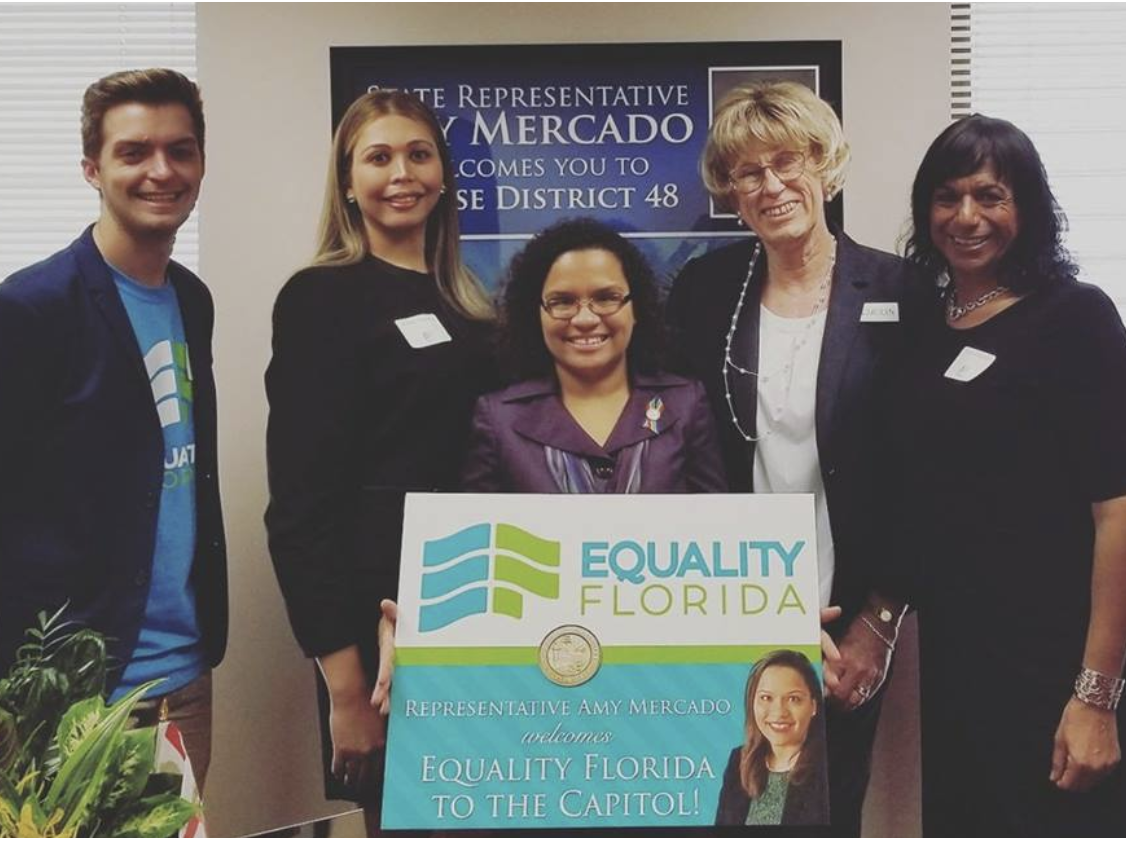 Equality Florida citizen lobbyists and Intern Kevin Fox discuss the FACE Act with bill sponsor Rep. Amy Mercado (D-Orlando).
Prescription Contraceptive Coverage -
SUPPORTED


HB 1273 by Rep. Raschein, SB 1718 by Sen. Book

This bipartisan legislation would require health insurance policies in the state to cover prescription, FDA-approved contraception, while providing an exception from coverage requirements for eligible religious employers. Despite the legislation's strong merit, both the House and Senate failed to advance it in its first year.

GUN VIOLENCE PREVENTION BILLS
In the wake of the Pulse massacre in Orlando, Equality Florida committed to honor with action the 49 lives lost by advocating for common sense gun violence prevention. We know that discrimination against the LGBTQ community can be lethal, and gun violence is a civil rights issue that disproportionately impacts minority communities. As part of the Florida Coalition to Prevent Gun Violence, we now stand with the students and families of Parkland, as they similarly seek common sense gun safety reform.
Equality Florida supported a number of gun safety reform bills that sat idle during the 2018 Legislative Session, without so much as a hearing. These included:
Assault Weapons Ban (HB 219 by Rep. Smith, SB 196 by Sen. Stewart)
Expanded Background Checks (SB 838 by Sen. Farmer)
Firearm Purchase Background Check Notice (HB 1051 by Rep. DuBose, SB 334 by Sen. Bracy)
Bump-fire Stocks Ban (HB 321 by Rep. Richardson, SB 456 Sen. Stewart)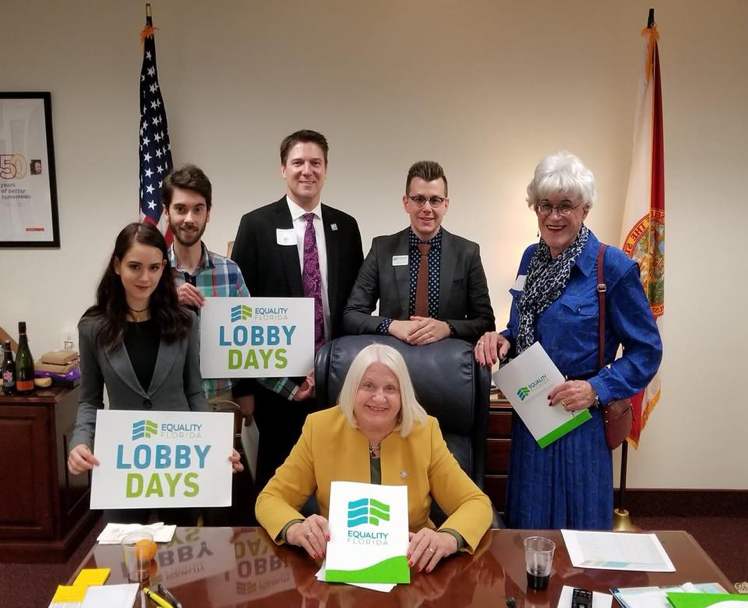 Sen. Linda Stewart (D-Orlando) discusses her gun safety reform measures with citizen lobbyists and Deputy Director of Development Michael Farmer.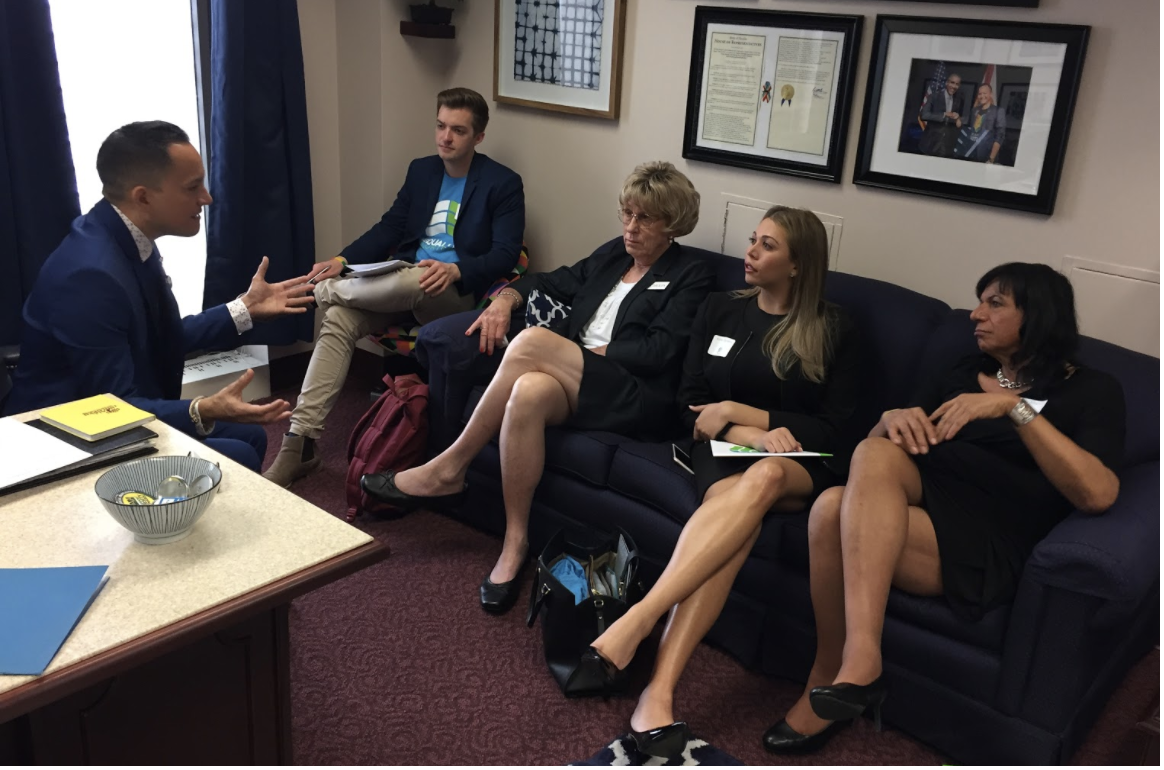 Citizen lobbyists meet with Assault Weapons Ban sponsor Rep. Carlos Guillermo Smith (D-Orlando).
The tragic mass shooting in Parkland and the monumental public outcry for action upended the legislative landscape. Equality Florida was honored to help students from Marjory Stoneman Douglas and other area schools connect with Pulse survivors and lobby legislators in the Capitol. We watched smart, impassioned students demand #NeverAgain. We heard them implore legislators to take swift action to limit access to assault weapons--weapons of war--like the one used in Parkland that should never have been in the assailant's hands. We stood behind them as they faced a crowd of 3,000 people on the steps of the Capitol and challenged all of us to do more to demand gun safety reform.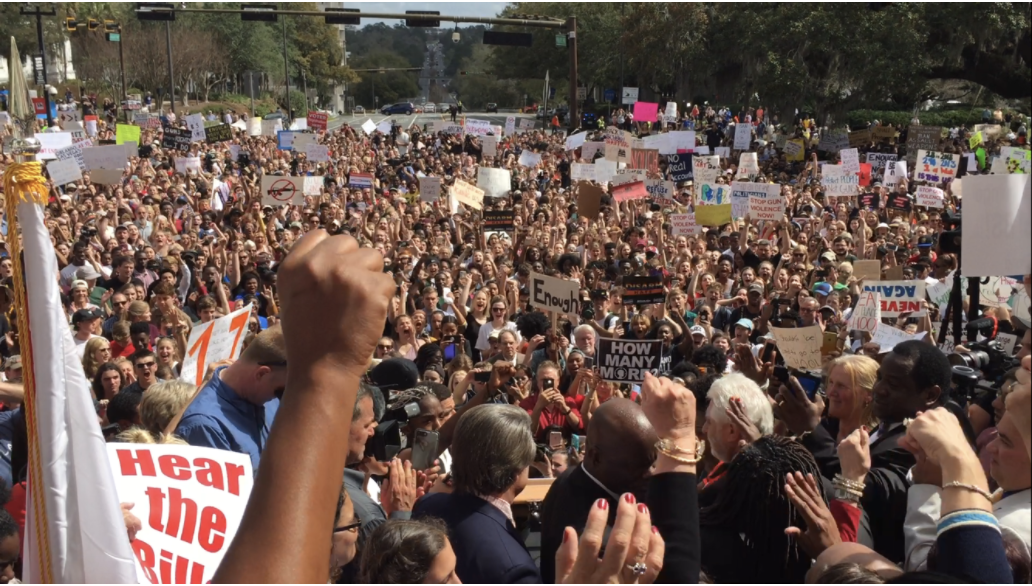 Rally at the Capitol for Comprehensive Gun Violence Reform.
Ultimately, the Marjory Stoneman Douglas High School Public Safety Act (SB 7026) that the Florida Legislature passed and Governor Rick Scott signed fell short of the demands of many students, teachers, and families. It failed to include a ban on the assault weapons and high-capacity magazines that enable such rapid devastation. It failed to include universal background checks that help keep firearms out of the hands of individuals who are disqualified by law from purchasing them. Finally, despite the overwhelming protests of parents and educators, it puts more guns in classrooms, exponentially increasing the risk to our students. Equality Florida will continue to work with our partners in the Florida Coalition to Prevent Gun Violence to achieve comprehensive gun safety reform.


Staff from Equality Florida, Sen. Gary Farmer (D-Ft. Lauderdale), and his staff accompany students from Marjory Stoneman Douglas and other area schools for lobby visits at the Capitol.

We cannot thank our dedicated citizen lobbyists enough for taking the time and effort to represent Equality Florida at Lobby Days! Even if you were unable to attend in person, your support keeps Equality Florida on the front lines in Tallahassee. It ensures our community will always have an advocate in the halls of the Capitol for all the work that remains ahead.
Onward toward full equality!
Jon Harris Maurer
Government Affairs Manager
Equality Florida