Equality Florida Highlights Attacks on LGBTQ Floridians, Calls On Lawmakers To Pass Statewide Protections
TALLAHASSEE — Florida lawmakers triggered a wave of negative national headlines by filing a slate of anti-LGBTQ bills. In response, Floridians are converging this week on the state capitol to tell legislators it is time to lead on nondiscrimination protections, not pull Florida backwards. In the opening week of the 2020 legislative session, Equality Florida sounded the alarm on a slate of proposals that would roll back local LGBTQ protections that currently cover nearly 60% of the state population and one draconian bill that threatens doctors with 15 years in prison for providing care to transgender youth. (You can view the entire press conference here.)
"The transgender community, and specifically transgender women of color, are some of our state's most vulnerable. Florida has had the highest murder rate of transgender people over the last two years. To file bills so directly attacking transgender Floridians is outrageous," said Joe Saunders, Senior Political Director for Equality Florida, regarding the transgender youth medical care bans. "Instead of attacking transgender kids, or filing broad bills that erode our protections, the Legislature should advance the broadly supported, bipartisan-led Florida Competitive Workforce Act to establish statewide nondiscrimination protections. This is one of the most co-sponsored bills year after year. It is time for leadership to bring this legislation to the floor and for the Governor to sign it into law."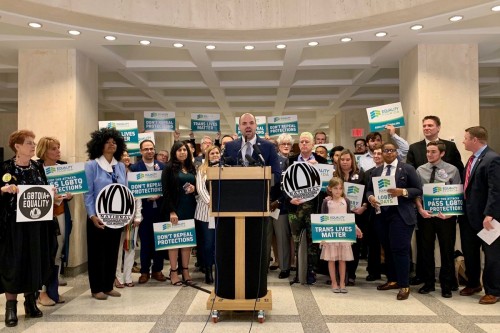 This session Equality Florida raised the alarm on a number of bills that, as filed, repeal important local protections that are not currently offered at the state level. Equality Florida's Lobby Days comes as progress has been made on some of these so-called "preemption" bills to address the anti-LGBTQ impact, while others have moved forward as filed.
"The threat that broad preemption bills have on local protections for LGBTQ Floridians has been a recurring issue for multiple legislative sessions," said State Representative Carlos Guillermo Smith (D-Orlando). "Lawmakers are well aware that without the passage of the Florida Competitive Workforce Act, local protections for LGBTQ people are all we've got. As long as there are efforts from Tallahassee to weaken local protections for LGBTQ Floridians, intended or unintended, there will be efforts to stop them."
Representative Michael Grant (R-Port Charlotte) amended HB 3, for example, to address the bill's impact on conversion therapy bans at the local level. The same amendment has been introduced in the Senate by the Senate Sponsor, Senator Keith Perry (R-Gainesville). Representative Bob Rommel's (R-Naples) House Bill 305, which would have dangerous effects on local LGBTQ nondiscrimination protections in employment, has advanced through one House committee and is scheduled for a second hearing this week.
The Florida Competitive Workforce Act (SB 206/HB 161) has consistently garnered tremendous bipartisan support with 56 Democratic and Republican sponsors and cosponsors for the 2020 legislative session. Currently, comprehensive local non-discrimination protections that include gender identity and sexual orientation cover 60% of Florida's population. Leading Florida businesses like Disney, Darden, Tech Data, and Marriott support the Florida Competitive Workforce Act because they know these protections are essential for attracting and retaining top talent.
###
Equality Florida is the largest civil rights organization dedicated to securing full equality for Florida's LGBTQ community. Through education, grassroots organizing, coalition building, and lobbying, we are changing Florida so that no one suffers harassment or discrimination on the basis of their sexual orientation or gender identity. www.equalityflorida.org