2022 Post-Florida Legislative Session Review
2022 Florida Legislative Session Recap
Florida's 60-day legislative session has come to an end, with Republican lawmakers focused on red meat, culture war legislation to appease their far-right base. Instead of addressing the skyrocketing housing costs, access to affordable health care, stagnant wages, or the urgency of climate change, they divided Floridians like never before. From attacks on LGBTQ and immigrant children, to our freedom of speech and right to vote, we saw a legislative session that targeted our most vulnerable communities and most cherished values. Governor Ron DeSantis used this legislative session–and consequently Floridian's lives–as a springboard for his national political ambitions. From banning books to white-washing history and allowing the state to dictate our health care decisions, the legislature pushed a DeSantis agenda of censorship and surveillance that intrudes on all aspects of our lives.
This grueling session included some wins along the way, and we know the broader fight is far from over. It showcased a level of LGBTQ and allied organizing unseen in the Capitol in many years. Our community rallied to the Capitol from around the states for weeks without rest. Our opponents know we'll be here as long as it takes.


Equality Florida Lobby Days was one of many mobilizations at the Capitol this Session to fight against the DeSantis censorship and surveillance slate
ATTACKS ON OUR SCHOOLS, FAMILIES, AND WORKPLACES
The most notorious bill of session was cruel and internationally recognized "Don't Say Gay" bill (HB 1557) by Rep. Joe Harding and Sen. Dennis Baxley. Bill supporters made clear that it seeks to prevent teachers from talking about LGBTQ issues or people and to undermine protections for LGBTQ kids in schools. It stigmatizes LGBTQ people, isolates LGBTQ kids, and makes teachers fearful of providing a safe, inclusive classrooms. Pro-LGBTQ lawmakers introduced 25 amendments to mitigate the bill's harms, but Republican leadership rejected them all, showing the true intent behind the bill.
Though the bill is touted under the guise of "parental rights," from the outset nearly all attention focused on the bill's provision erasing LGBTQ youth, LGBTQ families, and LGBTQ history. As filed, the original bill stated:
"A school district may not encourage classroom discussion about sexual orientation or gender identity in primary grade levels or in a manner that is not age-appropriate or developmentally appropriate for students"
"Sexual orientation and gender identity" are about who we are and who we love. The existence of LGBTQ students and parents is not a taboo topic that has to be regulated by the Florida Legislature.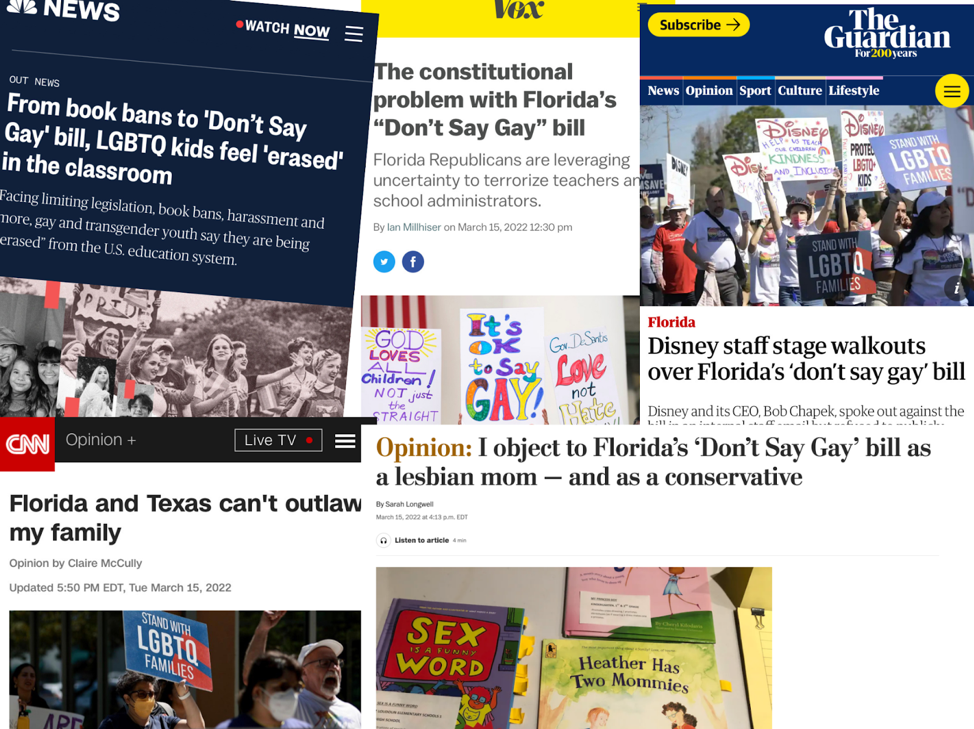 Don't Say Gay bill draws an outpouring of media coverage
A hurricane of state, national, and international attention fell upon the Don't Say Gay provision, with hashtags trending for weeks, President Biden denouncing the policy, and even Saturday Night Live mocking its cruelty. In response to the media fallout from the bill, Governor DeSantis's spokesperson resorted to claiming that those who opposed the bill were likely pedophiles who supported grooming young children. Undaunted, our community flooded the Capitol with emails and calls in opposition, with one lawmaker estimating she received 15,000 emails about it. Multiple press conferences featured students, LGBTQ parents, faith leaders, and lawmaker champions all opposing Don't Say Gay. Most inspiring of all were the students who bravely led and organized thousands of their peers in peaceful walkouts around the state to protest the bill.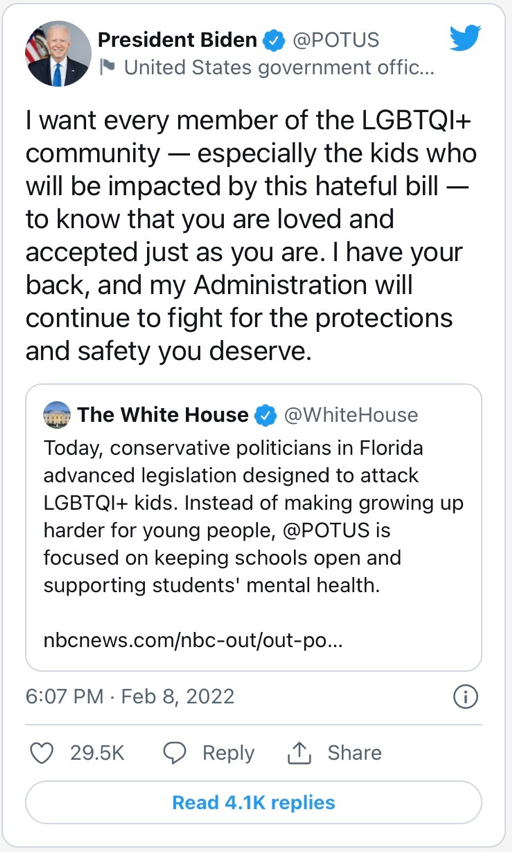 Tweet from President Biden in response to Don't Say Gay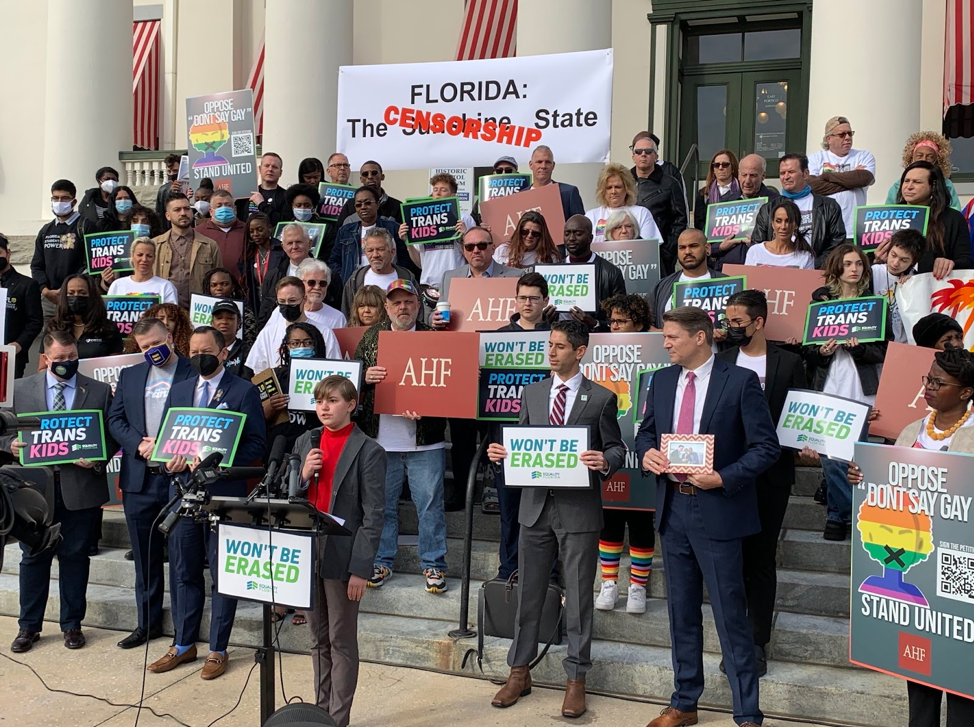 Student leader Kaylee speaks about the impact of Don't Say Gay on her and her peers at a press conference with Equality Florida, AIDS Healthcare Foundation, and the Human Rights Campaign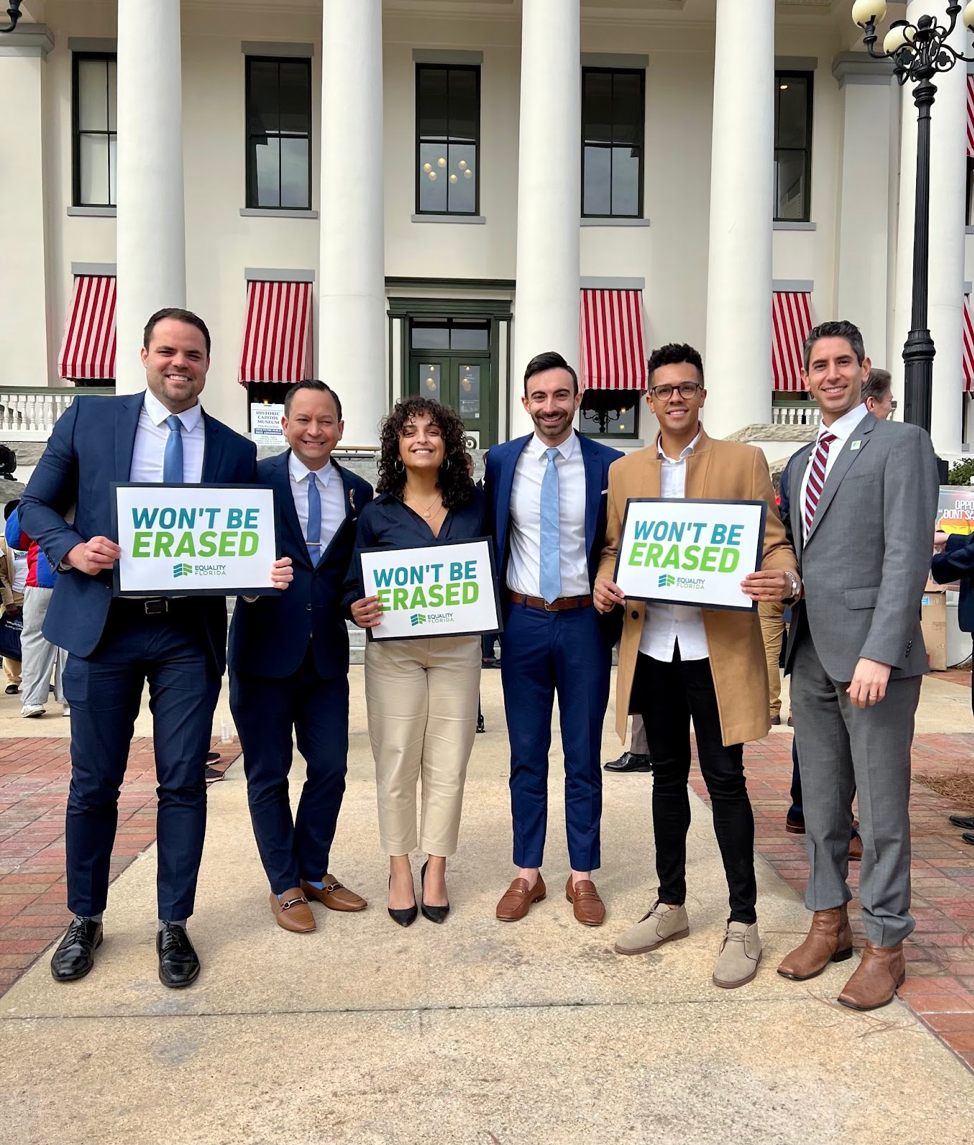 Our message that the LGBTQ community won't be erased by the Don't Say Gay bill dominated state and national headlines, shifting the conversation toward LGBTQ acceptance in schools
Despite the overwhelming opposition and polling showing the majority of Floridians did not support it, Republican leadership pushed the bill through. Nevertheless, there were important wins along the way. Lawmakers on both sides of the political aisle openly voiced serious concerns with the bill in committee, and 9 Republicans saw the humanity in their LGBTQ family members, colleagues, and constituents, and joined Democrats in voting against the bill. This was a rare rebellion, and it included a former school teacher and the leader of a child welfare organization, who understood well the bill's dangers to students.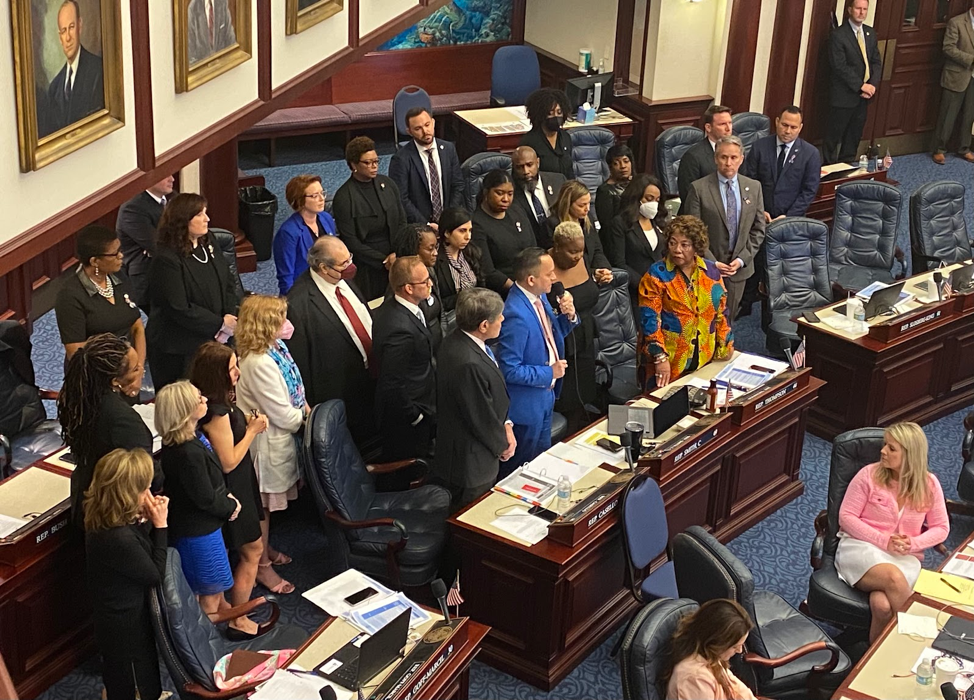 Rep. Carlos Guillermo Smith is joined by dozens of colleagues as he make an impassioned plea on the House Floor against the Don't Say Gay bill
We also secured amendments that narrowed–but could not undo–the most egregious harms of the bill. The bill's original, unintelligibly vague ban on school districts "encourag[ing] classroom discussion" was revised to apply to "classroom instruction," which remains undefined. The bill's original, ambiguous reference to "primary grades" in the original bill was revised to apply to "kindergarten through third grade," which remains an overbroad ban. In addition, the bill originally allowed school districts to have policies for withholding information if disclosing it would reasonably likely lead to abuse, abandonment, or neglect by a parent. Nonetheless, because the cruelty was always the point, we saw the bill sponsor backpedal on those protections by introducing an amendment to require those very same disclosures to parents within 6 weeks–regardless of whether abuse, abandonment, or neglect remained likely. Immense public outcry followed, and the sponsor withdrew the amendment before consideration to the legislature.
Yet "Don't Say Gay" was not the only piece of the censorship and surveillance slate attacking our schools and workplaces. Florida Republicans also passed the so-called "Stop WOKE Act" (HB 7) which prevents honest teaching of history in schools and tough conversations about race, gender, and privilege in our workplace diversity, equity, and inclusion trainings. Teachers and employers should be free to have those tough and honest conversations about race, our nation's history, and the root causes of injustice and discrimination. Instead, the bill sharply discourages these conversations by making them new bases for legal liability, effectively censoring them. It also creates double-jeopardy for businesses that on one hand have a duty to have trainings to establish workplaces free from discrimination and harassment, and on the other hand now could face lawsuits from disgruntled employees for putting on those same trainings. In one improvement, the bill's original incredibly broad liability for any training or instruction that led someone to feel discomfort or guilt because of their race, color, national origin, or sex was amended to now allow lawsuits only over training or instruction that expressly dictates that the listener bears responsibility for and must feel guilt or other psychological distress because of actions committed by others of the same race, color, national origin, or sex. This is still unacceptable, but a notable narrowing of the bill.
Furthermore, teachers, schools, and students should also have broad access to resources, without undue restrictions on their intellectual freedom. But the Florida Legislature was more interested in passing bills like HB 1467, modifying Florida's authoritarian practice of book banning that allows anyone in a county–regardless of whether they have a child in public school–to call for the removal of books in public schools.
REPRODUCTIVE FREEDOM AND HEALTHCARE
A cornerstone of the Governor's politically-motivated "surveillance slate" prying into our schools, workplaces, and doctor's offices, has been the 15-Week Abortion Ban (HB 5). Florida Republicans passed one of the most extreme abortion bans in the country. The bill outlaws nearly all abortions after 15 weeks of pregnancy, with no exceptions for rape, incest, or human trafficking. Lawmakers also provided a plethora of amendments to mitigate the harm that this bill will surely have on those seeking reproductive healthcare, but all efforts in both chambers failed.
HB 5 is forced pregnancy and an attack on our right to bodily autonomy. We know that reproductive freedom and LGBTQ rights share a foundation in ensuring freedom from governmental intrusion into our most intimate, personal decision-making. Getting an abortion is a deeply personal decision that should be left between a pregnant person, their family, their faith, and their doctor, not the Florida legislature.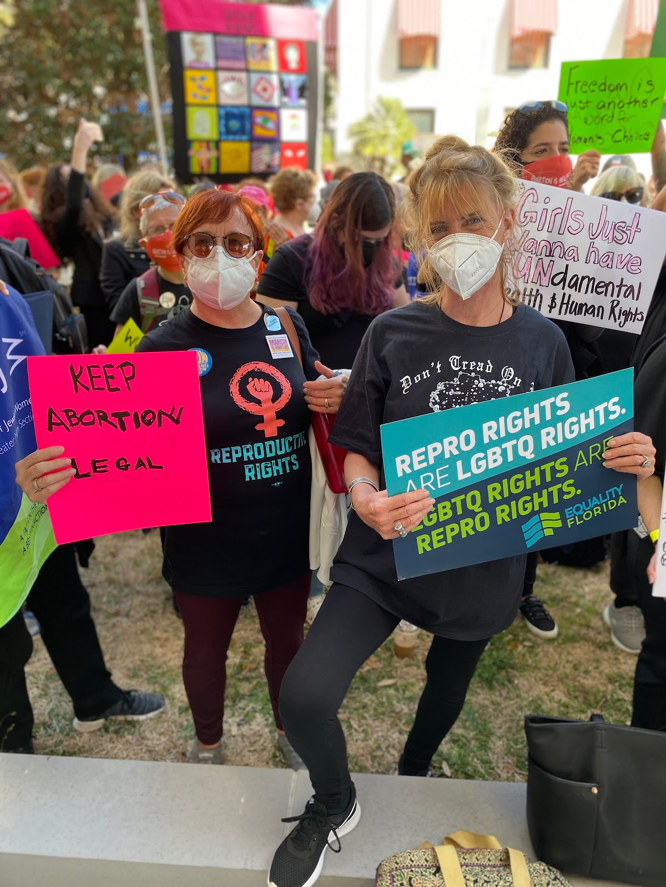 Advocates remain steadfast in the face of an aggressive incursion on bodily autonomy and our freedom to make personal healthcare decisions
This much is true: politicians are not medical experts, and our bodies should not be legislated upon. The Florida legislature has also attempted to insert itself in Floridians' ability to access care by introducing HB 747, The "License to Discriminate in Healthcare" bill which would allow any health care provider or insurer to deny critical medical care to a patient based on their "religion, morals, or ethics." No one should be denied critical medical care, and the impacts of the bill would have been catastrophic as it provides a broad license to discriminate in employment and contracting as well. Thankfully, we saw this bill die after its first committee hearing in the House, and it received no traction in the Senate.
Another bright spot this session was the complete defeat of a Transgender Youth Medical Care Ban (HB 211). This bill would have jailed doctors for up to a year for providing life-saving care to trangender youth, even when the young person, their parents, and doctors agreed on a course of treatment. Fortunately, this toxic bill never made it to committee for a hearing.
DEMOCRACY AND MAPS
Equality Florida's theory of change rests on the notion that changing hearts and minds can change laws, but that only works in a functioning democracy. Thus, we work to ensure a free democratic process that treats people fairly. Republican leadership, however, is undermining the process as they pursue politically-motivated grandstanding like creating the Governor's personal "Election Police Force." Among the many attacks on our democratic process this session, our advocacy has focused on two areas: protecting local governance and ensuring fair redistricting maps. At the beginning of this session, two preemption bills raised concerns about making it more difficult for local governments to adopt a wide swath of new ordinances, including pro-LGBTQ ordinances. Local governments have led the way not only in responding to local conditions to protect their communities during the pandemic, but also have also led the way in enacting LGBTQ protections, showing how important it is to preserve local control. Ultimately, the "Business Damages Preemption Bill" (SB 620) passed, which will allow businesses to sue local governments if they allege that a new ordinance will cost the business 15% or more of their profits, deterring potentially important new ordinances that could have financial impacts to the private sector. Fortunately, we were able to stop its more concerning counterpart, the "Arbitrary and Unreasonable Preemption Bill" (SB 280), which would have created new grounds for suing local governments over ordinances that someone claims are "arbitrary or unreasonable," with vague bases like the ordinance's impact on "personal rights and privileges." This legislation was ripe for abuse and frivolous lawsuits that would deter local governments from enacting protection.
Alongside the many culture wars ignited by the legislative leadership this session, lawmakers were responsible for a once-in-a-decade redistricting process of redrawing the district lines to determine who represents us in the Florida Capitol and Congress. Alongside the Fair Districts Coalition, we have monitored the process and helped engage Floridians to make their voices heard. We knew it was critical to make sure our input was heard, even as the map-drawing process largely took place behind closed doors with minimal public input. The crux of the redistricting process lies in this: Voters should pick their representatives, not the other way around.
The state House and Senate maps have passed the legislature and have been approved by the courts, and we now await the Governor's approval or veto on the legislature's recently passed congressional map, which the Governor initially asked the legislature to pass. That map was largely been criticized as unconstitutional for removing a "minority access" district intended to ensure voters of color can have their voices heard. Gov. DeSantis has indicated an intent to veto it. Some experts believe this is an attempt by the Governor to trigger litigation to undo either Florida's Fair Districts process or protections in the federal Voting Rights Act. Experts have repeatedly noted that never before has a governor proposed his or her own congressional map or vetoed a congressional map passed by a legislature controlled by the Governor's own party.
CONCLUSION
Many of the harmful bills mentioned and passed this session now await the Governor's signature, and so does the fate of our congressional districts. This is why this legislative session was just the beginning. Governor DeSantis has a vision for Florida and ultimately the country: One where our freedom of speech and individual expression is taken away from us all. DeSantis's authoritarian agenda is pushing our state backward for his Presidential ambitions. We can promise you, however, that the Equality Florida team will continue to fight this flurry of hatred targeting our families and community in the legislature, in court, and beyond.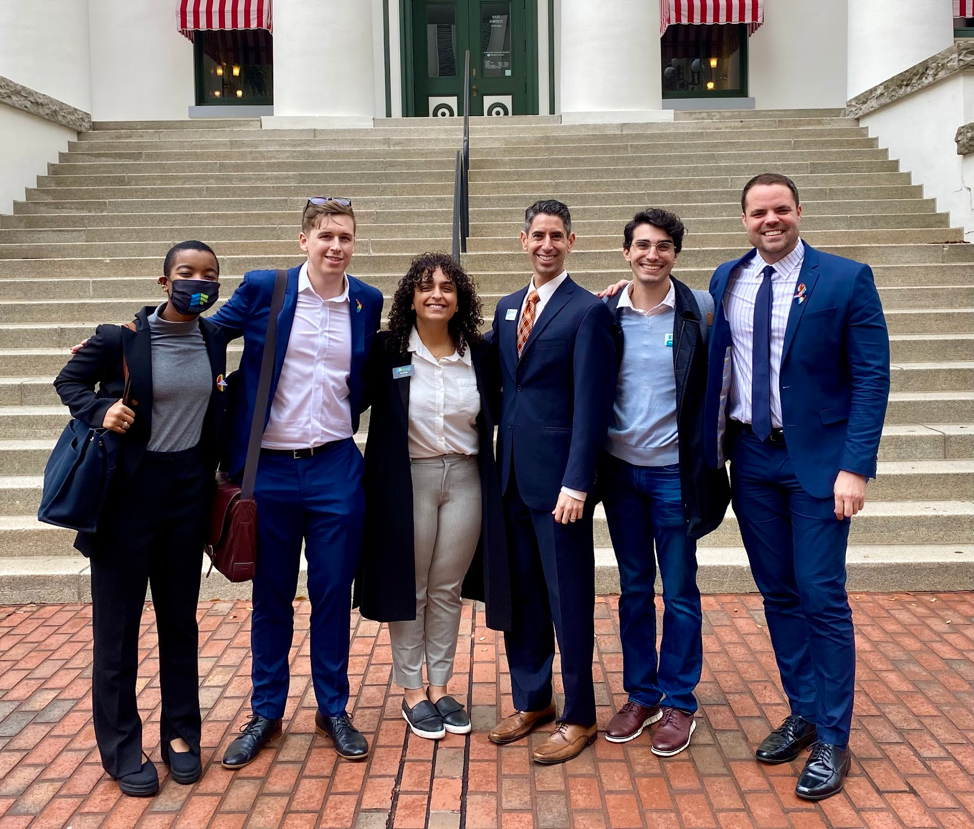 Part of the Equality Florida team in front of the historic Florida Capitol