We have great news to share as we near the end of the week!
Last night, the Tallahassee City Commission unanimously enacted protections against "conversion therapy". Tallahassee is now leading the state with the MOST inclusive policy on this issue to date. This is a big victory for our LGBTQ community and an important message to end this barbaric practice of psychologically torturing young people.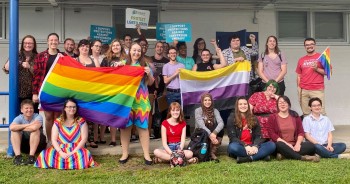 In addition to the good news from Tallahassee, we wanted to share a few other ways Equality Florida is connecting and mobilizing the community as we navigate through this global pandemic.
Supporting Each Other and the Community
During the early weeks of the crisis, Equality Florida took immediate action to prioritize the well-being of our team and the community. We cancelled all in-person events, including five large-scale annual fundraisers, even before municipalities began issuing "stay-at-home" orders to help slow the curve of the outbreak. (Our in-person events may be cancelled, but we're hosting a virtual extravaganza called Equality LIVE! on Sunday, April 26!)
We also launched a survey to check-in on our community and find out how Equality Florida can better serve at this time. With the responses we received, we released our LGBTQ-focused resource hub. This website brings together a comprehensive list of local, state and national COVID-19 support opportunities — including a one-pager on legal protections people (married or unmarried) should consider to protect themselves, their partners, and their children.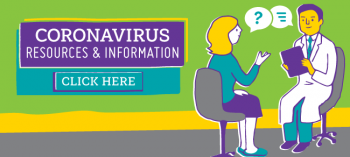 Convening LGBTQ Leaders
The LGBTQ community is experiencing a surge in needs and challenges in response to the COVID-19 pandemic. To address these unique issues, Equality Florida convenes a weekly call with 150 LGBTQ leaders from across the state, along with national partners who do work in Florida, to assess the needs of the community, share resources and support each other's work.
We've also launched a series of virtual town halls to provide a space for connection during this time of social-distancing and discuss the impact of COVID-19. Last week, over 90 people joined us for a special International Transgender Day of Visibility virtual event, which provided people with information on the unique challenges facing the transgender and non-binary community during this crisis.
On April 2, Equality Florida held a Virtual Town Hall: Q&A on HIV and COVID-19 with our HIV Project Coordinator, Alejandro Acosta, to answer questions about people living with HIV and the precautions we should consider during this time. A panel of medical experts joined the chat during our town hall to help answer additional questions and provide resources on the topic.
Our next virtual town hall is being held TODAY, April 9 at 5:00pm ET. Find out how we defeated the "Slate of 8" anti-LGBTQ bills this legislative session and hear from our special guests, State Representatives Carlos Guillermo Smith and Jennifer Webb!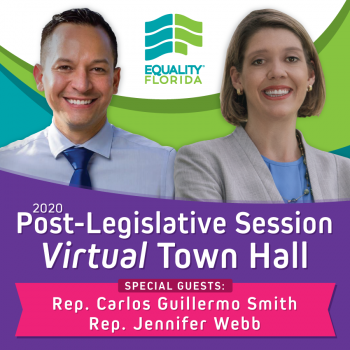 Fighting Back Against Stigma and Discrimination
Our work to address and fight back against stigma and discrimination has never been more critical.
We are working closely with government officials to make sure stigma and discrimination against the LGBTQ community — especially people living with HIV — play no part in how life or death health care decisions are being made during this pandemic.
Through these discussions, we've begun collaborating with Nik Harris - Florida's first-ever LGBTQ Consumer Advocate for the Department of Agriculture and Consumer Services - to ensure state COVID-19 hotline workers have resources to answer questions specific to LGBTQ Floridians.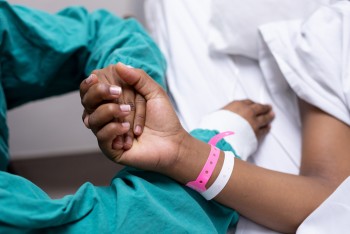 Lean on Us
Our community is not unfamiliar with the phenomena of stigma and epidemics. In this climate of fear and real risks, we must continue to take care of each other.
Please enjoy this rendition of the late Bill Withers' "Lean on Me" from Equality Florida staff and board members - and remember we are always here for you.
We'll get through this, together.