Countdown To Marriage Rally!
COUNTDOWN TO MARRIAGE!
RALLY TO CALL FOR MARRIAGE EQUALITY NOW!
SATURDAY, JUNE 28 @ NOON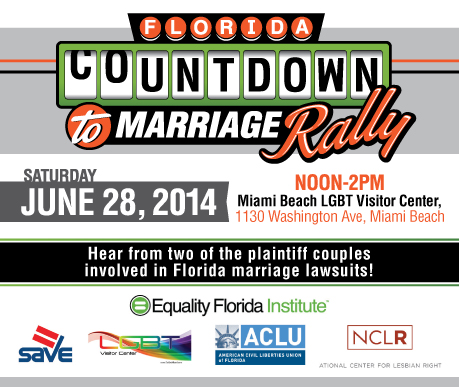 On Saturday, June 28, a coalition of South Florida organizations will host "Countdown to Marriage," a rally to call on the State of Florida to overturn the state's ban on same-sex marriage. The rally takes place at noon at the LGBT Visitor Center, 1130 Washington Avenue, Miami Beach.
Speaking with one voice, Equality Florida, SAVE (Safeguarding American Values for Everyone, formerly SAVE Dade), ACLU of Florida, National Center for Lesbian Rights (NCLR) and the LGBT Visitor Center will be joined by numerous other local agencies and organizations at the rally.
Following Attorney General Bondi's inflammatory comments that marriage equality would cause "significant public harm," the reaction from the LGBT community and its allies was swift and united. Organizers of the rally hope to leverage that enthusiasm into action.
With a whirlwind of favorable rulings throughout the country, the rally will also provide the community with an opportunity to hear about the status of some of the lawsuits presently in the Florida courts, as well as how to get involved in the fight for equality.
Two of the couples who are presently suing for marriage equality – Juan del Hierro & Thomas Gantt and Karla Arguello & Cathy Pareto– will be speaking at the rally, along with Michael Farmer, Equality Florida Statewide Field Director; Damian Pardo, SAVE board member; and Daniel Tilley, ACLU staff attorney.
Countdown to Marriage takes place at noon on Saturday, June 28 behind the LGBT Visitor Center, 1130 Washington Ave., Miami Beach. For further information, please call (305) 751-7283 or (954) 458-3639.
RSVP Here: http://eqfl.org/rally
- 30 -