Biden-Harris Administration Sign LGBTQ Executive Order On Day One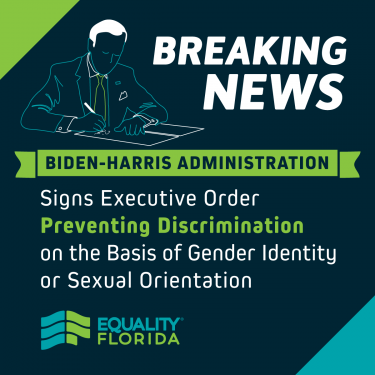 MIAMI, FL - Just hours after being sworn in, President Biden signed an executive order implementing the U.S. Supreme Court's ruling in Bostock v. Clayton County to ensure protections on the basis of sexual orientation and gender identity extend to all federal agencies.
Statement from Equality Florida's Senior Political Director, Joe Saunders, on yesterday's LGBTQ executive order:
"Throughout his campaign, President Biden spoke of his desire to build a government that reflects the diversity of America. With yesterday's executive order, President Biden is keeping his promise to reverse the attacks of the last four years and ensure LGBTQ Americans have an equal chance at success and the American Dream. The United States Supreme Court ruling in Bostock v. Clayton County is crystal clear - the Civil Rights Act of 1964 prohibits discrimination on the basis of sexual orientation and gender identity. Yesterday's action from President Biden ensures federal employees, contractors, and Americans who access federally funded programs are afforded the protections affirmed in Bostock. We are thrilled with the potential of this new chapter in American history and cannot wait to work alongside President Biden, his administration, and Congress to pass the Equality Act and ensure every American is treated equally and with dignity under the law."
See the official executive order from the White House.