New Poll Shows 71% Of Floridians Support Conversion Therapy Ban For Minors
71% Of Floridians Support Banning Conversion Therapy For Minors
Local and State Elected Leaders Must Act To Stop the Dangerous, Debunked Practice
ORLANDO, FL -- 
As a
new poll
released this week shows that 71% of Floridians support banning gay conversion therapy for minors, Equality Florida today renewed the call for laws to protect young people from the dangerous and debunked practice. 
Twelve municipalities across Florida have enacted policies prohibiting the dangerous practice. Meanwhile, Florida State Representative David Richardson (D-Miami Beach) and Senator Jeff Clemens (D-Lake Worth) introduced a statewide ban earlier this legislative session, but the bill has yet to be heard in committee. 
"Conversion therapy is fraudulent, dangerous, and inflicts immeasurable harm on its victims," said Hannah Willard, public policy director for Equality Florida. "We now have confirmation of what we've known along: Floridians overwhelmingly support equal protection for LGBTQ people and do not support any efforts to target or harm gay and transgender youth. We applaud the twelve Florida cities who have enacted local bans on conversion therapy and call on more municipalities to outlaw this dangerous and deceptive practice that puts LGBTQ youth at risk."
So-called "reparative therapy" is a debunked practice that purports to change a person's sexual orientation or gender identity. Also known as "ex-gay therapy" and sexual orientation change efforts, such practices have been decried and debunked by every mainstream medical and mental health organization - including the American Psychological Association, the American Psychiatric Association, and the American Academy of Pediatrics. 
Conversion therapy can be extremely dangerous and, in some cases, fatal. Minors are especially vulnerable to the dangers of conversion therapy, which has been tragically proven to lead to depression, anxiety, drug use, homelessness, self-harm and suicide. In 2008, the American Academy of Pediatrics found that lesbian, gay, and bisexual young adults who reported higher levels of family rejection during adolescence were more than eight times more likely to report having attempted suicide, more than five times more likely to report high levels of depression, and more than three times more likely to use illegal drugs compared with their peers. 
The cities of Tampa, West Palm Beach, Miami, Key West, Miami Beach, Lake Worth, Boynton Beach, Wilton Manors, Bay Harbor Islands, El Portal, Riviera Beach, and North Bay Village have enacted conversion therapy bans. The City of Tampa is the most recent city to do so, with a unanimous vote in favor of the ordinance. 
"According to the Centers for Disease Control and Prevention, the two most important factors contributing to the wellbeing of an LGBTQ young person are family acceptance and a supportive school environment, "added De Palazzo, director of Equality Florida's Safe and Healthy Schools Project. "While we can't always ensure that LGBTQ youth are accepted and affirmed by their families, we can and we must protect them from being subjected to dishonest and dangerous abuse disguised as medical treatment. LGBTQ youth are born perfect, and all of them deserve to grow up knowing they are celebrated and valued for exactly who they are."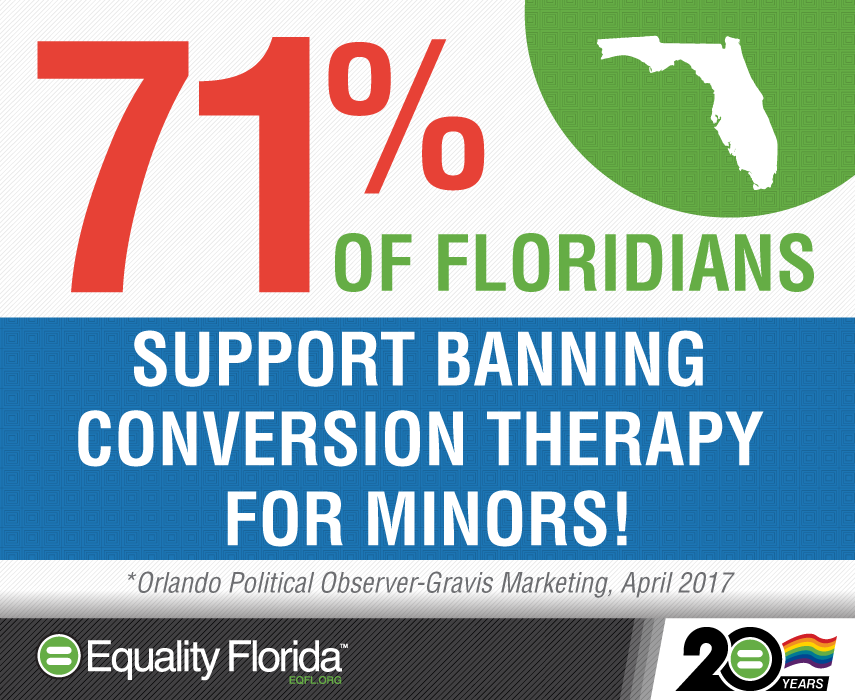 **Gravis Marketing, a nonpartisan research firm, conducted this polling via random survey of 1,243 registered voters across Florida. The poll was conducted from April 4th through the 10th and has a margin of error of ±2.8%. The total may not round to 100% because of rounding. The poll was conducted using interactive voice responses and online panels of cell phone users, with the results weighted by voting patterns.