Florida Marriage Equality Plaintiff Named Co-Chair of ​​​​​​​Equality Florida's Board of Directors
Jeff Delmay, who served as a plaintiff in the lawsuit that led to the first same-sex marriages in Florida, has been named Co-Chair of Equality Florida's Board of Directors. Jeff has served on the board since 2016 and accepted the new leadership role during their board meeting in April of this year. His 3-year term begins immediately.
Jeff and his husband Todd first became active with Equality Florida as plaintiffs in the organization's lawsuit, Pareto v. Ruvin, to secure marriage equality in Florida. At the time of the lawsuit, Jeff and Todd recognized they could have traveled to a different state that allowed same-sex couples to marry. But Florida is their home. So in 2014, they joined Equality Florida and five other couples to end the state's ban on marriage and fight for the same legal protections and respect afforded to other families.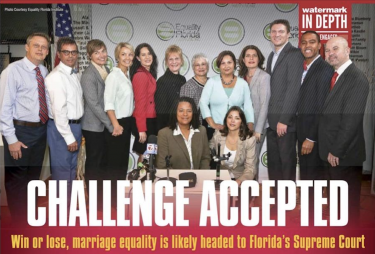 (Watermark Coverage of Press Conference Announcing Equality Florida's Lawsuit for Marriage Equality)
On January 5, 2015, Circuit Judge Sarah Zabel lifted the ban on marriage and Jeff and Todd became one of the first same-sex couples to legally marry in the state of Florida. Judge Zabel officiated their marriage in her chambers alongside plaintiffs Cathy Pareto and Karla Arguello.
"As a gay black man in an interracial marriage and raising our adopted son, I feel that my family is protected in our community largely due to the tireless efforts of Equality Florida. I'm excited to do my part in helping other LGBTQ+ individuals and families experience the same," said Delmay.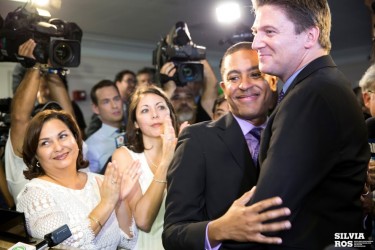 "Jeff has played a direct role in helping to secure legal protections for Florida's LGBTQ community. His dedication to the mission and understanding of how Equality Florida carves out victories despite challenging environments makes him a perfect choice for co-chair," said Nadine Smith, Executive Director of Equality Florida.
After the U.S. Supreme Court's historic ruling on marriage equality, Jeff remained active with Equality Florida joining their Board of Directors in 2016.
Now, in his new role as co-chair of the Board, Jeff is not only helping to navigate the organization during a global pandemic but is also ensuring Equality Florida remains a leading voice on issues of racial violence and systemic racism.
"People who know of Equality Florida, know that this is a very powerful, caring and diverse organization that has been practicing what it preaches since its founding in 1997. Being named co-chair is just another example of how Equality Florida is focused on lifting up the voices of all Floridians and recognizing leadership skills in Black and Brown communities," said Delmay.
As nationwide demonstrations in support of Black lives continue, Jeff hopes the LGBTQ movement in general fully commits to combating racial violence and injustice.
"It starts with understanding that the fight for full LGBTQ equality includes ending white supremacy and embracing anti-racism. It means lifting up the voices of Black trans women and ending the epidemic of violence against them. It also means we must act. And one of the most impactful actions we can take is voting. This November is one of the most important elections of our lifetime and we have the chance to shape the future of this country. I am honored to be co-chair of Equality Florida and participate in the extraordinarily important work they do for our state's LGBTQ+ community," Delmay added.
---
Jeff Delmay's Bio: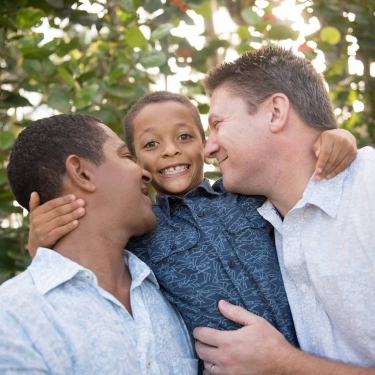 Jeff Delmay lives in Hollywood, Florida with his husband Todd Delmay and their son Blake. Jeff and his husband were one of the six plaintiff couples that along with Equality Florida sued for the right to marry in Florida and won! They and another couple became the first couples to marry in Florida when the judge lifted her stay a day ahead of the rest of the state. Jeff has also been involved in the community at large, working extensively with the National LGBTQ Task Force and The SMART Ride and serving on the Board of Equality Florida for the past four years. Jeff is committed to a vision of equality that allows everyone to be who they truly are, and to a world made better for his son and for all children.
Professionally, Jeff and his husband own and operate Delmay Corporation, which provides its software, event management and consulting services to meeting and event organizers. Jeff is a graduate of Johnson & Wales, where he studied hospitality management. After graduating, he enjoyed a 12-year career working for a few of the finest hotels in Miami.
###
Equality Florida is the largest civil rights organization dedicated to securing full equality for Florida's LGBTQ community. Through education, grassroots organizing, coalition building, and lobbying, we are changing Florida so that no one suffers harassment or discrimination on the basis of their sexual orientation or gender identity.