PRESS RELEASE: Equality Florida Action PAC Endorses Andrew Gillum for Governor
 FOR IMMEDIATE RELEASE:  
Friday, August 31, 2018
Equality Florida Action PAC Endorses Andrew Gillum for Governor
Plans Massive Voter Mobilization Campaign Targeting Pro-Equality Voters
MIAMI - Equality Florida Action PAC, Florida's only statewide political committee working to end discrimination against Florida's LGBTQ community, today announced its endorsement of Andrew Gillum. In addition a swift show of support, the group announced plans to launch a statewide fundraising tour and a massive campaign to mobilize 1.3 million pro-equality voters. The campaign will focus specifically on motivating nearly 500,000 voters who rarely vote in midterms and those who will be specifically motivated by a strong "LGBTQ equality advocate" on the ballot.
"Andrew Gillum has been a consistent champion for LGBTQ equality, and Floridians will see the stark contrast between his record on equality and his opponent who has embraced the anti-LGBTQ rhetoric and policies of the Trump-Pence administration," said Stratton Pollitzer, Chair of the Equality Florida Action PAC. "DeSantis is out of touch with the values of everyday Floridians, 70% of whom support nondiscrimination protections for the LGBTQ community. Mayor Gillum has committed to advancing Florida as a leader for LGBTQ equality in the South, making the state a welcoming place for everyone to live, work, and visit."
In 2017, Gillum received Equality Florida Institute's highest honor, the Voice for Equality Award. Desantis ranks dead last on the Human Rights Campaign's most recent Congressional Scorecard measuring support for LGBTQ equality.
LGBTQ equality is a litmus test for an estimated 1.3 million Florida voters, and is a strong motivator for young and nonpartisan voters. Equality Florida Action PAC will be focusing a massive effort on mobilizing nearly 500,000 voters who are unlikely to turn out unless they know the candidate has taken a strong position in support of LGBTQ equality.  Equality Florida Action PAC's campaign will use a combination of targeted digital media, phone calls, and field outreach to mobilize these voters.
"Andrew Gillum is the equality champion who can energize voters and win the Governor's Mansion," said Pollitzer.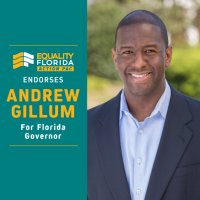 Paid Political Advertisement paid for by Equality Florida Action PAC, P.O. Box 13184, Saint Petersburg, FL 33733, independently of any candidate. This advertisement was not approved by any candidate.
MEDIA CONTACT:
Joe Saunders, Equality Florida Action PAC
[email protected]; 407-497-4986