Resistance Report Week 2: Here's what you need to know

I just got back from Tallahassee after joining hundreds of LGBTQ Floridians and allies for the kick-off of our Pride at the Capitol campaign. We joined together to make our voices heard against DeSantis' Slate of Hate – a dangerous group of bills aimed at attacking our freedoms, increasing government censorship, rolling back our rights, and more.
Our advocates filled committee hearing rooms, shared powerful testimony on 8 different bills, and attended dozens of meetings with lawmakers. We also held a fierce press conference on Monday outside the Senate chambers where we heard from elected officials, as well as transgender community leaders and trans youth and parents, as they spoke out against the governor's anti-LGBTQ agenda.
See what we were able to accomplish together during this week's Pride at the Capitol.
Be sure to share this video with your network on Facebook, Twitter, and Instagram, too, so we can continue to build our resistance movement.
This week, we sent a message that REAL freedom is worth fighting for in Florida. And that LGBTQ Floridians and their allies won't sit by and watch the governor use our community as a pawn in his political game to fuel his presidential ambitions.
If you couldn't make it to Tallahassee this week, there will be plenty more opportunities for you to get involved. We're mobilizing weekly to fight back against DeSantis' fascist agenda. Will you join us in this fight?

Despite overwhelming public opposition, a number of bad bills advanced during this week of session. Here are our legislative updates on those bills and ways you can get involved to fight back against them next week:
"Don't Say LGBTQ" Expansion Bill (HB 1223/SB 1320)
What you need to know: This bill would expand the Don't Say LGBTQ law's censorship provisions to 8th grade and revoke the right of parents to determine which pronouns the school system will use to address their children. In this week's hearing on the House version in the Choice & Innovation Subcommittee, an amendment was proposed by Rep. Rita Harris (D-Orlando) to require schools to honor written requests from parents regarding the pronouns their children should be addressed with, but it was rejected. And even after impassioned pleas from the public to stop the book banning and anti-LGBTQ censorship, the bill advanced by a vote of 14-4. To learn more about what happened in the hearing, you can check out our Twitter thread where we live-tweeted everything here.

*Lisa Dunkley (D-Lauderhill) was the only Democrat to vote in favor of HB 1223 😡
The Criminalizing Gender Affirming Care Bill (SB 254)
What you need to know:

As a result of conversations with LGBTQ leaders (per the bill's sponsor), this bill was amended to narrow the scope of its impact on child custody agreements and criminal liability for parents who access care for their transgender children.

But provisions remained that would threaten doctors with jail time for providing medically-supported gender affirming care to trans children, as well as make access more difficult for trans adults. It would also upend existing custody agreements in favor of an unsupportive parent. After a hearing in the Healthy Policy Committee where public comment was limited to only 30 seconds per speaker, the bill advanced along party lines. You can watch the powerful testimony by Senator Tracie Davis where she explains how harmful this bill will be for our community, and especially trans youth, here.
The MAGA Takeover of Higher Education (HB 999/SB 266):
What you need you know: This bill would shift control of higher education in Florida towards DeSantis by abolishing certain college majors like gender, women's and queer studies, effectively eliminating tenure (degrees abolished in the House version), abolishing diversity and inclusion initiatives, and allowing political appointees to rewrite mission statements at all 12 public universities. In hearings this week, the House version (HB 999) advanced out of the Postsecondary Education & Workforce Subcommittee and the Senate version (SB 266) advanced out of the Education Postsecondary Committee.
How you can get involved: This bill is being fast-tracked in the House so that it skips one of its original public hearings and now has only one additional House committee. Click here for the Education & Employment Committee so you can tell them to OPPOSE HB 999.
The Defamation Censorship Bill (HB 991/SB 1220):
What you need you know: This bill would make it easier to sue the media or members of the public over criticism of public officials. It's a direct attack on the right to free speech, going against Supreme Court precedent. The House version of the bill (HB 991) makes it so claims of sexism, racism, homophobia, and transphobia are presumed to be false and defamatory, while restricting how the claims can be proved. This week the Civil Justice Subcommittee advanced HB 991 by a vote of 14-4.


*Kimberly Daniels (D-Jacksonville) was the only Democrat to vote in favor of HB 991 😡
How you can get involved: This bill is now in the House Judiciary Committee, where it will face another hearing and a vote. Click here to find a list of committee members you can contact and ask them to OPPOSE HB 991. The Senate version will be heard on Tuesday, March 21. 
The 6-Week Abortion Ban Bill (HB 7/SB 300):
What you need you know: his bill would BAN abortion in Florida after 6 weeks, a dramatic escalation from last year's already extreme 15-week ban. Because of how early the ban kicks in, almost all abortions will be banned, meaning many will be forced by our state government to carry their pregnancies to term. This bill is a direct attack on bodily autonomy and personal freedom. After an emotional hearing in the House Healthcare Regulation subcommittee, the bill passed on a party line vote. You can watch our Public Policy Manager, Rin, testify against this bill. You can see how committee members voted during the roll call vote here.

The Regressive Education Bill (HB 1069):
What you need you know: We don't need more censorship. This bill promotes book banning, antiquated, harmful gender roles, and further politicizes our classrooms, handing control of reproductive education to the state. The bill narrowly defines "sex" and bans teaching about HIV, STDs, and sex-ed before 6th grade. It denies the existence of LGBTQ people, intersex people, and even IVF technology by insisting that "reproductive roles are binary, stable, and unchangeable." During the committee hearing, the bill sponsor admitted it would also prohibit students from discussing menstrual cycles before 6th grade.
How you can get involved: This bill now has only one additional House committee. Click here for the Education & Employment Committee so you can tell them to OPPOSE HB 1069.
The Anti-Drag Bill (HB 1423/ SB 1438):
What you need you know: Florida law already prohibits exposing minors to shows considered sexually explicit or harmful, but this discriminatory and unnecessary bill expands state law to include vague language that can be used to attack our drag community. It gives state agencies the power to politically target, fine, and shutdown LGBTQ-friendly businesses and it revokes a parent's right to determine what art and entertainment content is appropriate for their own family. The bill is so extreme that it threatens misdemeanor charges and imprisonment for parents who take their children to certain drag shows. 

How you can get involved: The Senate Judiciary Committee will consider this bill next Tuesday. Click here to email Committee members and tell them to OPPOSE SB 1438.
This is exactly what we were expecting – a hate-filled session aimed at advancing an extreme, right-wing agenda to bolster DeSantis and help him reach his presidential goals.
This 60-day session is the most dangerous one we've ever faced, and that's why it's so important that we band together, mobilize, and make our voices heard – because together, we can make a difference and slow down or stop some of these bad bills.
Just this week, we made headlines again by speaking out in Tallahassee and by spreading the word about DeSantis' Slate of Hate.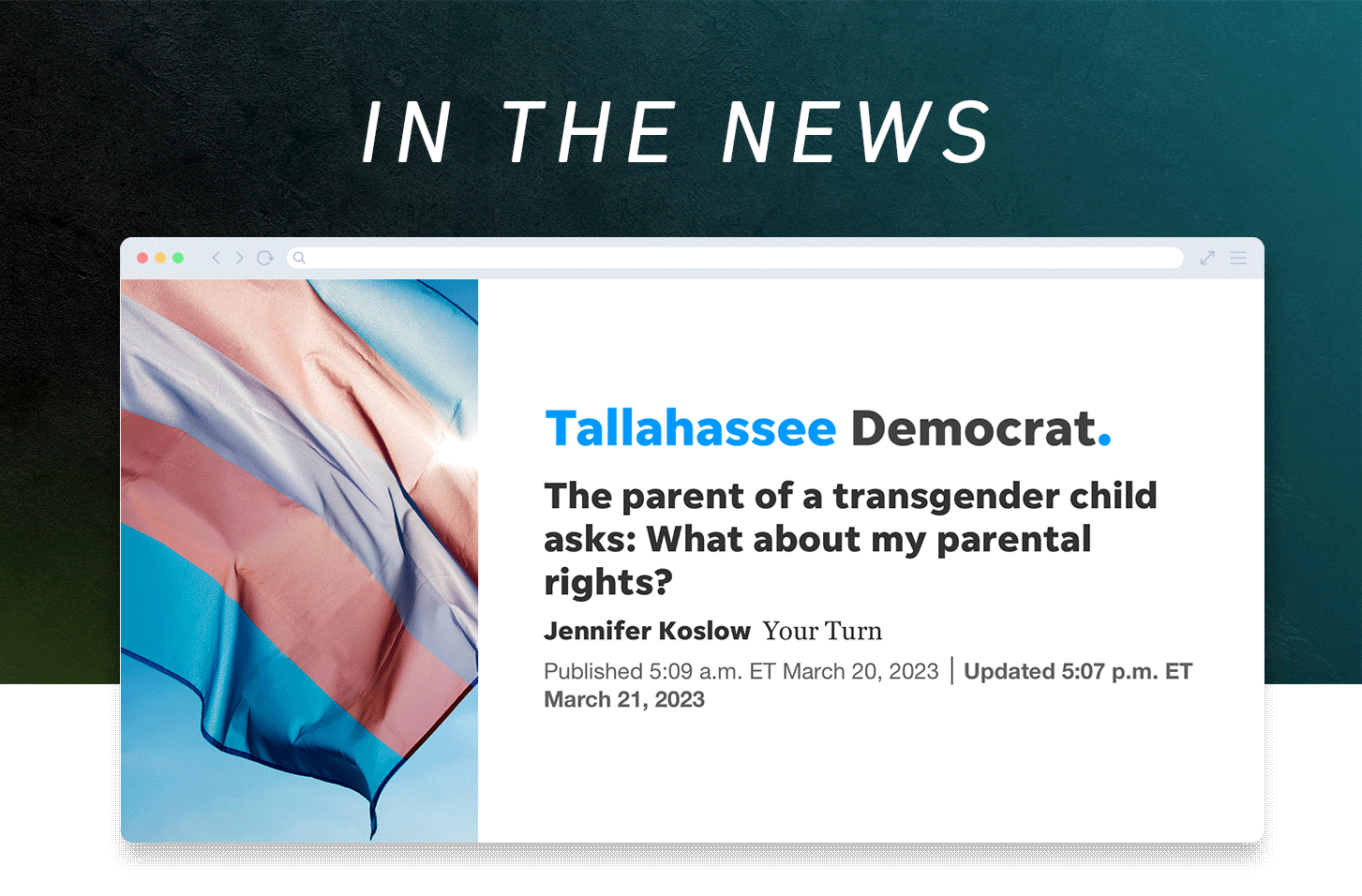 Throughout session, we're going to be continuing our Pride at the Capitol campaign in-person in Tallahassee, hosting virtual events, and using our social media to post updates, call out Florida lawmakers, and more.
Make sure you're following us on Twitter, Facebook, Instagram, and TikTok for the latest updates. And sign up to be a part of our Pride at the Capitol campaign by clicking here. 
We know the attacks we're facing are more than we've ever faced before. DeSantis and his allies WANT us to be intimidated. But we're going to show them that we are the resistance, and we will never stop fighting back.