My First Lobby Days with Equality Florida
In my first year as a staff member at Equality Florida, I heard over and over what a transformative experience Lobby Days is. A chance to unite in common cause and bring our concerns to the state capitol is an amazing opportunity for any first year staff member. While I was looking forward to Lobby Days, a lot of details also put me out of my element.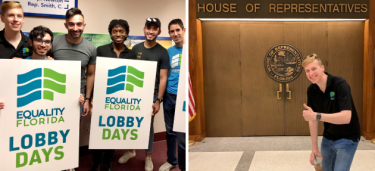 Being in the communications department, I normally spend several hours a day behind a computer. Presenting to over 100 grassroots lobbyists, running all boots-on-the-ground communications, and leading a team around the Florida Capitol was intimidating! How could I, the one encouraging people on Facebook to join Equality Florida for Lobby Days, be nervous about the the prospect of participating myself?
Something Joe Saunders, our Senior Political Director, said right before the end of training finally put me at ease. "Those people," he points in the direction of the capitol, "all of them work for you."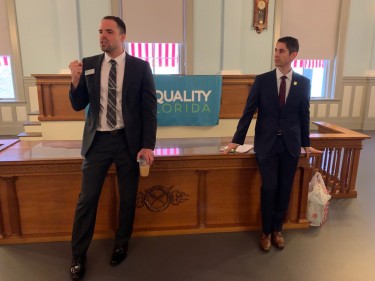 It was our job to hold our elected officials accountable and it was their job to hear us out and make informed decisions. My voice mattered. This confidence inspired me for the remainder of the trip.
Over the course of the two-day marathon of meetings, my team had successful discussions with Representative Joe Casello, Representative Michael Gottlieb, Representative Emily Slosberg, Senator Perry Thurston, Senator Janet Cruz, and aids to Senator Ben Albritton and Representative Kamia Brown. Everyone we met with was receptive to our message and to the bills we were supporting. Some even pledged to recommit support for the Florida Competitive Workforce Act.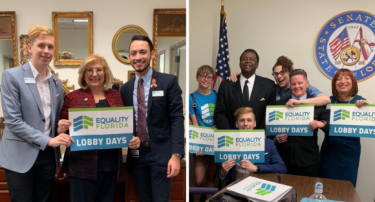 For those that didn't immediately pledge support, I know that our team planted an essential seed for a future where all Floridians are treated equally.
My favorite moment came in seeing Rep. Jennifer Webb in action. As an Equality Florida Action PAC endorsed candidate, an out lesbian, and a Tampa Bay native, Jennifer's run in 2018 inspired me. Every Saturday for two months, I hit the pavement in support of her candidacy for the Florida House. Seeing her buzzing around the Capitol during the first legislative session, things had come full circle. The brunches I skipped with friends to canvass for the first out lesbian in the Florida legislature was worth it. Here she was at our press conference fervently opposing the disastrous House Bill 3, which at the time would have stripped local LGBTQ protections. Representation matters.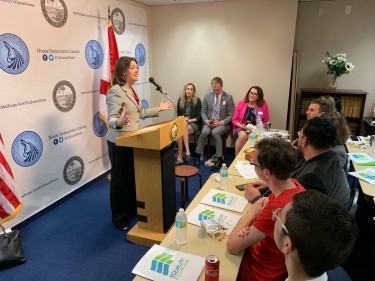 I left 2019 Lobby Days knowing the undeniable power of our LGBTQ community showing up, standing together, and fervently speaking as one voice.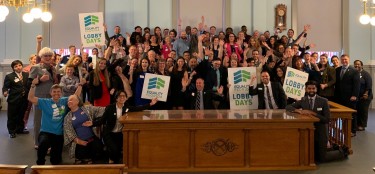 Michael Womack serves as the Communications Manager at Equality Florida. Over the course of two days, Equality Florida's 100+ grassroots activists held 76 meetings and garnered 5 new FCWA cosponsors, 5 new Conversion Therapy cosponsors, and 2 new HIV modernization cosponsors.