5 Actions For 5 Years Since Pulse
We made a promise 5 years ago — to the victims, survivors and families of Pulse — that we would always #HonorThemWithAction.
It's not a quiet promise: It's a rallying call. Because in order to honor the 49 victims taken that day, we demand action. We demand accountability from elected officials who are spewing the same type of anti-LGBTQ hatred and bigotry that leads to violence against our community.
Governor Ron DeSantis and GOP leaders have made it clear where they stand — from putting a target on the backs of transgender and nonbinary kids by signing the first anti-LGBTQ bill in 24 years to vetoing all LGBTQ program-specific funding from the state budget. These acts of cruelty were timed intentionally to mark the beginning of Pride Month. We won't let their hateful agenda win.
Tomorrow, as we mark 5 years since Pulse, I urge you to renew your promise to honor the 49 victims with action and help create a world that they'd be proud of.
Here are 5 ways YOU can make a difference:
Fight back against the anti-LGBTQ attacks spreading across Florida by joining our Pride volunteer team. It's time for us to return to Pride's roots and stand against bigoted attacks on our rights.
Use the hashtag #HonorThemWithAction on social media to share how you're uprooting anti-LGBTQ hatred and working to create a better Florida for all.
Join us for National Discussion on the tragedy at Pulse at 5:00pm ET on June 12. Equality Florida's Brandon Wolf will be moderating the event. Watch on our Facebook page.
Take part in the National Moment of Silence at 6:00pm ET on June 12 in remembrance of the 49 lives taken.
Become a monthly donor to help stop Governor Ron DeSantis and his anti-LGBTQ agenda. This is just the beginning of an assault on our rights and your ongoing support allows us to organize volunteers, phone banks, press conferences, events, and protests.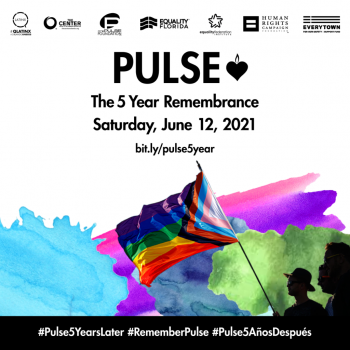 The best way we can Honor Them With Action is to put our PRIDE into action. To show Governor DeSantis and conservative legislators that love will always conquer their hate. Let's show them the true colors of our community.
Because every time we stand up to hate, push back against bullying, and reject violence, we're honoring the 49 victims of Pulse with action. It's what's guided every minute of our work since 2016 and I hope you'll join us in this fight.
Let's make sure that the enduring memorial of Pulse is the uprooting of hatred, discrimination, and violence of all kinds in our culture.