[NEWS RELEASE] Old Capitol Gala/LWV to Honor Nadine Smith
League of Women Voters of Florida to Present
"Florida Woman of Distinction" Award to Nadine Smith at
2014 Old Capitol Gala:

Wednesday, April 9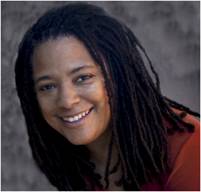 The League of Women Voters of Florida will honor Nadine Smith, CEO of Equality Florida, with its "Florida Woman of Distinction" Award at the organization's 4th Annual Old Capitol Gala on Wednesday, April 9. The event takes place at 6 pm at the Historic Capitol Museum, 400 South Monroe Street, Tallahassee.
The Florida Woman of Distinction Award recognizes women who use their voice to impact public policy and who are committed to advocating for the democratic rights of all people.
Nadine Smith is the co-founder and CEO of Equality Florida, Florida's largest organization dedicated to ending discrimination based on sexual orientation since 1997. She began her activism in college, as a founding board member of the International Gay and Lesbian Youth Organization, a group that continues to be a resource for young people across the globe.
As one of four national co-chairs of the 1993 March on Washington, Smith took part in the historic, first-ever meeting in the Oval Office between LGBT leaders and a sitting U.S. President (Clinton). She has been recognized for her national and state leadership by organizations around the nation, including the Human Rights Campaign, National Gay and Lesbian Task Force, National Center for Lesbian Rights, the National Black Lesbian and Gay leadership Forum and others.
A former award-winning journalist turned organizer, she served on President Obama's National Finance Committee and currently serves on the board of Green Florida and as a Florida Chamber Foundation Trustee. She lives in St. Petersburg with her wife Andrea and son Logan.
The League will also be honoring Senators Rene Garcia and David Simmons for their visionary leadership, as well as presenting awards for League Member of the Year, League Project of the Year and League Chapter of the Year. The Florida Woman of Distinction Award is sponsored by the Law Firm of Jeff G. Peters.
The gala will feature a performance by FSU's AcaBelles, and food, wine and intelligent conversation will be served, along with the opportunity to mingle with legislators, elected officials, community activists and thought leaders from the Tallahassee community. Former Colorado Congresswoman Patricia Schroeder, a previous recipient of the Woman of Distinction Award, will also be in attendance.
The Old Capitol Gala takes place on Wednesday, April 9, 2014 from 6 to 8 PM at the Historic Capitol Museum, 400 South Monroe Street, Tallahassee. General admission tickets are $100 each, with Host Committee tickets priced at $125. A "Defender of Democracy Table," which includes ten tickets and a complimentary bottle of champagne, is $1,250.
Proceeds benefit the League of Women Voters of Florida's efforts to encourage informed and active participation in government. Tickets may be purchased online at http://conta.cc/1fkpZL0 or by calling (850) 224-2545. For sponsorship or further information, please contact Erin Jensen at [email protected].

Media Contact: Sharon Kersten [email protected]