Newly Married Florida Same-Sex Couple to Attend State Of The Union Address in D.C.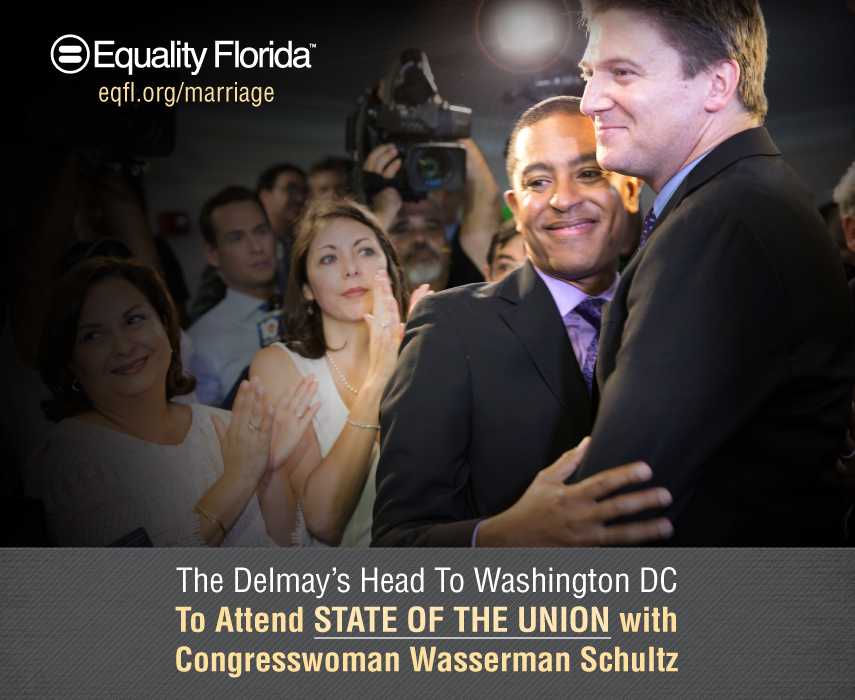 Newly Married, Todd and Jeff Delmay to Attend State of the Union Address as Guests of
Congresswoman Debbie Wasserman Schultz
Congresswoman Debbie Wasserman Schultz (FL-23) has invited newlyweds Todd and Jeff Delmay to accompany her to Washington, D.C. for President Obama's State of the Union Address on Tuesday, January 20.
Residents of Hollywood, Florida, Todd and Jeff were the second couple in Florida to marry on January 5th when Judge Sarah Zabel lifted her stay on same-sex marriage; the first in Broward County to be married. They were plaintiffs, along with Equality Florida Institute and five other same-sex couples, in Pareto v. Ruvin, which successfully challenged Florida's ban on marriage equality.
"It is my distinct honor to invite my constituents Todd and Jeff to join me for the President's State of the Union address at the Capitol next week," said Congresswoman Wasserman Schultz. "Their bold efforts, along with Equality Florida and the other plaintiff couples, helped turn the page on the legal discrimination of the past and start a new chapter in Florida's history. I'm looking forward to celebrating their marriage, and highlighting the ongoing effort to achieve equality for all, next week in Washington."
Together since 2002, Todd and Jeff are the proud parents of Blake and put themselves and their family under intense public scrutiny for nearly one year in order to be able to be legally recognized as a family. Todd's parents have been married for 47 years, serving as an example to them that marriage means a lifelong commitment to maintain a stable, loving family for themselves and their son. Years before they were able to marry, both Todd and Jeff legally changed their last name to Delmay so that all three of them could share a family name.
"When we married last week, little did we know that we'd be spending our honeymoon with our beloved congresswoman, Debbie Wasserman Schultz, at the State of the Union," said Todd. "We are over the moon with excitement!"
A steadfast champion for Florida's LGBT community, Debbie Wasserman Schultz was honored by Equality Florida with the Voice for Equality award in 2010. She has been a state and federal lawmaker in Florida for 22 years, and among her other policy priorities has served as an outspoken champion for LGBT equality. She has advocated for repealing the state's ban on gay adoption, and in Washington she has been a leader in the LGBT Equality Caucus as well as co-sponsored numerous pieces of legislation to end marriage and workplace discrimination against the LGBT community, including most recently the Respect for Marriage Act.