Equality Florida Action PAC Endorses Buddy Dyer for Mayor of Orlando
ORLANDO, FL - Today Equality Florida Action PAC, Florida's largest political committee working to elect pro-equality candidates, announced its endorsement of Buddy Dyer for re-election of Mayor of Orlando.
Buddy Dyer has served as Mayor of Orlando since 2003.  During his tenure, Dyer led the city in passing transgender nondiscrimination protections, designated City Hall as the first government building in Florida with "all-user" bathrooms, and created a citywide domestic partnership registry before marriage equality was the law of the land. In the months following the tragedy at Pulse, Mayor Dyer led Orlando and the LGBTQ community through an emotional and traumatic recovery, including helping to raise millions of dollars for Pulse families and survivors.
"During my time in office, I have worked tirelessly to ensure Orlando is a city for everyone. By passing ordinances and establishing programs for the LGBTQ+ community, Orlando has received global recognition as a welcoming place for everyone, regardless of sexual orientation or gender identity," said Buddy Dyer, Mayor of Orlando. "In my next term, I will continue to work with our LGBTQ+ community and partners, including Equality Florida, to ensure Orlando remains a city that embraces, celebrates and advocates for diversity and inclusion."
"Mayor Buddy Dyer has been among the most vocal champions for the LGBTQ community in Florida," said Joe Saunders, Senior Political Director for Equality Florida. "In today's political climate, LGBTQ Floridians need to know that there are leaders who will fight for and defend our families - leaders like Buddy Dyer. Equality Florida Action PAC is all in for Mayor Buddy Dyer and is working now through November to mobilize thousands of pro-equality voters in the city of Orlando.
Equality Florida Action PAC is the largest organization in Florida devoted to electing pro-equality candidates. Most recently, Equality Florida Action PAC played a defining role in the breakthrough elections of State Representative Carlos Guillermo Smith, State Representative Anna Eskamani, Tampa Mayor Jane Castor, and State Representative Jennifer Webb - all of whom won historic races for the LGBTQ community.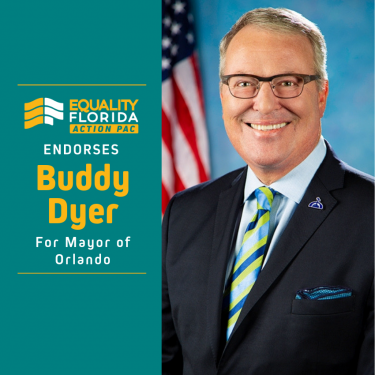 Paid Political Advertisement paid for in-kind by Equality Florida Action PAC, 
P.O. Box 13184, Saint Petersburg, FL 33733.
Approved by Buddy Dyer for Mayor of Orlando.