Celebrating One Month of Marriage in Florida - Brenda & Shirley's Story
25 YEARS AFTER SURPRISE COMMITMENT CEREMONY, FL COUPLE LEGALLY WEDS
Brenda & Shirley Cuevas-Winslow | Hillsborough, FL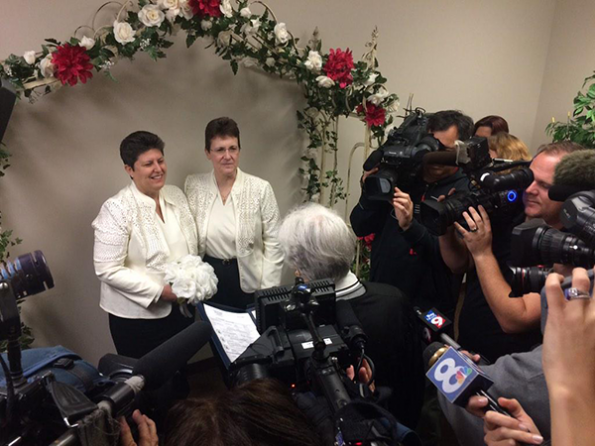 Editors' Note: This story was written by Meredith Mechanik in partnership with Equality Florida.
Brenda and Shirley Cuevas-Winslow excitedly anticipated their January 6th wedding in the Sunshine State, but the first time they committed their lives to each other over 25 years ago – through a commitment ceremony in September 1989 – was a surprise to both of them.
They had been dating for only three months when they went over to Shirley's mom's house for dinner, as they did every Sunday. Although commitment ceremonies were not legally recognized by the state at that time, Shirley's mom, a notary public, wanted to unofficially make their relationship as official as possible. When the couple arrived at her house that night, she said, "I need you to take a look at something in the yard. Would you and Brenda mind taking a look with me?"
They walked outside and found a trellis set up. "What is this?" Shirley asked.
"Well, after three months of you coming here, I figured it would be some time that you would be together," her mom responded. "If it's okay with you two, let's have a ceremony to recognize you two together."
So, with Shirley's grandmother and sister as witnesses, their Sunday dinner turned into a commitment ceremony, a commitment that was finally recognized legally last month.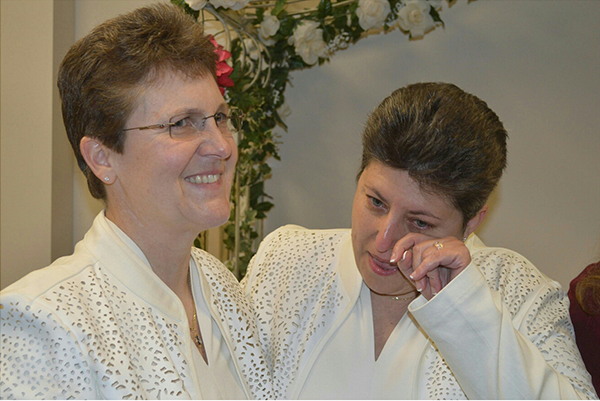 The couple had spent a lot of time discussing marriage, even before the ban was lifted. To the retired pharmacists, marriage is about compromise, support, and respect. "We go through life's ups and downs together," Shirley explained. "We respect each other, we're honest with each other, we trust each other. We each grow as an individual by being together as a couple."
Although they've been together for almost 26 years, there's always something new to learn and do together. As season ticketholders for the Tampa Bay Buccaneers and the Tampa Bay Rays, they've been to countless baseball and football games together – but they make a point to treat each even as if it's their first. "You never know in life whether you'll be getting the next day or not," Shirley said. "We treasure each day and cherish it."
When they first met in June 1989 after being set up by a coworker, they clicked immediately, explaining that they felt they must've been together in a past life. But even though that certainty – that "wow" moment they both felt – was recognized by their family and friends, Brenda and Shirley know that there are still people who disapprove of their relationship and their marriage.
"We talked about the fact that even though a law is passed that says that the state of Florida cannot discriminate against same-sex couples [getting married], it doesn't dictate what other people think – and how people feel about the freedom to marry," Shirley explained. "For us, it's important that we get married right away – not out of necessity or celebrity status – but to show others that we are no different than they are when they're married to their spouse." They're optimistic that people who do feel differently will have more experiences with same-sex couples getting married, allowing their bias to start to disappear.
Despite their optimism and their excitement about the recognition of same-sex marriage in their home state, they both know there is still work to be done. As Shirley articulated, "The fight is not over until every state allows same-sex marriage and everyone who wants to marry can marry in the U.S."