Resistance Report Week 1: What can you do to get involved?

It's only been three days since the start of Florida's 60-day Legislative Session, and we're already facing some very serious threats from Tallahassee.
This session, we need your help to fight back against Ron DeSantis and his allies' "Slate of Hate" – an unprecedented combination of bad bills aimed at taking our freedoms, censoring our voices, and infringing on our rights. We are laser-focused on mobilizing our community and allies to defeat as many of these bills as possible, while working to mitigate the damage of any legislation that does pass.
In our weekly Friday Resistance Reports, including this first one, we're going to be covering legislative news and ways to join our resistance, media highlights from our team, and critical updates from the frontlines.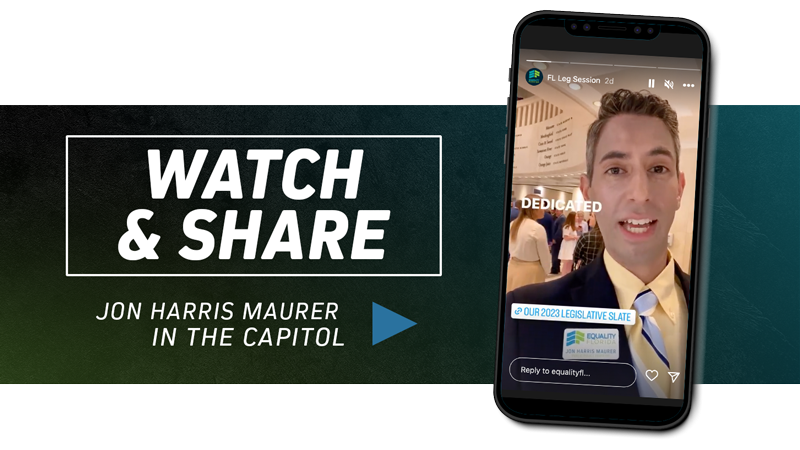 This upcoming week, one of our BIGGEST FIGHTS is against the Criminalizing Gender Affirming Care Bill (SB 254).
This bill is an outrageous overreach that attacks the parents of transgender youth and medical providers, threatening criminal sentences and prison time for helping transgender youth access the same life-saving healthcare endorsed by the nation's leading health organizations. It fundamentally alters state family custody laws to favor an unsupportive parent, and in certain circumstances, even blocks courts from intervening in the kidnapping of a transgender child by their unsupportive parent.
This bill is not just unjust, it's fascist, and its introduction is another far-right move in DeSantis' politically-driven culture war.
We need your help to stop this. SB 254 is already being heard in the Senate Health Policy Committee this upcoming Monday. Will you take action today and tell committee members to vote NO on SB 254?

You can also find the numbers for lawmakers on the Committee here, so you can call them directly and ask them to vote NO. And if you can, share our infographics on Facebook and Instagram to help keep your friends and family informed!
Here are other legislative updates from this week:
The MAGA Takeover of Higher Education (HB 999/SB 266)
What you need to know: This bill would radically overhaul Florida's university system by enacting an unprecedented regime of political interference in state universities. It would abolish certain major or minor degrees that include Queer Theory or that acknowledge common concepts like unconscious bias or privilege, ban any related general education course offerings, and effectively eliminate the tenure system and its academic freedom. It would also abolish and defund all diversity, equity and inclusion initiatives and allow political appointees to rewrite mission statements at all 12 public universities. You can learn more by watching Carlos Guillermo Smith's interview with WEAR news here.
How you can get involved: HB 999 is now on the agenda for a hearing in the Postsecondary Education & Workforce Subcommittee this upcoming Monday. You can find a list of members to contact here so you can let them know to OPPOSE this bill.
"Don't Say LGBTQ" Expansion Bill (HB 1223/SB 1320)
What you need to know: This bill doubles down on the already cruel bill passed last year by proposing to censor teaching anything about sexual orientation or gender identity up through 8th grade, broaden book bans, and forbid any use of pronouns that respect a transgender student's identity. These measures would create an even more toxic school environment for LGBTQ students, not just in public schools but also in charter schools and private pre-kindergarten. The consequences of last year's law are already being seen everywhere and our most vulnerable kids are paying the price. You can again watch Carlos' interview with WFTV earlier this week where he discussed this bill and why it's so harmful for our students here.
The 6-Week Abortion Ban Bill (HB 7/SB300)
What you need you know: On the first day of the session, the Florida GOP revealed their plan to ban nearly all abortions in Florida. This 6-week ban is dangerous and is a direct attack on our collective freedoms and bodily autonomy. Most people don't even know they're pregnant at 6 weeks, so this will likely cause many to seek care outside the state, if they're able to financially, and for those that aren't, they'll be forced by Ron DeSantis' government to carry their pregnancies to term.
How you can get involved: Florida Planned Parenthood is asking Floridians to call Senate President Passidimo and ask her to STOP THIS BAN. You can dial (850) 487-5028 or click here ;to call.
The Regressive Education Bill (HB 1069)
What you need you know: We don't need more censorship. This bill promotes book banning, antiquated, harmful gender roles, and further politicizes our classrooms, handing control of reproductive education to the state. The bill narrowly defines "sex" and bans teaching about HIV, STDs, and sex-ed before 6th grade. It denies the existence of LGBTQ people, intersex people, and even IVF technology by insisting that "reproductive roles are binary, stable, and unchangeable." 

How you can get involved: While HB 1069 was scheduled for its first committee hearing this morning, it was temporarily postponed from consideration without discussion or a vote. We expect it to return, so stay tuned!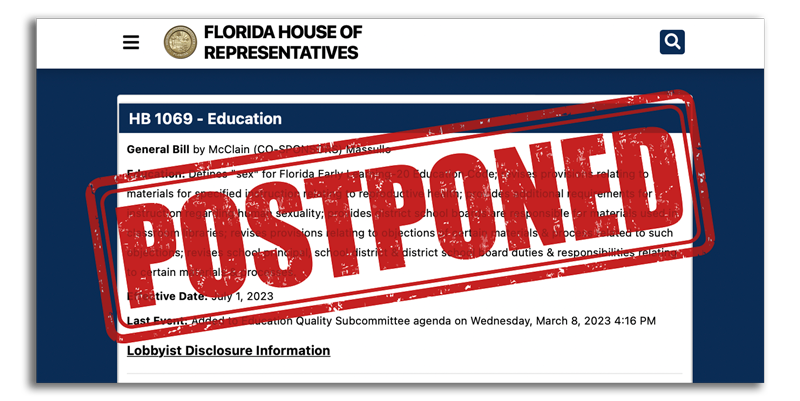 These fights we're facing now are just the beginning. DeSantis has made it clear that his goal is to make Florida a testing ground for the far-right policies he hopes to someday implement on the national level.
But when we fight back, together, we can make our voices heard. Just this week, we've already made headlines for voicing our opposition, and DeSantis has been facing backlash for his far-right agenda.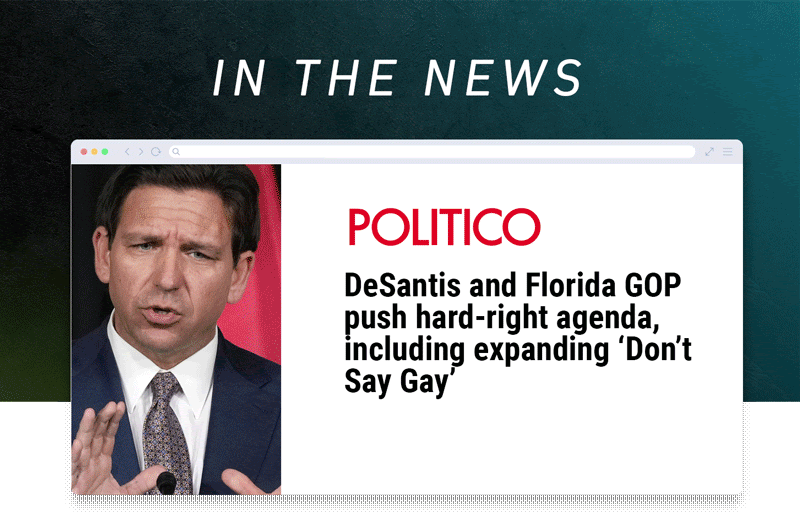 Our team is hard at work on the frontlines trying to fight back against DeSantis and his allies. Two of our team members are in Tallahassee right now, meeting with lawmakers, testifying against harmful bills, and working to defeat all these terrible new proposals.
Equality Florida also hosted a webinar earlier this week to provide information to families of LGBTQ youth on how to get engaged and fight back against DeSantis' anti-LGBTQ agenda. We plan to host more events like that throughout the session so make sure you're following us on Twitter, Facebook, Instagram, and TikTok for the latest updates.
In addition to posting updates on how you can get involved, we'll also be using our social media pages to call out the governor on his lies – like when he tried to say that his book bans were a "hoax" during a press conference earlier this week.
We know the sheer volume of attacks on LGBTQ Floridians is almost too much to believe and many are rightfully alarmed by the dramatic escalation of hostility against our community from Tallahassee. That's why we MUST meet the moment with unprecedented mobilization. Throughout session, you can join us in Tallahassee as part of our Pride at the Capitol campaign. Our first week of this 8-week program begins next Monday. We have over 200 people registered to join us at the Capitol and help us hold elected officials accountable! If you can't make it in-person, you can get involved virtually – more details to come soon!
We are in the midst of the most dangerous 60 days in Florida, and it's up to us to stay informed so we can FIGHT BACK.
Together, we can and will resist DeSantis' authoritarian agenda.